Indonesia's Ambassador to China: B&R can build trust between people
刘梦雅,孙瑞雪

0 Comment(s)Print E-mail China.org.cn, 11 01, 2017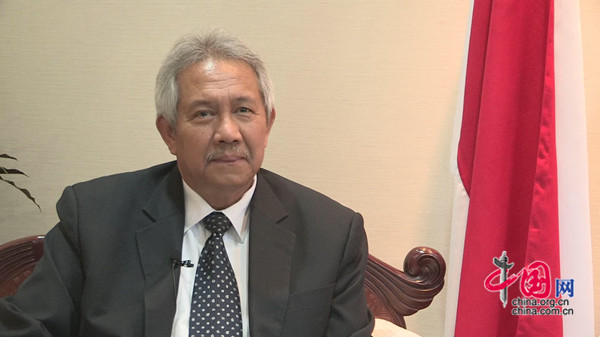 Indonesia's Ambassador to China Mr. Soegeng Rahardjo
Indonesia is an important partner for the Belt and Road Initiative. During an exclusive interview with China.org.cn, Indonesia's Ambassador to China Mr. Soegeng Rahardjo talked about the opportunities brought by the Belt and Road Initiative to Indonesia's economic and social development, and cooperation between China and Indonesia.
China.org.cn: Hello there, welcome to China.org.cn's Belt and Road Initiative special interview. Today we have the great honor and pleasure to talk to Indonesia's Ambassador to China, his Excellency Mr. Soegeng Rahardjo.
Good day Ambassador, thank you very much for agreeing to this interview. As we know, Indonesia was where the 21st Century Maritime Silk Road first stepped into the light, and also the first place to deliver results in the Belt and Road Initiative. From your perspective, what is Indonesia's special role in the initiative?
Soegeng Rahardjo: Well, as you are aware, Indonesia consists of 17,000 islands, so we recognize the importance of connectivity for Indonesia's economic development. At the same time, Indonesia is located between the Asian and Australian continent, and between the Pacific and Indian Oceans. Indonesia is located in the busiest shipping lines, and for that reason, in Indonesia's terms, we need connectivity in order to link between continents and oceans especially for trade and for communication. The fact is that during his visit to Indonesia in October 2013, President Xi Jinping launched the idea of the 21st Century Maritime Silk Road in Djakarta. It means that Indonesia has a significant role in the Belt and Road Initiative. In May 2017, President Joko Widodo participated in the Belt and Road Forum for International Cooperation and Indonesia supported this initiative in order to implement and contribute positively to the development of our region. That's why we would like to cooperate with each other in order to implement all the projects under the Belt and Road Initiative.
China.org.cn: Thank you sir. As we know, the Jakarta-Bandung high speed railway project and also the much-heralded Qingshan industrial park project are some of the early projects implemented within the framework of the Belt and Road Initiative. We are very curious about what is really going on with all the projects and how they are developing. What is the significance of successfully implementing these projects?
Soegeng Rahardjo: The Jakarta-Bandung high speed project is one of the first infrastructure projects to be carried out by China since the launch of the Belt and Road Initiative. Now we are seeing similar projects being developed in Thailand and Malaysia. The Jakarta-Bandung project is proceeding on schedule. In January 2016, President Joko Widodo attended the ground breaking ceremony. This was followed in April 2017 by the EPC contract which was signed by a consortium of Chinese and Indonesian partners. Furthermore, in May 2017, the financing agreement for the project was also agreed by both sides.
The significance for Indonesia, after the project is completed in 2019, is that it will reduce travel time between Bandung and Jakarta. Nowadays, Bandung and Djakarta can be reached by car or train in almost 3 hours and 30 minutes. Once the high speed train project is completed, Bandung and Jakarta will only be 35 minutes apart. This is more efficient and effective for people in Bandung who work in Jakarta. They don't need to have a property in Jakarta because they only need to spend a short time to reach Jakarta and then back to Bandung. This is one of the significant features of this project, efficient and effective travel time between Bandung and Jakarta.
About the Qingshan industrial park, I would like to share this with you. This is the best project in central Sulawesi, because Qingshan industrial park is contributing to the economic growth in the region. Nowadays, Qingshan industrial park can produce almost 1 million tons of stainless steel.
I think this is the biggest and the most successful story of the industrial park which has been built in central Sulawesi.