2023 World Manufacturing Convention highlights intelligent manufacturing
0 Comment(s)Print E-mail Xinhua, September 21, 2023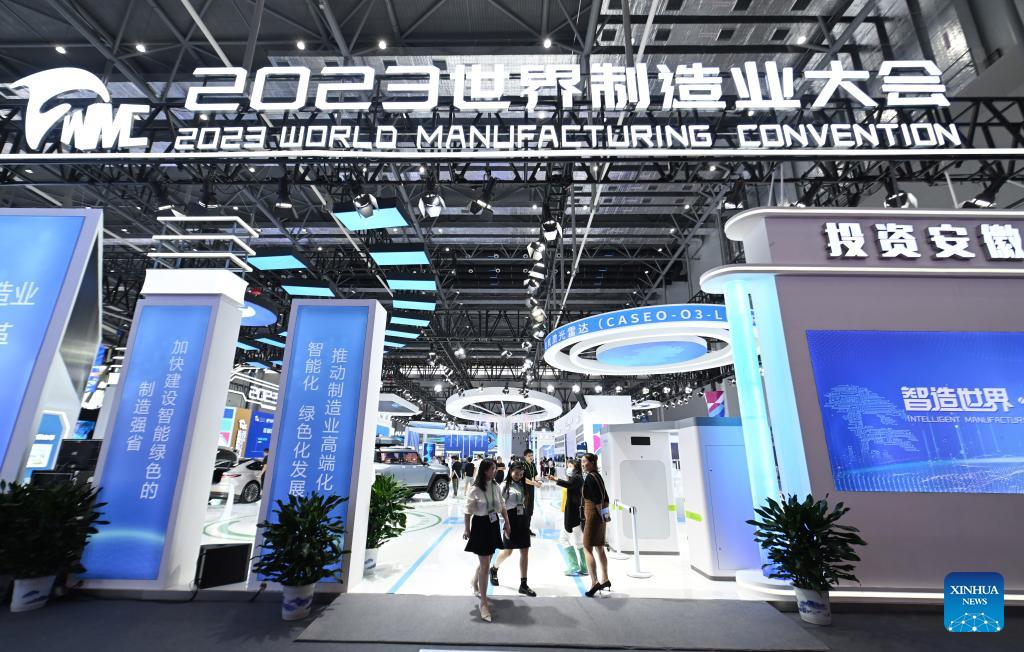 People visit the 2023 World Manufacturing Convention in Hefei, east China's Anhui Province, Sept. 20, 2023. The 2023 World Manufacturing Convention kicked off Wednesday in Hefei, built around the theme "Intelligent manufacturing for a better future." With a record number of exhibitors, the five-day event features activities as exhibitions, summits and forums. (Xinhua/Zhou Mu)
HEFEI, Sept. 20 (Xinhua) -- The 2023 World Manufacturing Convention kicked off Wednesday in Hefei, capital of east China's Anhui Province, built around the theme "Intelligent manufacturing for a better future."
With a record number of exhibitors, the five-day event features activities such as exhibitions, summits and forums.
Over 1,200 guests from home and abroad will attend the convention, including 20 foreign ambassadors and diplomats.
On Tuesday, the ambassadors and diplomats paid a visit to some local companies in Hefei, including electric vehicle manufacturer NIO and iFLYTEK, a leading AI and speech tech company in China.
"Manufacturing is the very key for developing countries," said Siyabonga C. Cwele, South African ambassador to China, when visiting NIO, adding that China has been the manufacturing capital of the world and has become the leader because it moves with times.
Covering an area of 80,000 square meters, this year's convention will display a variety of cutting-edge technologies, including quantum computers, rockets, new-energy vehicles and maglev trains with a maximum speed of 600 km per hour.
Another highlight of this year's convention is that all electricity used during the event will be 100 percent clean energy purchased through the green electricity trading mechanism. It is also the first time that a major event held in Anhui has used green energy throughout its whole process.
Held since 2018, the World Manufacturing Convention has attracted over 14,800 participants. A total of 3,021 projects have been signed, with actual investment exceeding 1 trillion yuan (around 139.4 billion U.S. dollars). ■
An exhibitor displays a metaverse interactive holographic module at the 2023 World Manufacturing Convention in Hefei, east China's Anhui Province, Sept. 20, 2023. The 2023 World Manufacturing Convention kicked off Wednesday in Hefei, built around the theme "Intelligent manufacturing for a better future." With a record number of exhibitors, the five-day event features activities as exhibitions, summits and forums. (Xinhua/Zhang Duan)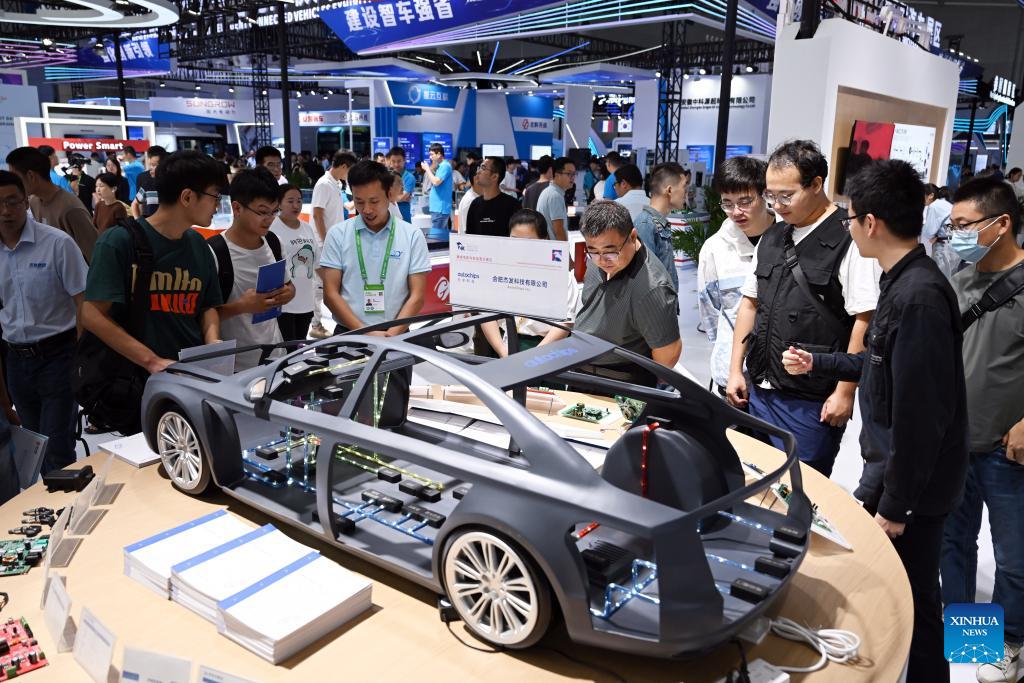 People visit the 2023 World Manufacturing Convention in Hefei, east China's Anhui Province, Sept. 20, 2023. The 2023 World Manufacturing Convention kicked off Wednesday in Hefei, built around the theme "Intelligent manufacturing for a better future." With a record number of exhibitors, the five-day event features activities as exhibitions, summits and forums. (Xinhua/Zhou Mu)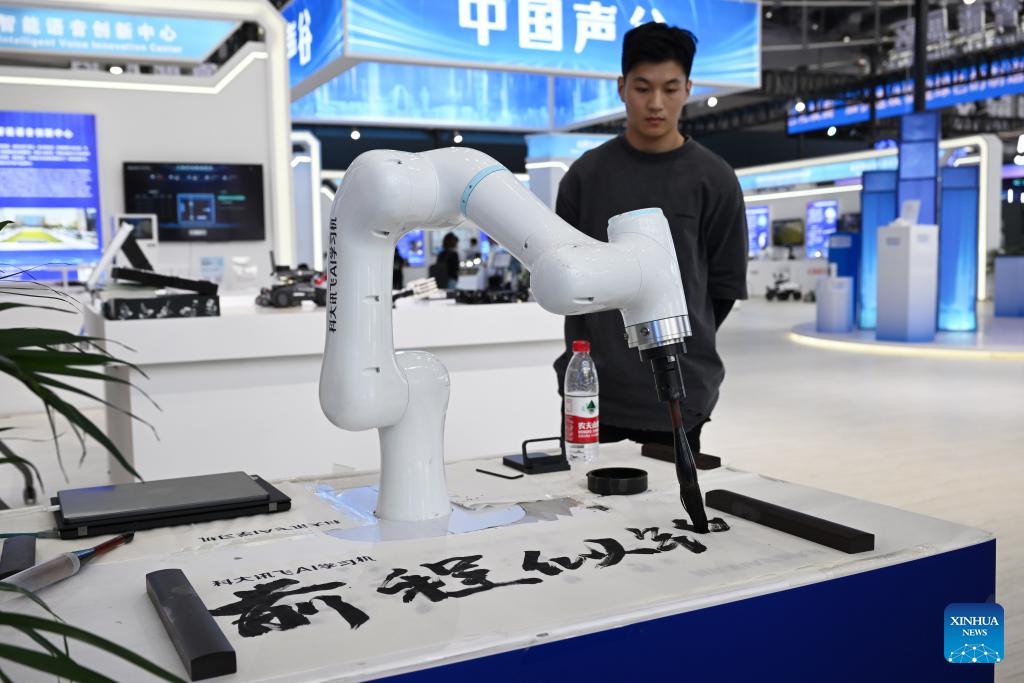 A robot writing calligraphy is displayed at the 2023 World Manufacturing Convention in Hefei, east China's Anhui Province, Sept. 20, 2023. The 2023 World Manufacturing Convention kicked off Wednesday in Hefei, built around the theme "Intelligent manufacturing for a better future." With a record number of exhibitors, the five-day event features activities as exhibitions, summits and forums. (Xinhua/Zhou Mu)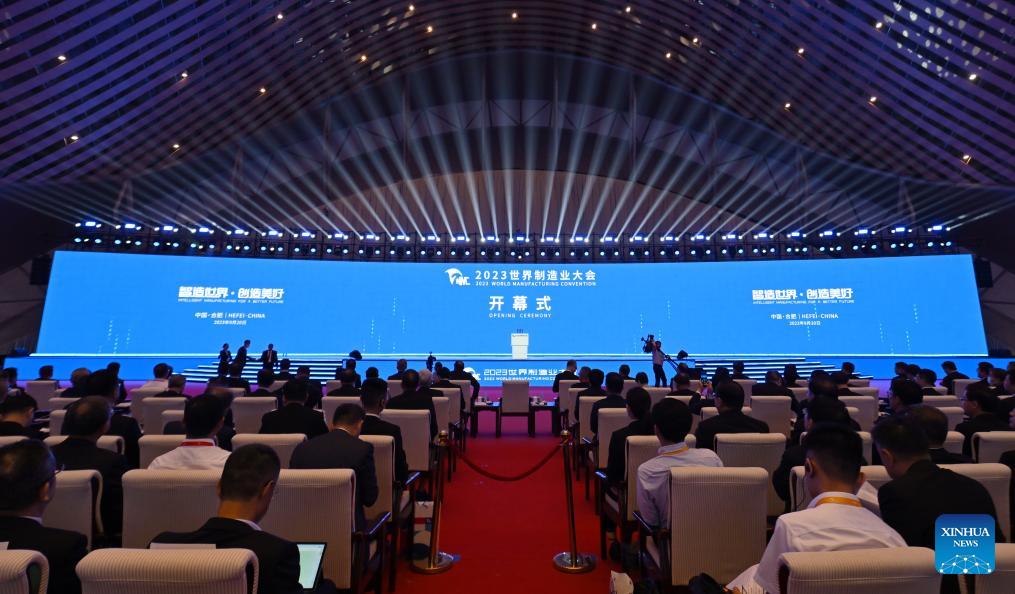 This photo taken on Sept. 20, 2023 shows the opening ceremony of the 2023 World Manufacturing Convention in Hefei, east China's Anhui Province. The 2023 World Manufacturing Convention kicked off Wednesday in Hefei, built around the theme "Intelligent manufacturing for a better future." With a record number of exhibitors, the five-day event features activities as exhibitions, summits and forums. (Xinhua/Zhou Mu)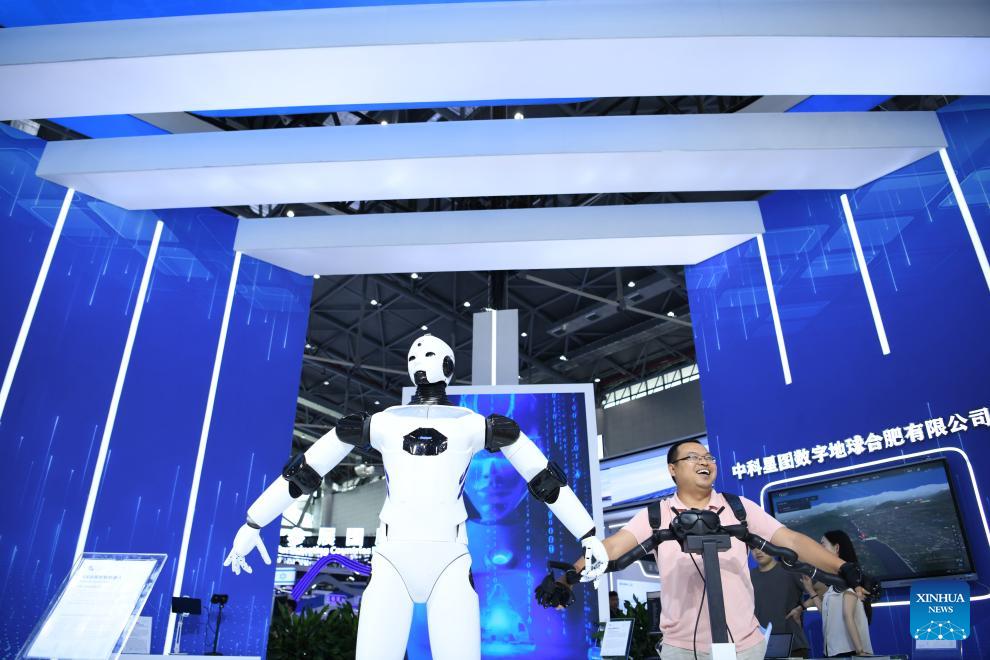 A visitor tries a VR-based remote grasping robot at the 2023 World Manufacturing Convention in Hefei, east China's Anhui Province, Sept. 20, 2023. The 2023 World Manufacturing Convention kicked off Wednesday in Hefei, built around the theme "Intelligent manufacturing for a better future." With a record number of exhibitors, the five-day event features activities as exhibitions, summits and forums. (Xinhua/Zhang Duan)
People visit the 2023 World Manufacturing Convention in Hefei, east China's Anhui Province, Sept. 20, 2023. The 2023 World Manufacturing Convention kicked off Wednesday in Hefei, built around the theme "Intelligent manufacturing for a better future." With a record number of exhibitors, the five-day event features activities as exhibitions, summits and forums. (Xinhua/Zhou Mu)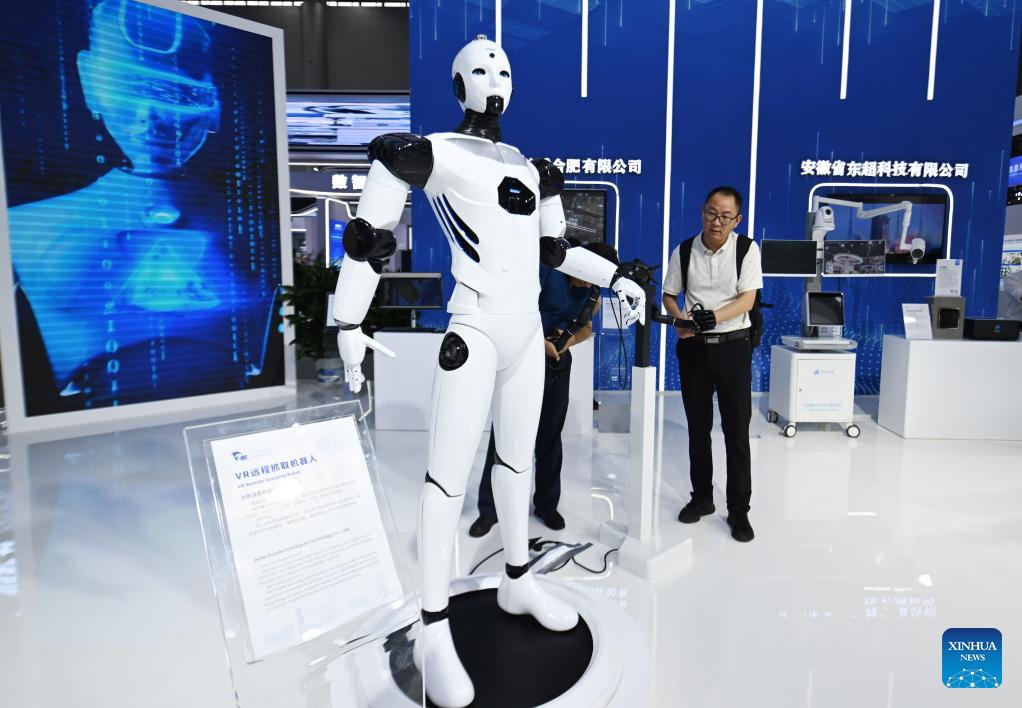 A visitor learns about a VR-based remote grasping robot at the 2023 World Manufacturing Convention in Hefei, east China's Anhui Province, Sept. 20, 2023. The 2023 World Manufacturing Convention kicked off Wednesday in Hefei, built around the theme "Intelligent manufacturing for a better future." With a record number of exhibitors, the five-day event features activities as exhibitions, summits and forums. (Xinhua/Zhou Mu)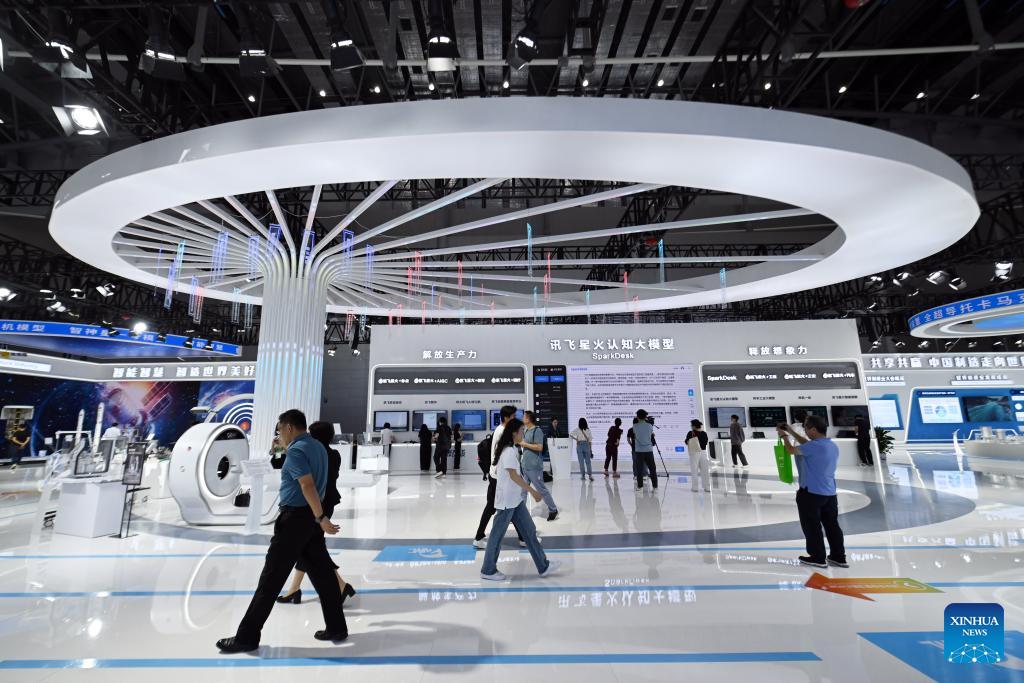 People visit the 2023 World Manufacturing Convention in Hefei, east China's Anhui Province, Sept. 20, 2023. The 2023 World Manufacturing Convention kicked off Wednesday in Hefei, built around the theme "Intelligent manufacturing for a better future." With a record number of exhibitors, the five-day event features activities as exhibitions, summits and forums. (Xinhua/Zhou Mu)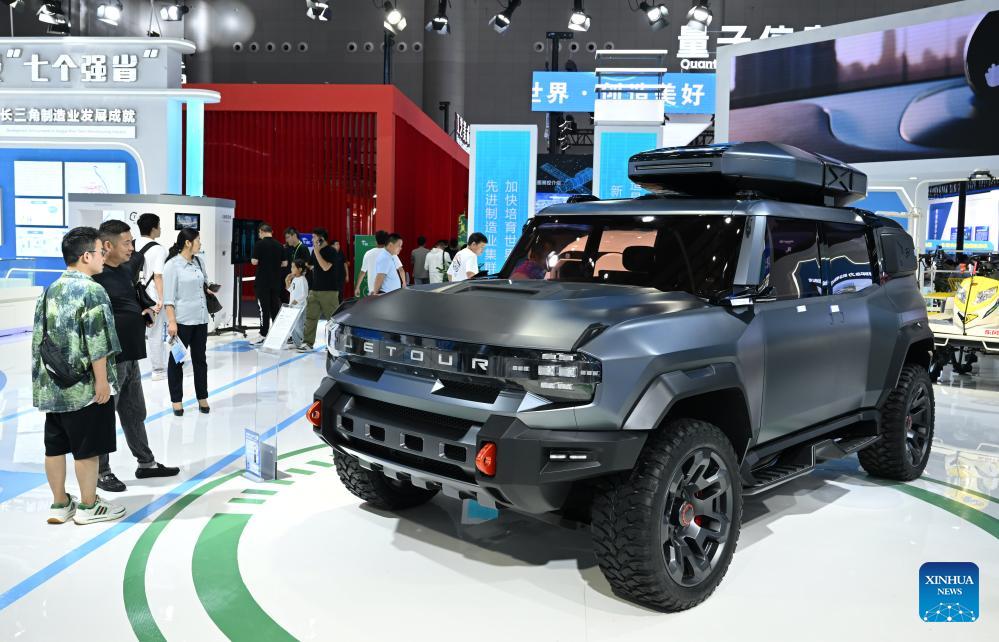 People visit the 2023 World Manufacturing Convention in Hefei, east China's Anhui Province, Sept. 20, 2023. The 2023 World Manufacturing Convention kicked off Wednesday in Hefei, built around the theme "Intelligent manufacturing for a better future." With a record number of exhibitors, the five-day event features activities as exhibitions, summits and forums. (Xinhua/Zhou Mu)
People learn about a maglev train with a maximum speed of 600 km per hour at the 2023 World Manufacturing Convention in Hefei, east China's Anhui Province, Sept. 20, 2023. The 2023 World Manufacturing Convention kicked off Wednesday in Hefei, built around the theme "Intelligent manufacturing for a better future." With a record number of exhibitors, the five-day event features activities as exhibitions, summits and forums. (Xinhua/Zhang Duan)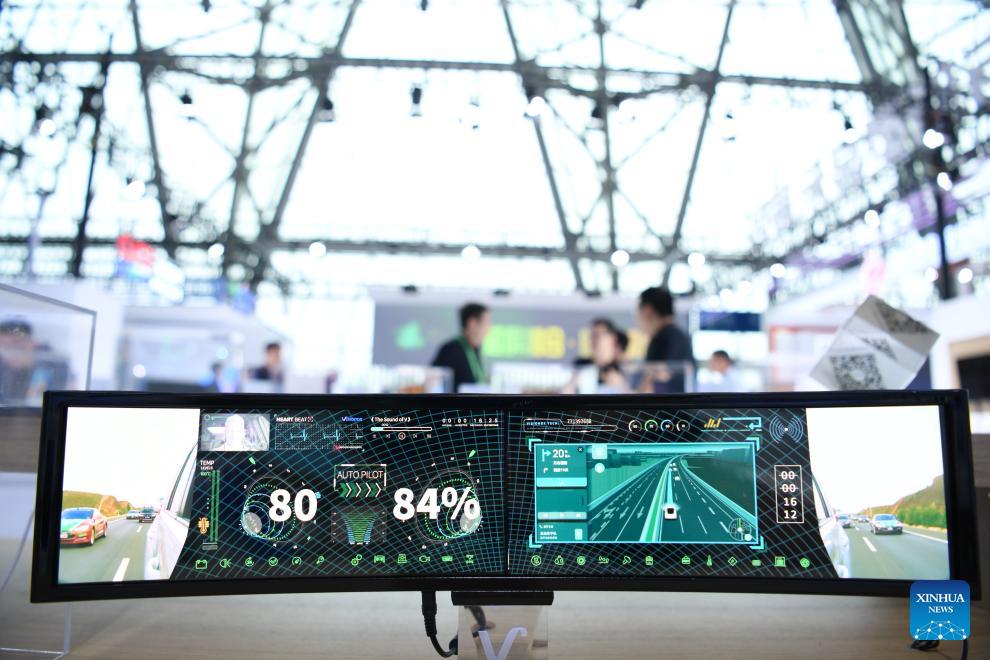 A product is displayed in the Integrated Circuits and Emerging Displays exhibition area at the 2023 World Manufacturing Convention in Hefei, east China's Anhui Province, Sept. 20, 2023. The 2023 World Manufacturing Convention kicked off Wednesday in Hefei, built around the theme "Intelligent manufacturing for a better future." With a record number of exhibitors, the five-day event features activities as exhibitions, summits and forums. (Xinhua/Zhang Duan)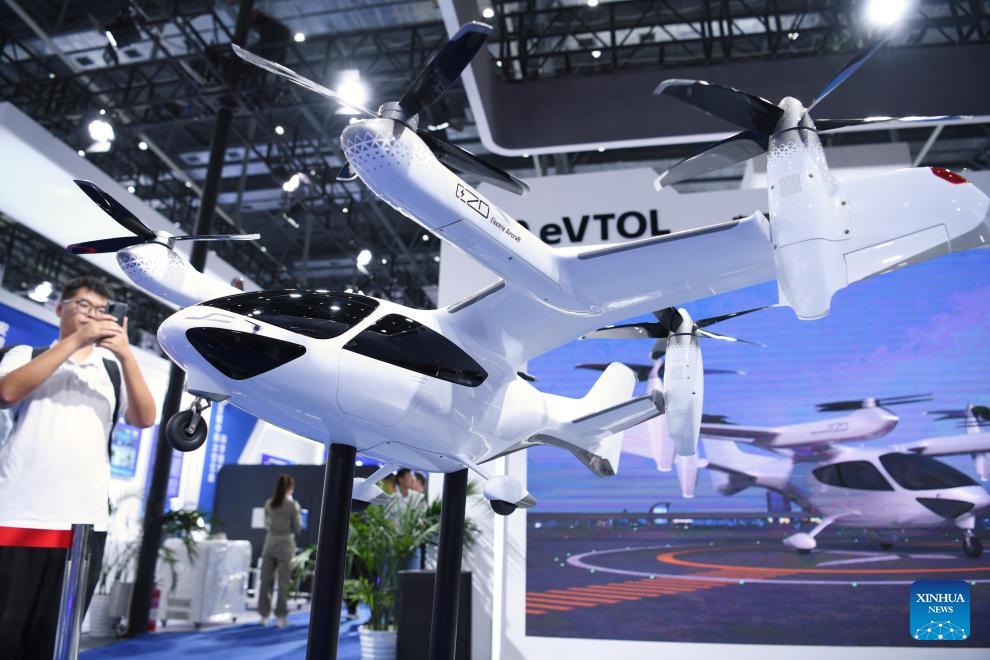 A visitor looks at the model of an E20eVTOL electric aircraft at the 2023 World Manufacturing Convention in Hefei, east China's Anhui Province, Sept. 20, 2023. The 2023 World Manufacturing Convention kicked off Wednesday in Hefei, built around the theme "Intelligent manufacturing for a better future." With a record number of exhibitors, the five-day event features activities as exhibitions, summits and forums. (Xinhua/Zhang Duan)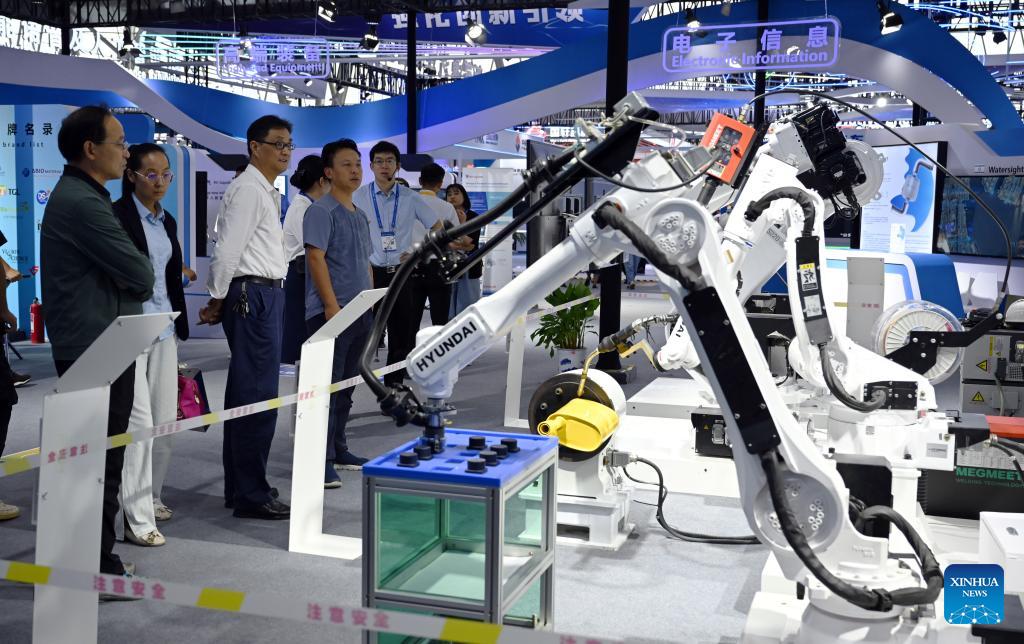 People visit the 2023 World Manufacturing Convention in Hefei, east China's Anhui Province, Sept. 20, 2023. The 2023 World Manufacturing Convention kicked off Wednesday in Hefei, built around the theme "Intelligent manufacturing for a better future." With a record number of exhibitors, the five-day event features activities as exhibitions, summits and forums. (Xinhua/Zhou Mu)