BRI brings new vitality to Greece's largest port
0 Comment(s)Print E-mail Xinhua, August 30, 2023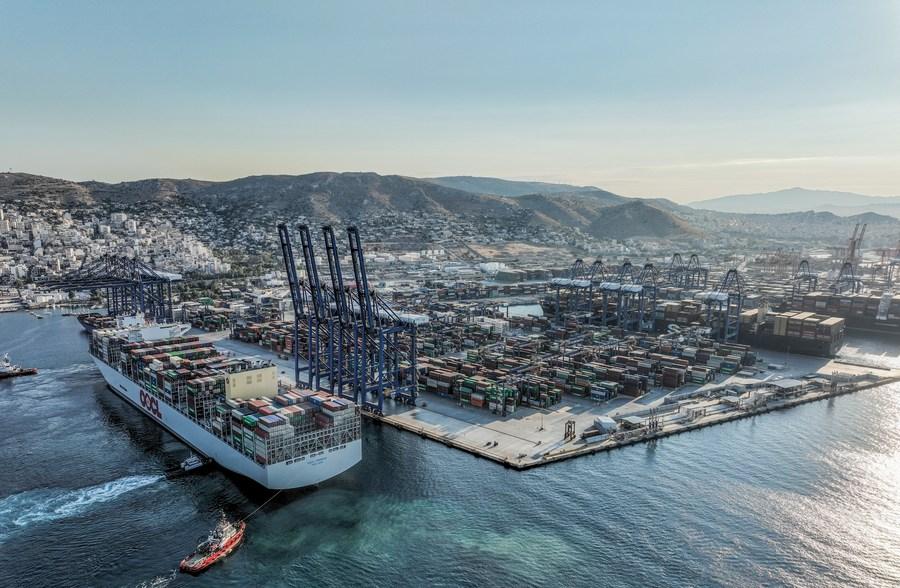 This aerial photo taken on July 10, 2023 shows OOCL PIRAEUS, one of the largest container vessels in the world, arriving at Piraeus port in Piraeus, Greece. (Xinhua)
Investments from China have breathed new life into a Greek port that once hit development bottlenecks, making it a flagship project under the China-proposed Belt and Road Initiative.
ATHENS, Aug. 29 (Xinhua) -- Since China's COSCO Shipping bought into Greece's largest but ailing Port of Piraeus 13 years ago, the harbor has experienced rapid growth and has been transformed into a bustling key transport hub at the crossroads of Asia, Europe and Africa. The flagship project in bilateral collaboration has been hailed as an exemplary success story under China's Belt and Road Initiative (BRI) by business insiders and observers alike.
Tassos Vamvakidis is the commercial manager of Piraeus Container Terminal S.A. (PCT), a subsidiary of COSCO Shipping. He has been employed by the port Piraeus since age 16. Having witnessed the port's prosperity, decline and revival over more than half a century, he said he was especially impressed by the changes that occurred in the past 13 years.
Back in 2010, Piraeus's container operating capacity was around 1.5 million TEUs (twenty-foot equivalent units). Today, this figure stands at 6.2 million TEUs, Vamvakidis said. No wonder that the container terminal of Piraeus now ranks among the world's 40 largest ports. Before COSCO's investment, it ranked 93rd.
During 2009-2010, the PCT, after winning two international tenders, took over the management of the port's Terminals II and III. In 2016, COSCO Shipping acquired a majority stake in Piraeus Port Authority S.A. (PPA).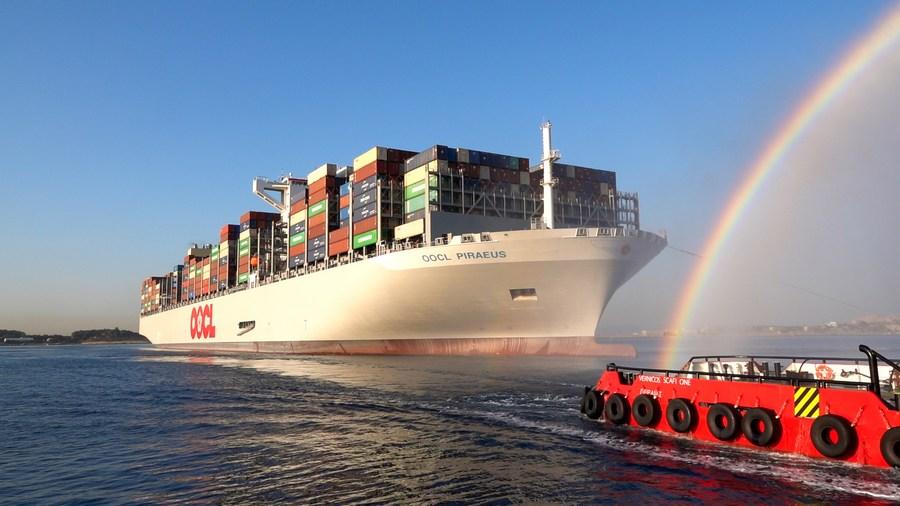 This aerial photo taken on July 10, 2023 shows OOCL PIRAEUS, one of the largest container vessels in the world, arriving at Piraeus port in Piraeus, Greece. (Xinhua)
"Six hundred million euros (658.2 million U.S. dollars) worth of total investment from COSCO Shipping has made the PCT a leading Mediterranean port next only to the ports of Rotterdam, Antwerp and Hamburg in Europe," Panos Zerefos, the PCT's financial manager, told Xinhua in a recent interview.
The PPA has posted equally impressive results in recent years. The company announced record-high revenues and profitability in 2022. Its annual turnover stood at 194.6 million euros in 2022, an increase of 26.2 percent from 2021, and its profit before tax reached 74.7 million euros, which was 51.7 percent higher than the year before.
In 2022, the port handled 880,416 passengers, a 190 percent increase, with 667 cruise ship berths occupied, an increase of 79 percent compared to 2021. This was above pre-pandemic levels.
The new image of a modern, reliable, efficient port has helped attract more foreign investment to Greece. Business giants like ZTE, Hewlett-Packard and Huawei started using the cargo terminals as logistics hubs for their merchandise and more projects in several sectors followed.
This August, during an event to celebrate the PPA's 20 years of listing on the Athens Stock Exchange, PPA Chairman Yu Zenggang said that it "coincided with the announcement of the highest-ever dividend" to be distributed to shareholders. It amounted to 1.04 euros per share, a 65.6 percent increase compared to 2021, according to a press release.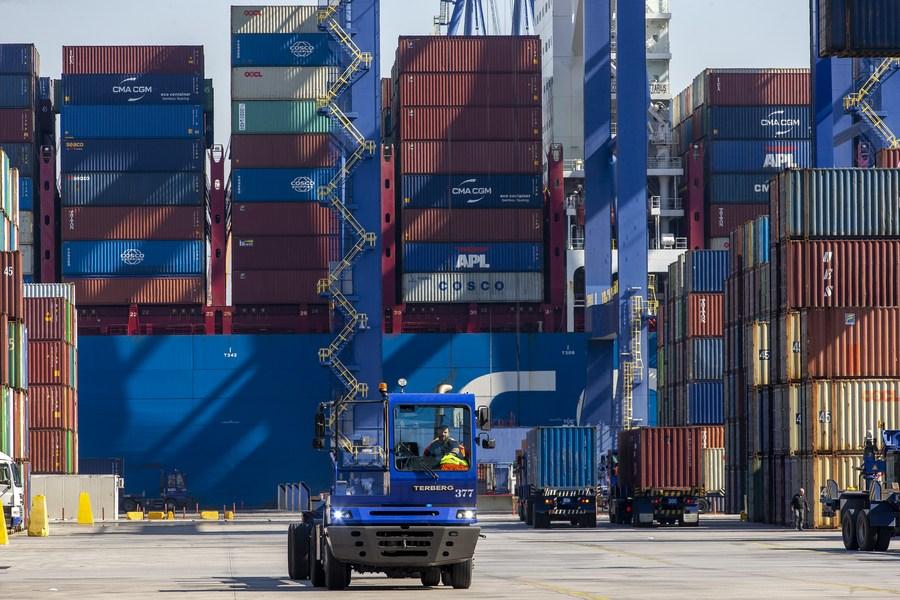 A driver works at the container terminal III in Piraeus port, Greece, Feb. 16, 2023. (Xinhua/Marios Lolos)
China's COSCO Shipping has systematically been investing in society, infrastructure, technology and the environment, contributing to the overall development of Greece's economy and society. So far, the Piraeus project has created jobs for over 3,000 local people directly and 10,000 people indirectly, according to a local research institute.
The company has also allocated over 600,000 euros to local communities to support education and culture in recent years.
Greece's Culture Ministry said this summer that by the end of 2025, a building and its adjacent spaces inside the port that the PPA granted to the Greek state last year will be transformed into the Museum of Underwater Antiquities.
"A formerly big port with huge competitiveness problems has become one of the most competitive ports in Europe. A very crucial Chinese investment is progressing very well. The project has been successful," Bank of Greece Governor Yannis Stournaras told a press briefing in Athens earlier this summer.
According to Greece's Prime Minister Kyriakos Mitsotakis, COSCO Shipping's investment in the port of Piraeus is an example of fruitful international cooperation and it is a win-win situation for all stakeholders involved. (1 euro= 1.08 U.S. dollar) ■