Grand Bazaar in Urumqi: a mirror of vitality of local economy
0 Comment(s)Print E-mail Xinhua, August 30, 2023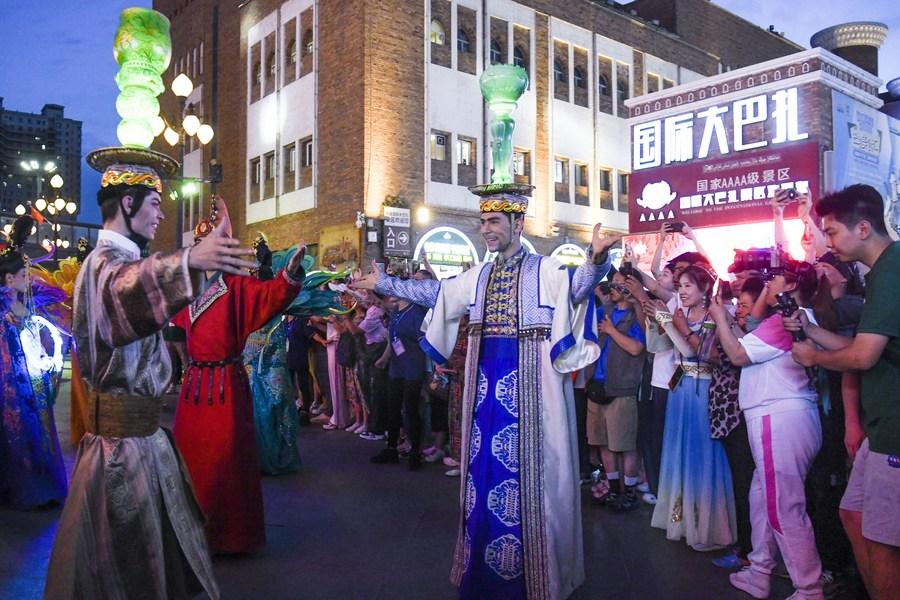 Actors perform at the Xinjiang International Grand Bazaar in Urumqi, northwest China's Xinjiang Uygur Autonomous Region, Aug. 28, 2023. (Xinhua/Wang Fei)
URUMQI, Aug. 29 (Xinhua) -- Xinjiang International Grand Bazaar, inaugurated in 2003, now serves as a key sightseeing and shopping destination, mainly selling local specialties such as dried fruits, medicinal herbs, carpets, jades, ethnic costumes and musical instruments.
In 2018, an expansion and renovation project transformed it into a popular tourist destination.
Currently, the Grand Bazaar receives more than 100,000 people a day.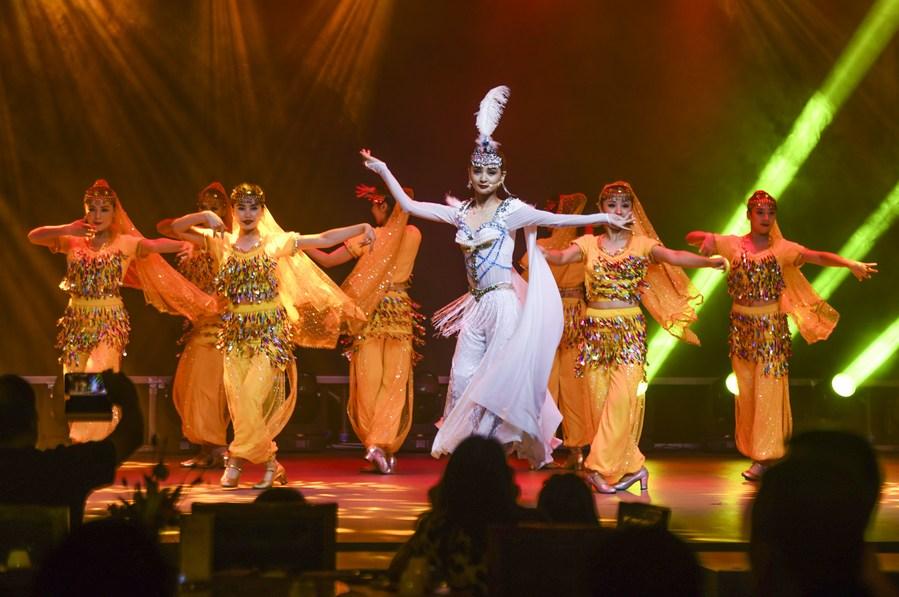 A performance is staged at the Xinjiang International Grand Bazaar in Urumqi, northwest China's Xinjiang Uygur Autonomous Region, Aug. 1, 2023. (Xinhua/Wang Fei)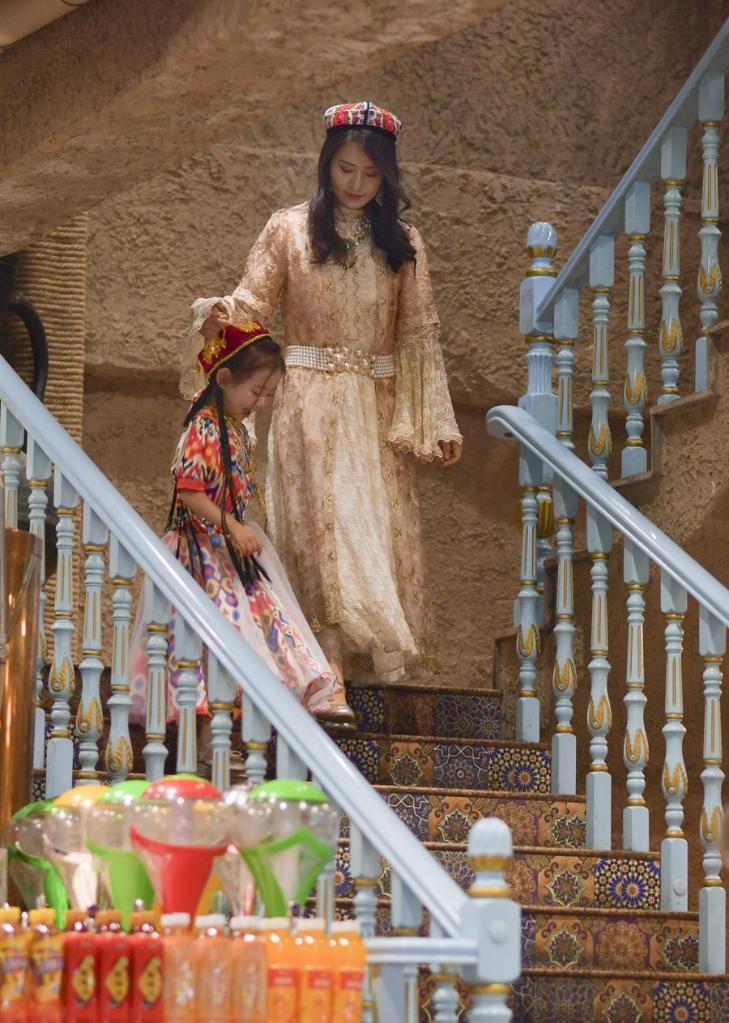 Two tourists are seen at the Xinjiang International Grand Bazaar in Urumqi, northwest China's Xinjiang Uygur Autonomous Region, Aug. 16, 2023. (Xinhua/Wang Fei)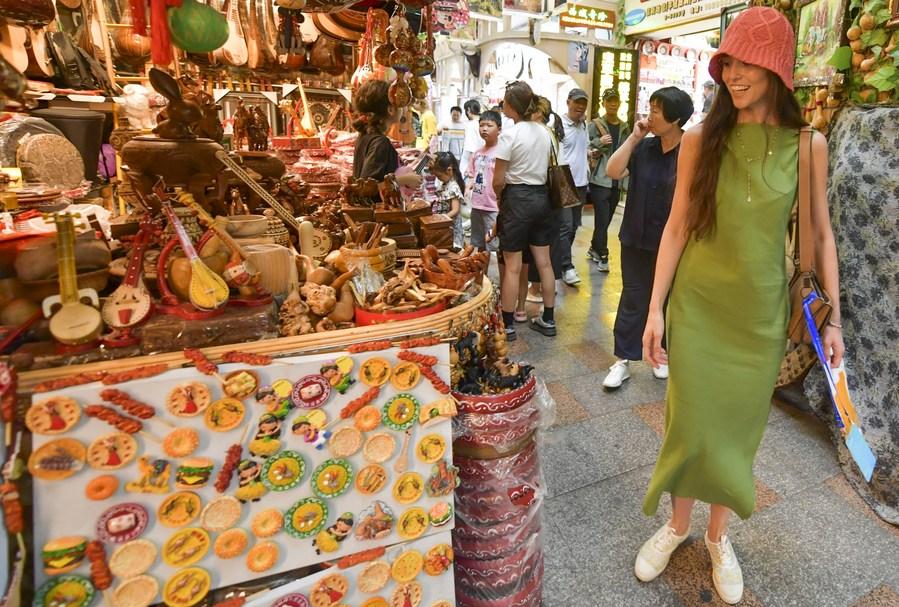 Tourists go sightseeing at the Xinjiang International Grand Bazaar in Urumqi, northwest China's Xinjiang Uygur Autonomous Region, Aug. 5, 2023. (Xinhua/Wang Fei)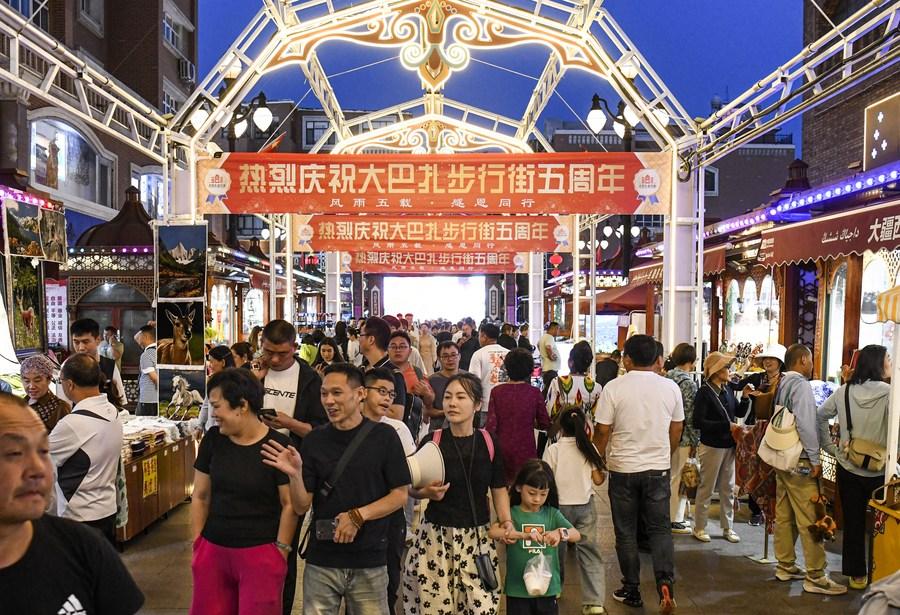 Tourists go sightseeing at the Xinjiang International Grand Bazaar in Urumqi, northwest China's Xinjiang Uygur Autonomous Region, Aug. 5, 2023. (Xinhua/Wang Fei)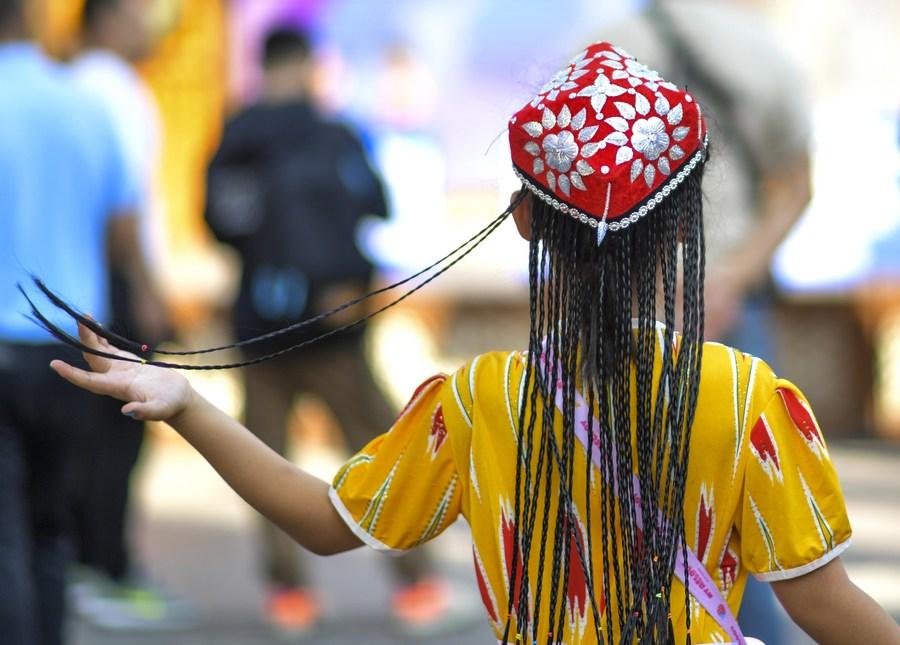 A tourist is seen at the Xinjiang International Grand Bazaar in Urumqi, northwest China's Xinjiang Uygur Autonomous Region, Aug. 16, 2023. (Xinhua/Wang Fei)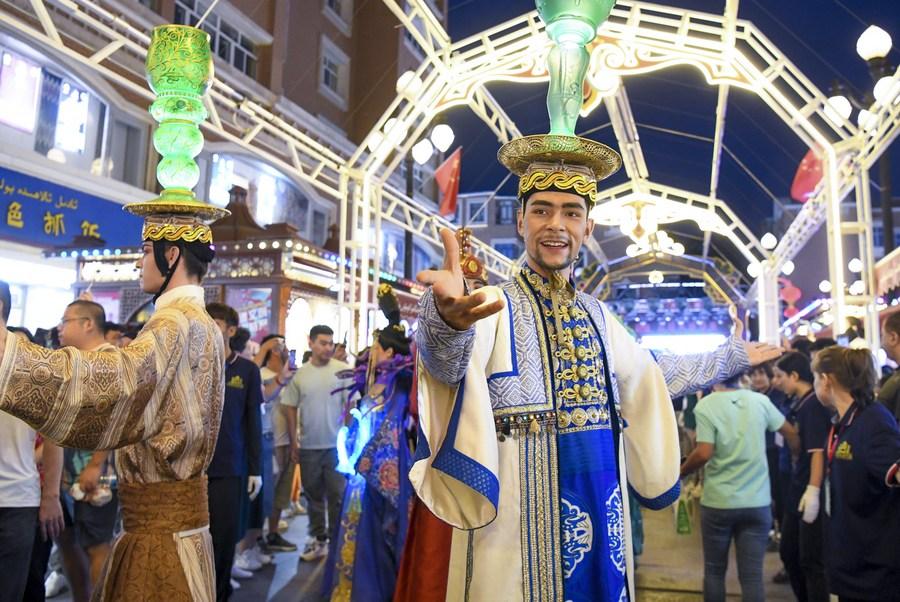 Actors perform at the Xinjiang International Grand Bazaar in Urumqi, northwest China's Xinjiang Uygur Autonomous Region, Aug. 28, 2023. (Xinhua/Wang Fei)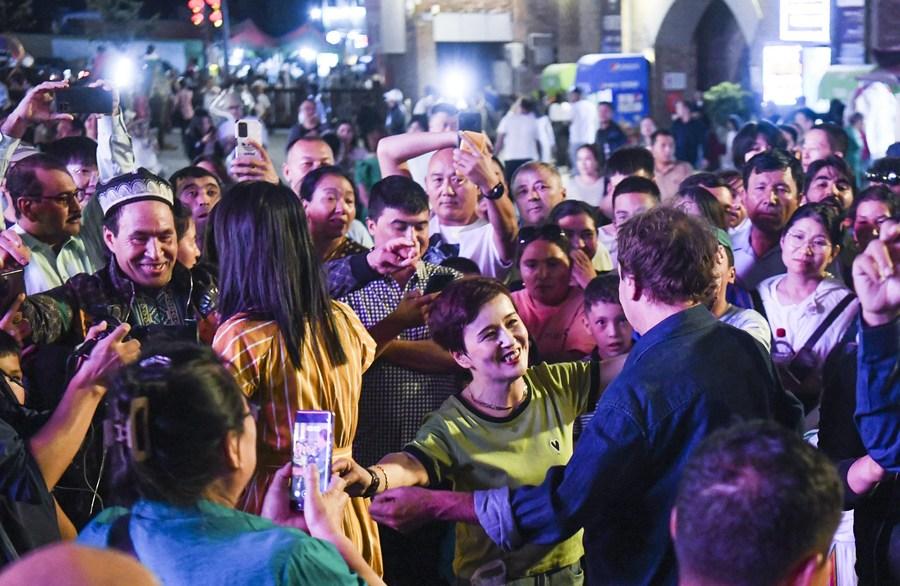 People dance at the Xinjiang International Grand Bazaar in Urumqi, northwest China's Xinjiang Uygur Autonomous Region, Aug. 16, 2023. (Xinhua/Wang Fei)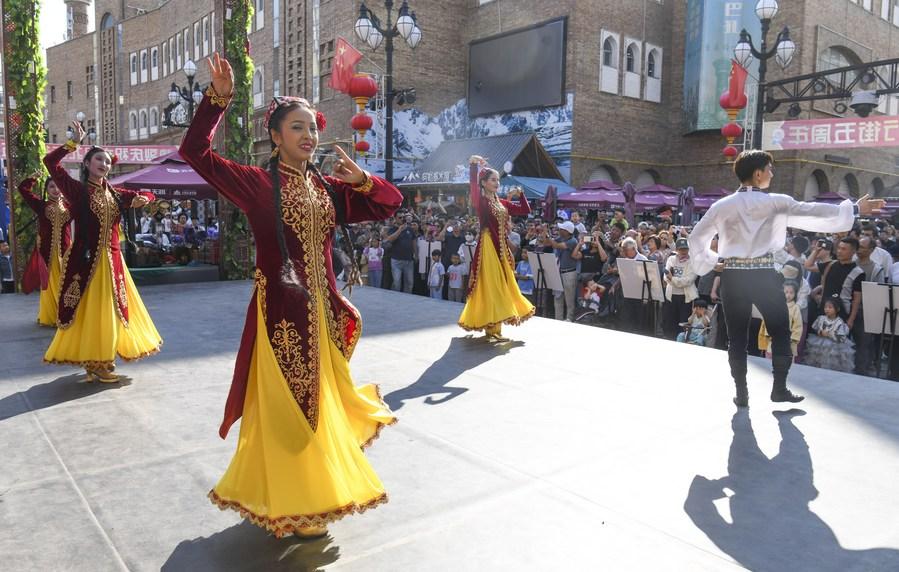 A performance is staged at the Xinjiang International Grand Bazaar in Urumqi, northwest China's Xinjiang Uygur Autonomous Region, Aug. 16, 2023. (Xinhua/Wang Fei)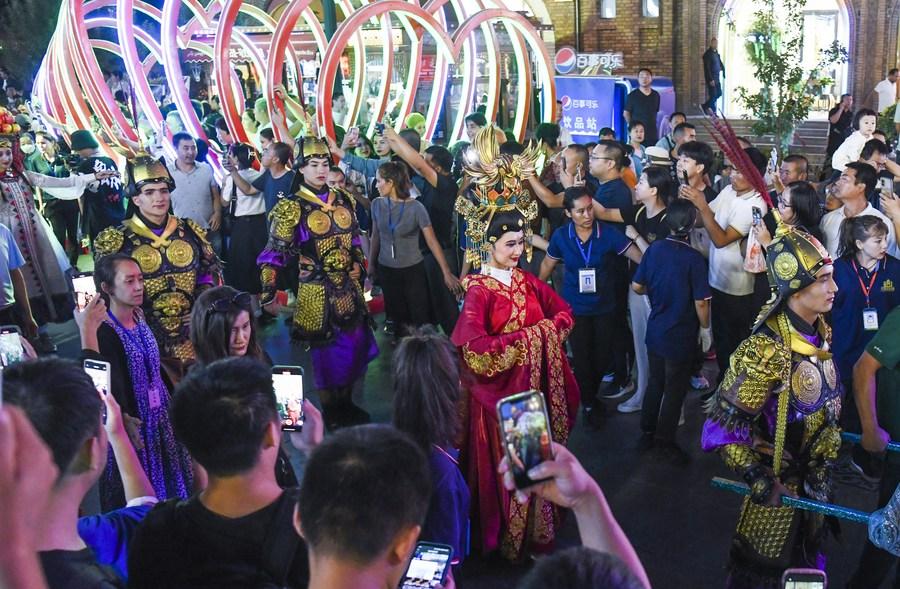 Actors perform at the Xinjiang International Grand Bazaar in Urumqi, northwest China's Xinjiang Uygur Autonomous Region, Aug. 28, 2023. (Xinhua/Wang Fei)
Customers select barbecue at the Xinjiang International Grand Bazaar in Urumqi, northwest China's Xinjiang Uygur Autonomous Region, Aug. 16, 2023. (Xinhua/Wang Fei)