Asia-Pacific growth poised to quicken with Chinese economy at faster pace
0 Comment(s)Print E-mail Xinhua, July 12, 2023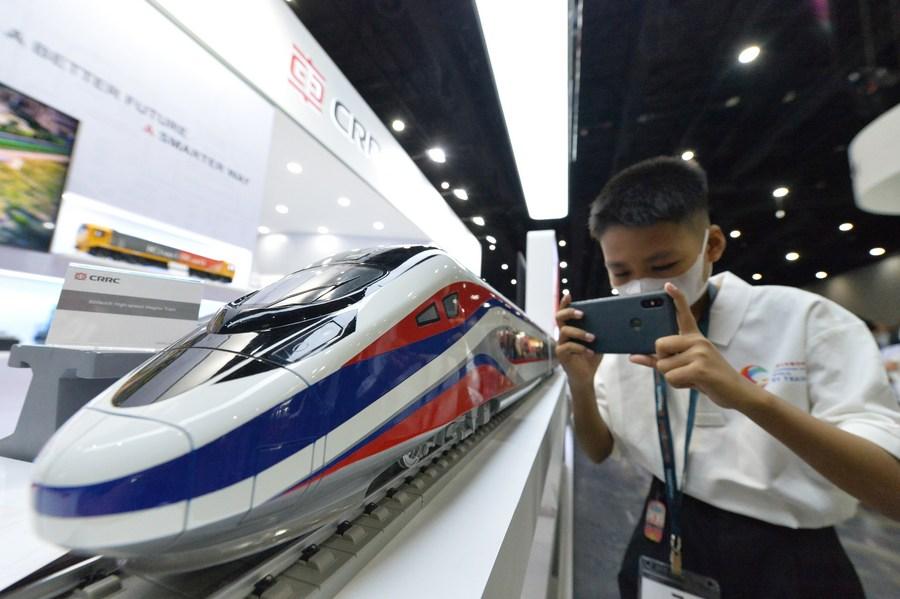 A child takes photos of the train models of China Railway Rolling Stock Corporation (CRRC) during Asia Pacific Rail 2023 in Bangkok, Thailand, on May 31, 2023. (Xinhua/Rachen Sageamsak)
There is huge potential for the Chinese economy, and over the medium and long term, consumption market will be on the rise due to expansion of middle class, and advanced digital technology will play a big role in promoting economic growth, experts said.

HONG KONG, July 12 (Xinhua) -- The economies in the Asia-Pacific have been showing resilience and are poised to gain steam mainly owing to faster growth of the Chinese economy after its reopening from the COVID-19 pandemic.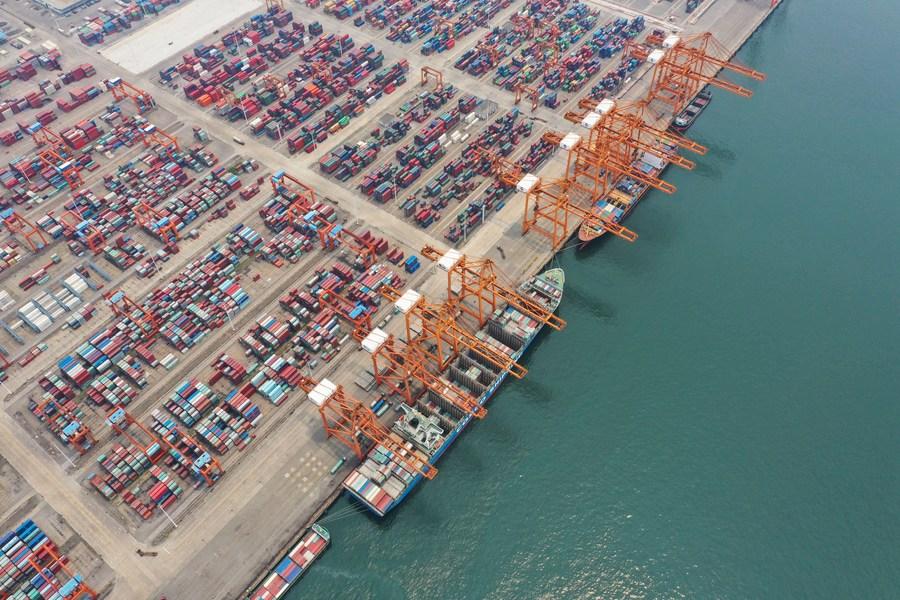 This aerial photo taken on April 13, 2019 shows a container wharf at Qinzhou port in south China's Guangxi Zhuang Autonomous Region. (Xinhua/Cao Yiming)
ASIA-PACIFIC ECONOMY POISED TO MOVE FORWARD

Developing economies in Asia and the Pacific this year are projected to see better performances than in 2022 as the continued easing of pandemic restrictions boosts consumption, tourism and investment, the Asian Development Bank (ADB) has said, highlighting "China's reopening is the main factor brightening the region's growth prospects."
Economies in Asia and the Pacific are forecasted to grow 4.8 percent this year and next year, compared to an increase of 4.2 percent in 2022, according to the latest Asian Development Outlook report released in April.
Improved consumption and investment are boosting recovery in many regional economies, offsetting the impacts of elevated food and energy prices triggered by the Russia-Ukraine conflict and other global headwinds, the report said, adding that tourism and remittances are trending upward as pandemic restrictions ease further, and in many tourism-dependent economies, visitor arrivals are steadily improving toward pre-pandemic levels.
With the adjustment of its COVID-19 strategy, the Chinese economy is expected to grow 5.0 percent this year and 4.5 percent in 2024, compared with a 3.0-percent growth in 2022, it said.
Strong tourism performance and robust domestic demand are boosting Southeast Asian economies such as Indonesia, the Philippines and Vietnam, with the subregion projected to grow 4.7 percent this year and 5.0 percent in 2024, it added.
"Prospects for economies in Asia and the Pacific are brighter, and they are poised for a strong recovery as we return to normalization following the pandemic," ADB Chief Economist Albert Park said.
"People are starting to travel again for leisure and work, and economic activities are gathering pace. Because many challenges remain, governments in the region need to stay focused on policies that support stronger cooperation and integration to promote trade, investment, productivity and resilience," he said.
However, risks still persist, the report said, citing the Russia-Ukraine conflict which could stoke renewed spikes in commodity prices and global inflation and induce further monetary tightening if protracted or escalated.
Trade in goods and services, cross-border investment, labor mobility, and technology transfers all support the creation of a much larger, regionally integrated market, which is catalyzed by the Regional Comprehensive Economic Partnership (RCEP), the world's largest free trade pact taking effect to all its 15 members in June, according to trade experts.
ADB experts told Xinhua that RCEP is expected to help facilitate intraregional trade and investment through tariff elimination, streamlined rules of origin and regional cumulation provisions, which are expected to provide flexibility to businesses to tap into the benefits of preferential market access, while strengthening regional supply chains.
Also, the Belt and Road Initiative (BRI), a reference to the Silk Road Economic Belt and the 21st Century Maritime Silk Road, was initiated by China in 2013 to build trade and infrastructure networks connecting Asia to Europe and Africa on and beyond ancient Silk Road trade routes, pushed ahead with connectivity in the Asia-Pacific region.
Joseph Matthews, professor at the BELTEI International University in the Cambodian capital Phnom Penh, told Xinhua that the BRI has complemented the Master Plan on ASEAN Connectivity, and the initiative has provided great benefits to Cambodia, ASEAN and the rest of the world.
Pointing to Asia's pivotal role in climate change and sustainability, AI and digital, as well as innovation, the aphorism that the world's center of gravity is shifting toward Asia could be in mind, said Neeraj Aggarwal, chair of the Asia Pacific at the Boston Consulting Group (BCG).
"Over the last decade, market capitalization in Asia-Pacific increased by 15 trillion U.S. dollars, nearly doubling the size of the region's equity markets. Not just this, Asia is home to one-third of the world's unicorns and within a couple of years is predicted to have more unicorns than the rest of the globe," he said.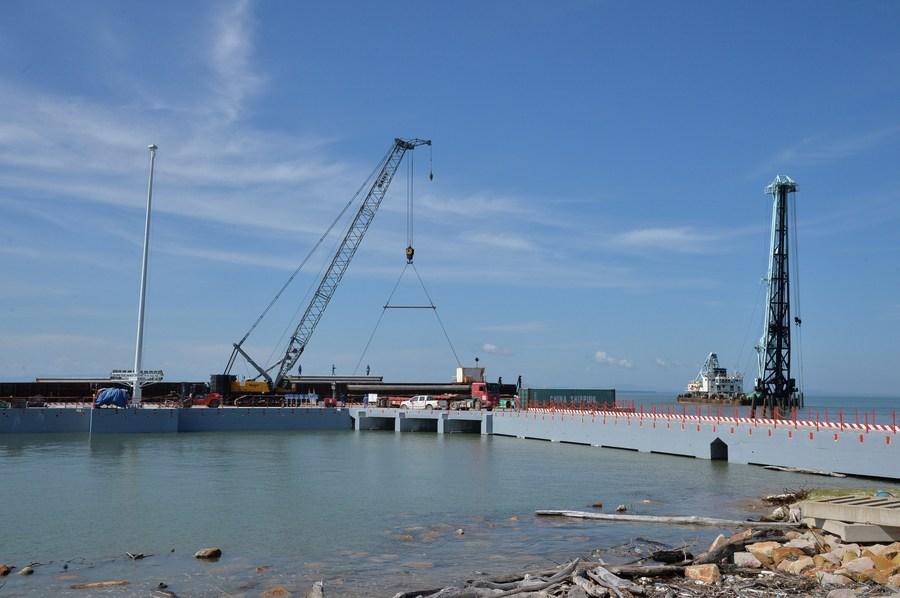 Photo taken on Aug. 20, 2017 shows the construction site of Zhejiang Hengyi Petrochemical's Brunei project at Pulau Muara Besar (PMB) in Bandar Seri Begawan, Brunei. (Xinhua/Jeffrey Wong)
CHINESE ECONOMY REMAINS DRIVING FORCE OF GLOBAL GROWTH
According to the latest data from the National Bureau of Statistics, the purchasing managers' index (PMI) for China's manufacturing sector came in at 49 in June, up from 48.8 in May, ending a three-month decline, another encouraging sign of strengthening economic momentum.
China aims to expand its economy by around 5 percent in 2023, according to this year's government work report. The country's GDP grew 4.5 percent year-on-year to 28.5 trillion yuan (about 3.97 trillion dollars) in the first quarter of 2023, official data showed.
Amid challenges on both domestic and external fronts, mainly weak domestic demand and geopolitical risks, the government has ramped up efforts to shore up growth momentum.
The central bank has reduced the one-year interest rate of its medium-term lending facility, a tool adding liquidity to the banking system, by 10 basis points to 2.65 percent. About 237 billion yuan (33.15 billion U.S. dollars) was pumped into the market through the operation.
The government has worked to lower financing costs for business entities and increase loans to small and micro firms. Sectors dedicated to technological innovation or key industrial chains will enjoy tailor-made tax and fee-cutting measures, and small taxpayers with monthly sales of less than 100,000 yuan (13,880 U.S. dollars) will be exempted from value-added tax by the end of this year.
In May, China's value-added industrial output went up 3.5 percent year-on-year, retail sales of consumer goods gained 12.7 percent, and the service sector index rose 11.7 percent, the statistics agency said.
China's economic growth in the second quarter will be significantly faster than in the January-March period and economic performance will return to normal level in the second half, Fu Linghui, spokesperson for the National Bureau of Statistics, said.
Despite challenges ahead, China, with its solid material and technological foundation, huge market and strong innovation capacity, is capable of overcoming difficulties and promoting the recovery and improvement of the economy, Fu said.
Experts believe that China's economic outlook for an upward trajectory in the long term remains unchanged.
In its China Economic Update, the World Bank maintained its China growth forecast at 5.6 percent in 2023, led by a rebound in consumer demand, stressing that capital spending on infrastructure and manufacturing is expected to remain resilient.
The Organization for Economic Cooperation and Development said that China's reopening will provide impetus for world economic growth.
According to a recent report by the China Council for the Promotion of International Trade, 97 percent of the surveyed foreign companies rated China's foreign investment policy since the fourth quarter of last year "satisfied" or above.
A report issued by the EU Chamber of Commerce in China shows that the size of China's market, strong demand, the fast pace of commercialization of R&D results and ample local talents steer a large share of European companies toward deeper localization, and close to 60 percent of the companies surveyed said that they would increase R&D expenditure in China in the coming five years.
An AmCham China survey shows that 66 percent of U.S. companies in China will maintain or increase investment in China in the coming two years.
Liao Tianshu, chairman of BCG Greater China, told Xinhua that there is huge potential for the Chinese economy, and over the medium and long term, consumption market will be on the rise due to expansion of middle class, and advanced digital technology will play a big role in promoting economic growth.■