Confucius Institute at Kathmandu University produces 50,000 Chinese-language professionals for Nepal
0 Comment(s)Print E-mail Xinhua, July 11, 2023
Vice chancellor of Kathmandu University Bhola Thapa addresses a ceremony held to mark the 16th anniversary of the Confucius Institute at Kathmandu University in Lalitpur, Nepal, July 10, 2023. The Confucius Institute at Kathmandu University has trained nearly 50,000 Chinese-language professionals for Nepal since its inception 16 years ago, as the university voiced readiness on Monday to do more to promote cultural exchanges between the two countries. (Photo by Sulav Shrestha/Xinhua)
KATHMANDU, July 10 (Xinhua) -- The Confucius Institute at Kathmandu University has trained nearly 50,000 Chinese-language professionals for Nepal since its inception 16 years ago, as the university voiced readiness on Monday to do more to promote cultural exchanges between the two countries.
The institute has not only opened Chinese language courses at universities, colleges and primary and secondary schools in Nepal, but also launched other programs including Chinese classes for Nepal Army and government officials, said Gao Xiaofeng, vice president of Hebei University of Economics and Business, which is co-building the Confucius Institute with Kathmandu University.
And nearly 50,000 Chinese-language professionals have been trained for different sectors in Nepal in the past 16 years, Gao said at a ceremony held on Monday to mark the 16th anniversary of the Confucius Institute.
Higher education institutions in north China's Hebei Province have co-built 12 Confucius Institutes and six Confucius Classrooms in 15 countries over the years, said Wang Liqian, deputy director-general of Hebei's Department of Education.
Of the countries, Nepal, Zambia and Thailand have incorporated the Chinese language into their national education systems, Wang added.
"The Confucius Institute not just teaches language but is a part of cultural exchanges. We're proud that we have been part of this exchanges through the institute at our university," said Bhola Thapa, vice chancellor of Kathmandu University.
"We're open for further strengthening this effort," he said.
For his part, Wang Xin, political counselor at the Chinese embassy in Nepal, said the Chinese embassy will continue to work hand in hand with the Nepali government and people from all walks of life to jointly implement the Global Civilization Initiative and create a better Chinese language learning environment for Nepali friends.
China is also willing to strengthen educational cooperation with Nepal and train various talents for the South Asian country's development, Wang added.
Teachers and students from the Confucius Institute made art performances on the occasion. ■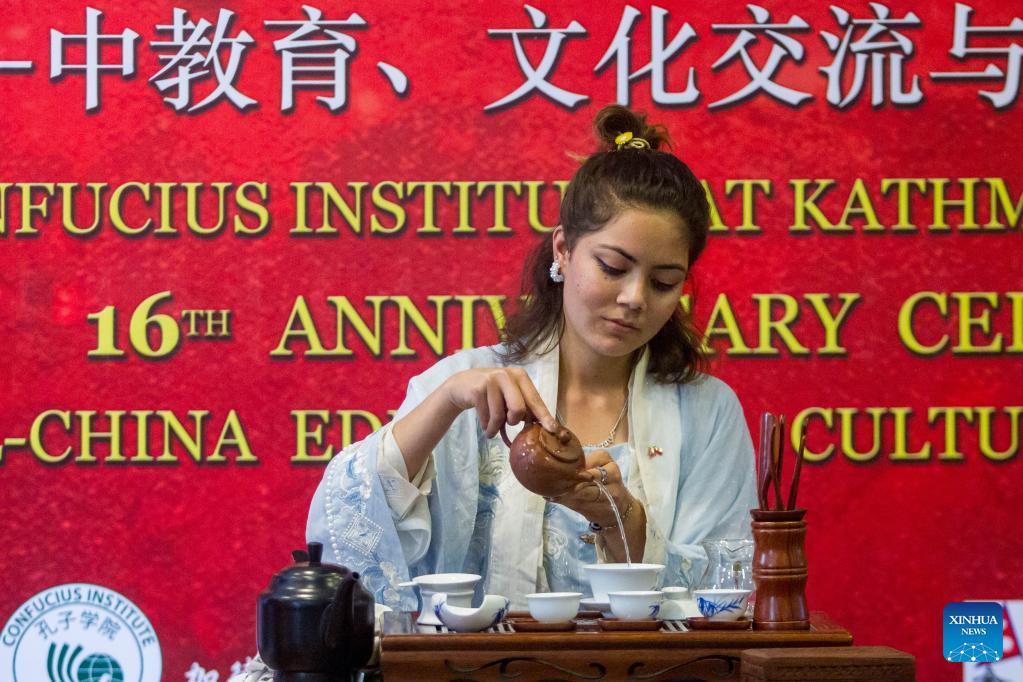 A teacher demonstrates the tea ceremony at an event held to mark the 16th anniversary of the Confucius Institute at Kathmandu University in Lalitpur, Nepal, July 10, 2023. The Confucius Institute at Kathmandu University has trained nearly 50,000 Chinese-language professionals for Nepal since its inception 16 years ago, as the university voiced readiness on Monday to do more to promote cultural exchanges between the two countries. (Photo by Sulav Shrestha/Xinhua)