"World factory" upgraded with high-tech, new energy and originality
0 Comment(s)Print E-mail Xinhua, June 12, 2023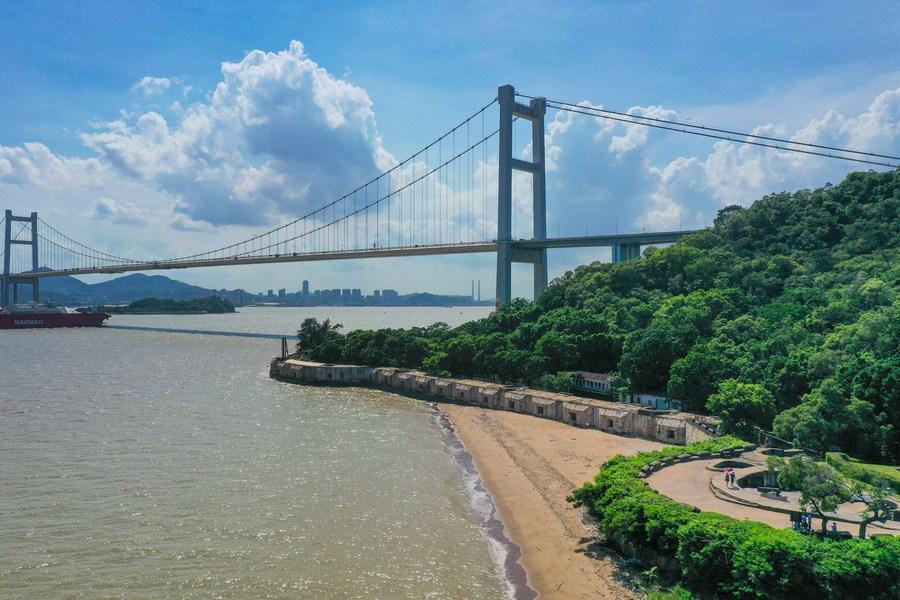 Aerial photo taken on June 23, 2020 shows a view of the Humen Bridge, which links Guangzhou City and Dongguan City, in south China's Guangdong Province. (Xinhua/Liu Dawei)
GUANGZHOU, June 11 (Xinhua) -- An unparalleled manufacturing enterprise and foreign trade volume bestowed the title "world factory" to Dongguan in southern China's Guangdong Province.
As the 24th Chinese city whose GDP has surpassed 1 trillion yuan (about 140.62 billion U.S. dollars), Dongguan has been forging ahead with high-tech, new energy, and originality, other than a stereotype as a massive contract factory for mobile phones and garments only.
ADVANCED SCI-TECH RESEARCH
In the "world factory" lies a world-class sci-tech project -- China Spallation Neutron Source (CSNS). Over 1,000 research tasks have been tackled since it started in August 2018.
Chen Hesheng, general director of the CSNS and an academician of the Chinese Academy of Sciences, explained that a spallation neutron source is like a super microscope to help study the microstructure of some material.
"This function could find out, for example, when the parts of high-speed trains should change to avoid accidents caused by fatigue of materials," he said.
Chen said the transformation of CSNS achievements to practical use is underway. For now, the second phase of CSNS is under construction, and the cooperation between CSNS and high-level colleges and institutes is accelerating to build scientific research instruments.
Chen considered the CSNS the most significant infrastructure for the comprehensive national science center in the Guangdong-Hong Kong-Macao Greater Bay Area.
EMPHASIS ON NEW ENERGY
Founded in 2010, Greenway Technology is a leading manufacturer of lithium-ion batteries for micro-mobility and energy storage applications such as electric bikes, electric motorcycles, drones, intelligent robots, and sound equipment.
With clients in over 80 countries and regions, Greenway has invested nearly 260 million yuan in research and development in the recent three years to secure its competitiveness in the new energy market.
Thanks to early-stage planning and quick response, the company has rapidly grown and maintained a 20 percent share of the European market, said Liu Cong, Greenway's vice president.
According to official statistics, Dongguan's new energy industry saw revenues up 11.3 percent year on year to 66.73 billion yuan in 2022.
The local government has coordinated policies and funds to build a strategic base for emerging industries, including new-style energy storage, new energy vehicles, parts, semiconductors, and integrated circuits, said Liang Yangyang, chief economist of Dongguan's industry and information technology bureau.
ORIGINALITY IN MANUFACTURING
Despite emphasizing high-tech and new energy, Dongguan still attaches great importance to manufacturing, which contributes to over half of the city's GDP.
As one of the city's industrial pillars, toy manufacturing has over 4,000 manufacturers and nearly 1,500 supporting enterprises. Among them, ToyCity is a pioneer in exploring paths for more brand power and added value.
Originality is the key to the company's success, said Zheng Bo, ToyCity's founder, while introducing the fashion and trend toys designed by his company.
Toy companies used to choose contract manufacturing at the expense of initiative. But it's different now, Zheng said, stressing that creating original brands with intellectual properties wins independence and profits for toy businesses.
ToyCity's annual turnover has exceeded 100 million yuan, and profits have surged over 300 percent since its path changed towards originality, Zheng added.
Furthermore, supportive measures have been implemented by the local government, such as financial support, fashion toy centers, and Chinese fashion design competitions to establish a whole industry chain for toy manufacturing. ■