Cooperation key to speed up tech breakthroughs
MA SI

0 Comment(s)Print E-mail CHINA DAILY, June 02, 2023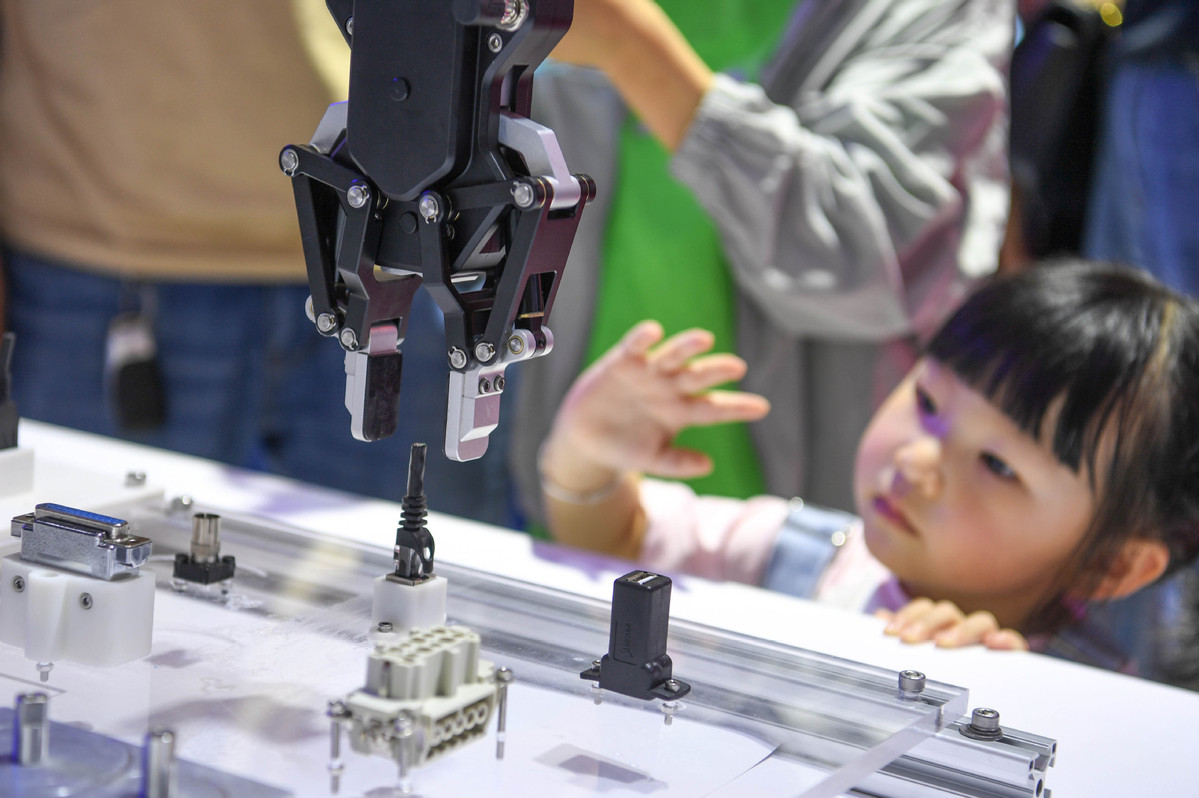 Visitors look at intelligent machinery at the China International Big Data Industry Expo 2023 in Guiyang, capital of southwest China's Guizhou province, May 26, 2023. The China International Big Data Industry Expo 2023 kicked off on Friday in Guiyang, showcasing the country's latest achievements in the big data industry and promoting relevant business exchanges. [Photo/Xinhua]
Experts, officials point to risks posed to world economy by potential decoupling
Greater international cooperation is needed to explore technological frontiers such as computer-brain interface technologies and artificial intelligence, which are widely seen as key future drivers of global economic growth, officials and experts said.
Highlighting that decoupling in crucial technologies will only slow down the world economy, they called on Chinese companies to have a problem-solving mindset and to accelerate the drive for breakthroughs in core sectors.
The comments came as AI is grabbing global headlines.
US company Nvidia became the world's first chipmaker with a market capitalization of over $1 trillion on Tuesday morning amid surging demand for its AI chips. Meanwhile, Tesla CEO Elon Musk's brain-implant company Neuralink said last week that it had been given the green light for its first in-human clinical trial.
Foreign Ministry spokeswoman Mao Ning said on Thursday that China firmly opposes any actions by the United States to politicize and weaponize economic, trade and technological issues.
These comments were in response to recent media reports quoting US Treasury official Paul Rosen as saying that new rules were under consideration which would restrict the flow of US investment and know-how to Chinese companies engaged in the fields of advanced semiconductors, AI and quantum computing.
But China is clear that partnership and cooperation is the only way forward if the world is to fully harness the potential offered by the technological revolution, according to experts.
This was expressed clearly by President Xi Jinping in his congratulatory message to the 2023 Zhongguancun Forum, which ended in Beijing earlier this week. Xi said in the message that China is willing to work with countries around the world to promote technological innovation to better benefit the people of all countries.
Wu Hequan, an academician at the Chinese Academy of Engineering, said international cooperation is vital to achieving scientific breakthroughs, and China and the US are highly complementary to each other in AI.
US companies are advanced in fundamental science and underlying computer algorithms, while China has a big market and rich application scenarios, and its research and development prowess in AI is also growing, Wu said.
By 2022, China had secured the top position globally in terms of the number of patent applications for AI, according to the Ministry of Industry and Information Technology.
AI technology will usher in the next digital revolution after the internet and smartphones, experts said, with Goldman Sachs forecasting that generative AI could drive a 7 percent increase in global GDP, or almost $7 trillion, over a 10-year period.
Nick Fowler, chief academic officer at Elsevier, a Netherlands-based academic publishing company, said there is enduring strength in the China-US research relationship, despite noise about the two countries decoupling.
The Field Weighted Citation Impact — a proxy measure of research quality — of China-US co-authored publications reached almost two, which is twice the world average, and higher than the performance of either China or the US alone, according to a report by Elsevier.
While Washington is imposing increasingly tighter restrictions on technology, China's central leadership is attaching greater importance to innovation-driven development.
Beijing and Shenzhen, a metropolis in Guangdong province, announced favorable policies this week to support the development of domestically developed AI chips, which are the key to the ongoing AI boom triggered by ChatGPT, an AI chatbot developed by the US company OpenAI.
Liu Qingfeng, chairman of Chinese AI company iFlytek Co, said, "Chinese companies must devote big, real money to research and development in fundamental science to achieve breakthroughs in AI."
So far, China has developed at least 79 AI large-language models, or rivals of ChatGPT, according to the Institute of Scientific and Technical Information of China.
When it comes to computer-brain interface technology, which enables a person to control an external device using brain signals, China is also making steady progress.
A team led by Duan Feng, a professor at Nankai University in Tianjin, completed the world's first interventional brain-computer interface experiment in a nonhuman primate earlier this month.