Sino-ASEAN land-sea trade corridor shows great vitality
TAN YINGZI and DENG RUI in Chongqing

0 Comment(s)Print E-mail CHINA DAILY, May 19, 2023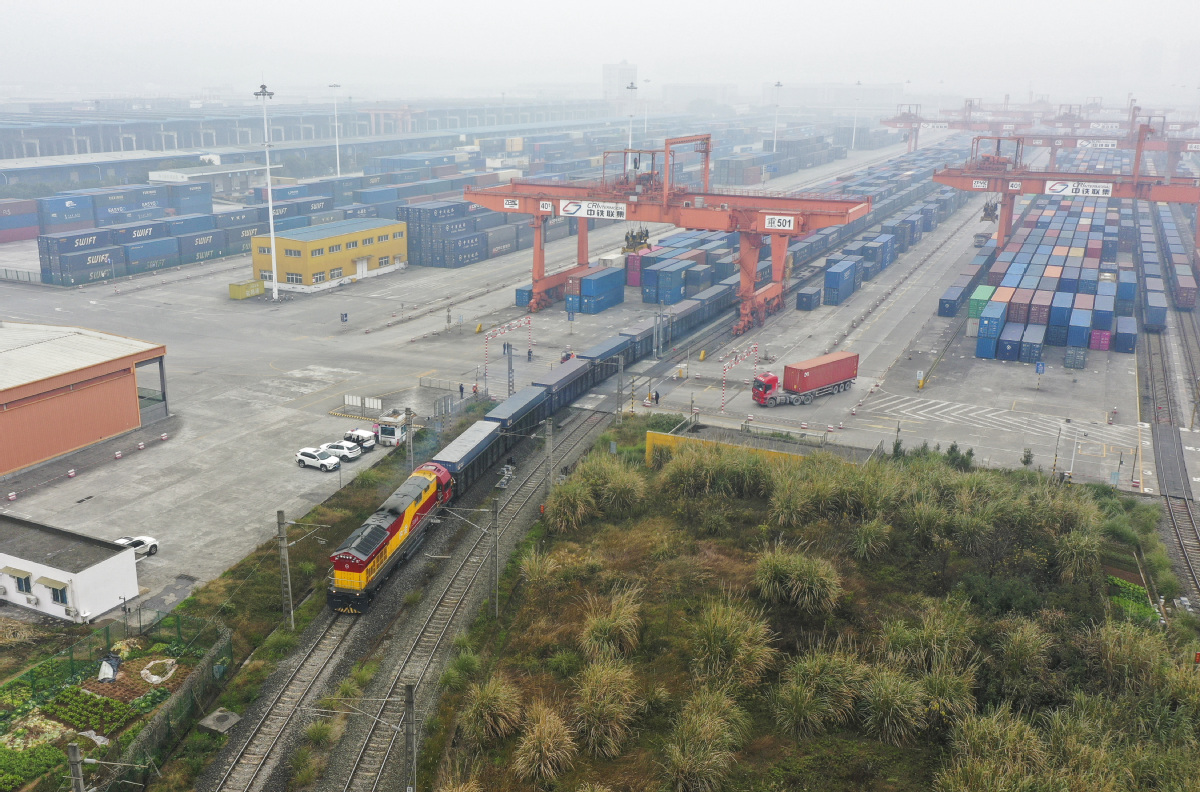 A freight train serving the International Land-Sea Trade Corridor departs from Chongqing for ASEAN markets in January. [PHOTO by LIU CHAN/XINHUA]
Route connecting 393 ports seen as key to national development programs
The new International Land-Sea Trade Corridor, a major international logistics project, has achieved great success as a recent report shows that its development index in 2022 surged to 135.2 from 122.6 in 2021 and 102 in 2020.
As a key project mapped out for the 14th Five-Year Plan (2021-25), the ILSTC is a trade and logistics passage jointly built by provincial-level regions in western China and the Association of Southeast Asian Nations member states.
The land-sea transit route is based on the efficient use of a variety of transportation modes, including railways, highways and waterways.
The index compiled by the ILSTC Coordination Center for Logistics and Operation evaluates the project's domestic infrastructure, service capacity and industrial development and gauges its development level and status in China within a certain period.
The ILSTC development index 2022 was released at the 2023 China-Singapore (Chongqing) Connectivity Initiative International Land-Sea Trade Corridor (CCI-ILSTC) International Cooperation Forum, which kicked off in Chongqing on Thursday.
"The figures prove that the overall implementation of the strategy is good, with the operation effectiveness constantly increasing," said Liu Wei, director of the ILSTC's Coordination Center for Logistics and Operation.
Chongqing, a municipality located on the upper reaches of the Yangtze River, boasts key geographic advantages. It is a strategic pivot point for national development programs in the western regions and a connecting point for the Belt and Road Initiative and the Yangtze River Economic Belt.
It is also the headquarters of the China-Singapore (Chongqing) Demonstration Initiative on Strategic Connectivity, which was launched in November 2015. The CCI launched the International Land-Sea Trade Corridor project in a bid to speed up high-quality development in western China.
Over the past five years, the ILSTC's logistics network has expanded rapidly — it connects Europe with Southeast Asia, with Chongqing as a key rail hub, and now reaches 393 ports in 119 countries and regions, Liu said.
So far, the ILSTC has extended to 13 provincial-level regions including Chongqing and the provinces of Sichuan, Guizhou and Hainan, Zhanjiang of Guangdong province and Huaihua of Hunan province, offering a faster alternative to the coast between inland western regions and ASEAN countries.
Statistics show that since 2017, Chongqing has transported some 450,000 twenty-foot equivalent units (TEUs) of cargo valued at 78.4 billion yuan ($11.2 billion) via the ILSTC, accounting for over 30 percent of the route's total.
According to Chongqing's recent five-year plan (2023-27), to accelerate the construction of the ILSTC, the city will play a bigger role in international logistics and the ILSTC development index will reach 170 by 2027.
At that time, Chongqing's freight volume and value of goods via the ILSTC will double, with the import and export volume with ASEAN countries taking up over 70 percent of the total. Logistics costs and the overall logistics time will be reduced by 20 percent and 30 percent, respectively.