Rural living gains popularity among Chinese urbanites
0 Comment(s)Print E-mail Xinhua, May 15, 2023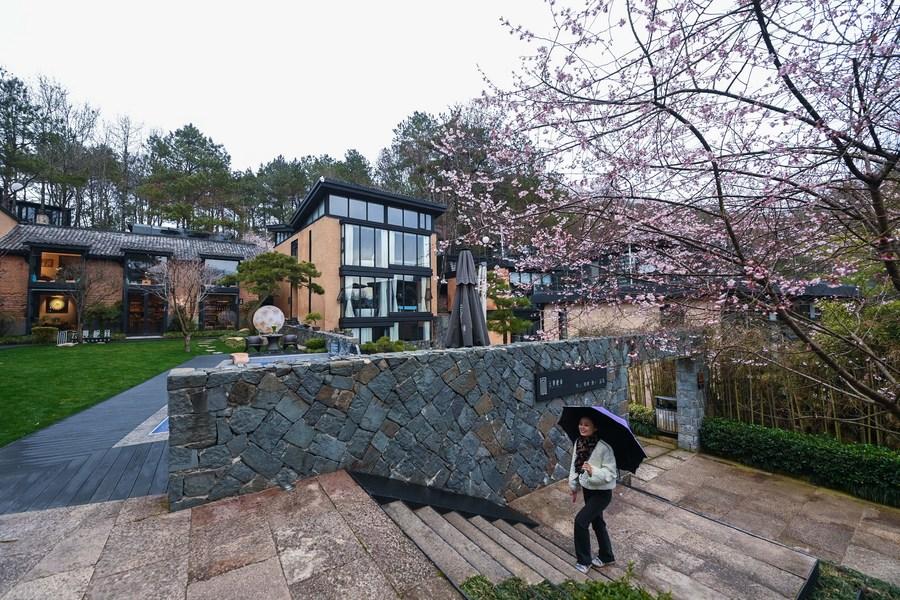 A tourist walks near a homestay in Qianyuan Village of Jiande City, east China's Zhejiang Province, Feb. 28, 2023. (Xinhua/Xu Yu)
BEIJING, May 14 (Xinhua) -- During this year's May Day holiday, a resident surnamed Yao treated his family to a tranquil getaway in the suburbs of Beijing. They opted for a cozy short-term rental villa nestled amidst the mountains, which was a 90-minute drive from their home in Beijing's downtown area.
"It felt like living amidst a painting, away from the crowded tourist spots," Yao said.
In the past, this remote mountain village in Beijing's Miyun District was plagued by traffic congestion and lagging development. At one point, even basic amenities such as small shops were absent from the village.
Significant changes began to unfold in 2022 when the village implemented an investment project aimed at renovating over 3,000 square meters of dwellings. As a result, the villagers' income and consumption witnessed a notable rise, triggering a wave of new development within the secluded mountainous village.
In recent years, there has been a growing trend among Chinese urbanites to embrace a new lifestyle by choosing to reside in rural areas. This shift has led to the revitalization of mountain villages and the restoration of abandoned farmhouses, breathing new life into previously neglected rural lands.
"Meilixinxiangcun," an online platform dedicated to rural housing rentals, offers a diverse range of vacant houses located in rural areas throughout the country. According to the platform's customer service team, the lease periods for these houses can span from a few months to decades, with annual rents varying from 10,000 yuan (about 1,440 U.S. dollars) to tens of thousands of yuan.
The prospect of personally renovating a yard has evolved into a cherished aspiration for numerous city dwellers.
A Shanghai resident, known by the username "Zhanzhan" on China's lifestyle-sharing social media platform Xiaohongshu, shared captivating videos of her home and yard renovation journey online, attracting a significant number of views.
Born in the 1980s, Zhanzhan chose to rent a house in the suburb of the eastern Chinese city of Hangzhou for a lease term of 15 years. She spent six months completely renovating her dwelling.
"This was my first time ever refurbishing a house, and I couldn't even understand the drawings. But with a clear vision of the desired effect in mind, I embarked on my creative endeavor fueled by intuition and a deep sense of love," she said.
Within a matter of two days, her captivating video documenting a year's worth of hard work went viral, propelling her subscriber count to skyrocket from 3,000 to 50,000.
Her video managed to capture the attention of numerous young people and some of them were also inspired by her to live in the countryside.
According to Zhanzhan, in the future, an increasing number of young Chinese will be drawn to the idea of residing in rural villages and more urbanites will opt to rent rural yards in the suburbs, within a one to two-hour drive from the bustling city center.
She added that these rural retreats will serve as tranquil havens for rest and relaxation during holidays or as creative studios where individuals can work and unleash their artistic pursuits. ■