China's marine economy posts strong recovery momentum in Q1
0 Comment(s)Print E-mail Xinhua, May 08, 2023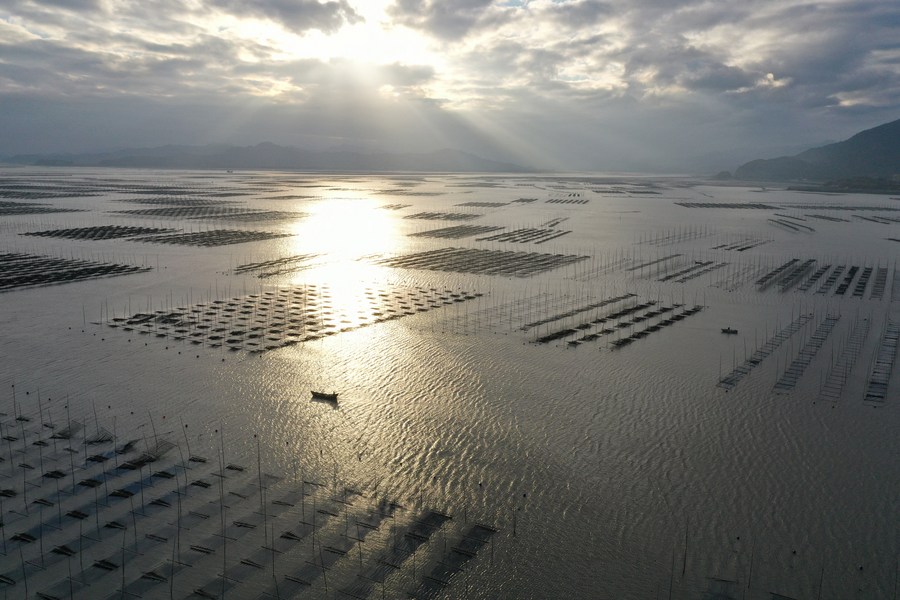 This aerial photo taken on Jan. 5, 2023 shows fishermen working at a marine ranch in Lianjiang County of Fuzhou, southeast China's Fujian Province. (Photo by Wang Wangwang/Xinhua)
BEIJING, May 7 (Xinhua) -- China's marine economy has posted a strong recovery momentum in the first quarter amid pro-growth policy support, the Ministry of Natural Resources said.
The country's gross marine product grew 5.1 percent year on year to 2.3 trillion yuan (about 332.78 billion U.S. dollars) in the first three months, accounting for 8.2 percent of GDP, data from the ministry showed.
The output of offshore crude oil and natural gas increased by 3.8 percent and 6.5 percent from a year ago in the first quarter, respectively.
The traditional marine industry has seen steady development in the first three months, supporting the rebound of the marine economy, said Cui Xiaojian, deputy director of the National Marine Data and Information Service.
China's marine economy is expected to sustain the upward momentum in the second quarter, as policy effects will be more visible and industrial transformation and upgrading will pick up pace, Cui added.