Music robots and motorhomes: China's tourism upgrades amid accelerated recovery
0 Comment(s)Print E-mail Xinhua, April 26, 2023
* China's tourism market is steadily recovering with the removal of travel restrictions. The country saw nearly 1.22 billion domestic tourist trips in the first quarter of 2023, up 46.5 percent year on year.
* In response, China's tourist destinations are avidly developing new technologies and products, from robotic entertainers to camping.

* The travel frenzy has made unlikely tourist hotspots, including the "barbecue city" of Zibo, while sending ripples of excitement to overseas destinations.
WUHAN, April 25 (Xinhua) -- Robots performing kung fu, interactive murals and deluxe camps -- tourists returning to Chinese scenic spots this year may find many new services on offer.
Chinese tourists are coming back with a vengeance, having made 1.22 billion domestic tourist trips in the first quarter of this year. In response, the country's tourism sector is actively developing new technologies and products to heat up the market.
The just-concluded China (Wuhan) Culture and Tourism Expo, which attracted 2,000 exhibitors from home and abroad, has offered a glimpse into the shift toward high-quality development.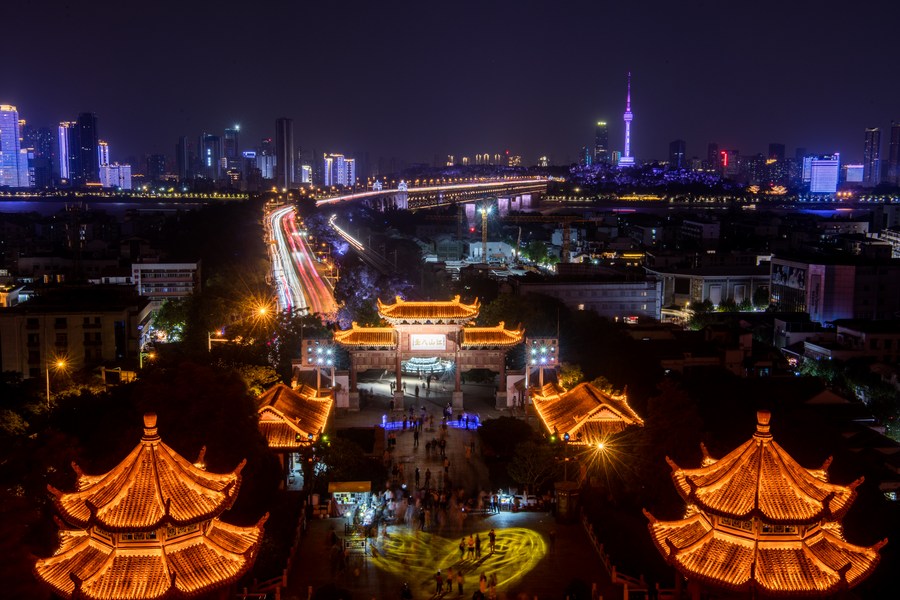 Tourists visit the Yellow Crane Tower in Wuhan, central China's Hubei Province, April 21, 2023. (Xinhua/Wu Zhizun)
INDUSTRY UPGRADES
A variety of new technologies have been stealing the spotlight at the expo, from VR tours, robot guides to intelligent wearables, that are vying for a place in Chinese museums and scenic spots.
Meet "Crinoid," a humanoid robot playing dulcimer at the expo. It is designed to read music scores, compose music and stage musical performances.
"We are discussing collaborations with several tourist sites, where our robots can be deployed to entertain the tourists," said Zhou Li, head of Crinoid's development team at the China University of Geosciences (Wuhan).
"People are really interested in this new type of performance. What's more, the robot can perform for longer hours at a lower cost," said Zhou.
Industry observers have pointed to the increasing use of new technologies in the tourist sector to not only raise management efficiency but also cater to the rising demand for unconventional travel experiences.
"Technologies such as 5G, big data and cloud computing have been widely used in the tourism sector in recent years to develop new tourist products and business models," said Fu Caiwu, head of the National Institute of Cultural Development in Wuhan University.
"For instance, many tourist sites are now harnessing mobile internet and livestreaming to attract visitors. This has become a new promotion strategy," said Fu.
Other tourist attractions are embracing burgeoning new forms of tourism, such as camping and nighttime travel, to appeal to the wealthier and younger holidaymakers.
Prior to the expo, more than 200 tents were set up along the East Lake of Wuhan, where exhibitors showcased motorhomes and camping equipment to the visitors.
On Shuangfeng Mountain in Hubei Province, a campsite with over 100 motorhomes is crowded with barbecuers seeking a respite from the urban hustle and bustle.
Hu Xiaojun, manager of the campsite, said all the motorhomes had been booked up 20 days ahead of the upcoming May Day holiday.
Though new to Chinese holidayers, camping has seen explosive growth in China. Data from research firm iiMedia Research shows that the core market size of China's camping economy reached 113.47 billion yuan (about 16.5 billion U.S. dollars) in 2022, up from 74.75 billion yuan in 2021. The figure is expected to hit a new high this year.
Dai Bin, president of China Tourism Academy, said leisure tourism is now welcomed by a greater number of Chinese people as China enters into a moderately prosperous society.
"Moreover, the epidemic has boosted demand for local and short-distance travels, which also contributes to the emergence of new leisure tourism such as camping," said Dai.
People enjoy camping at the Donghu Lake scenic area in Wuhan, central China's Hubei Province, Nov. 5, 2022. (Xinhua/Sun Ruibo)
NEW DESTINATIONS
China saw nearly 1.22 billion domestic tourist trips in the first quarter of 2023, up 46.5 percent year on year, according to the Ministry of Culture and Tourism. Both the Spring Festival and the Qingming Festival recorded significant yearly rises in the number of tours.
The number of inbound and outbound flights in popular tourist destinations such as Hangzhou, Chengdu, Sanya and Dali rose by 20 percent in March from the same period in 2019, according to travel service provider Qunar. In the first quarter of 2023, hotel bookings in popular tourist cities grew by 60 percent from pre-epidemic levels.
"March is usually an off-season for travel, but this year the tourism market has seen better-than-expected recovery," said Guo Lechun, vice head of the big data research institute of Qunar.
The market rebound is also reflected by the number of newly founded tourism-related companies in the first three months of this year, which according to Qichacha, a leading platform offering company information inquiry services, reached 79,900.
The ongoing travel frenzy has created unlikely tourist hotspots. Zibo, an industrial city in Shandong Province, has become one of the most popular tourist spots in China after its iconic barbecue, which wraps grilled meat in crispy pancakes, made waves on the social media.
The sudden influx of foodies from across China has reportedly overwhelmed local eateries and prompted local authorities to add trains and temporary bus routes.
Tourists have also swarmed into Jiangmen, a coastal city in the southern province of Guangdong where the popular Chinese TV series "The Knockout" was filmed. According to the local government, the number of trips into the city between January and February surged by about 68 percent year on year.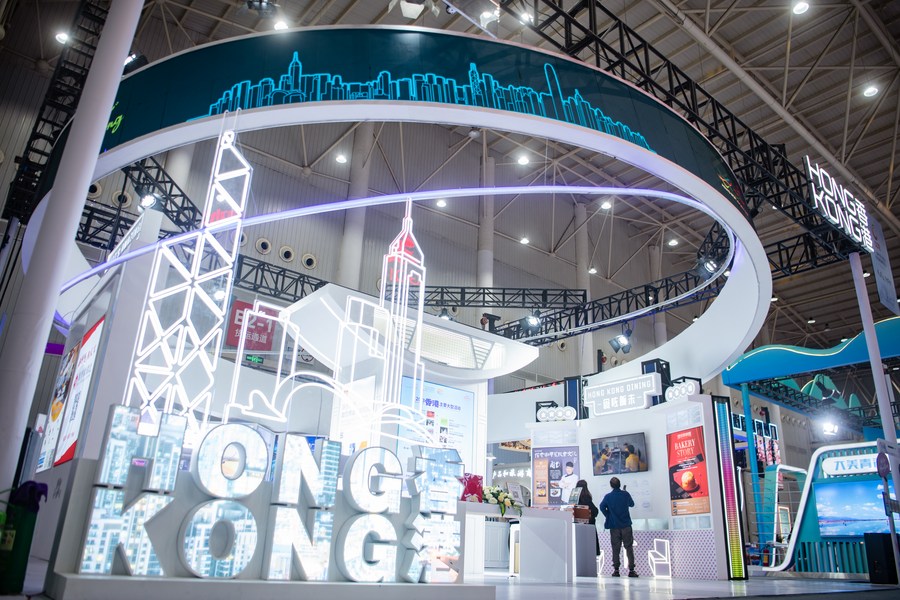 People visit the Hong Kong pavilion during the 2nd China (Wuhan) Culture and Tourism Expo in Wuhan, central China's Hubei Province, April 22, 2023. (Xinhua/Wu Zhizun)
Overseas destinations have also begun to feel the excitement rippling from China's fast-recovering tourism market.
Thailand for instance saw 269,745 Chinese tourist arrivals in March, a 70-percent increase from February, according to the Tourism Authority of Thailand. During the first four days of April, the country welcomed no fewer than 8,000 Chinese tourists per day.
At the Wuhan expo, officials and tourist practitioners from 15 countries and regions, including the United States, France, Germany and Serbia, were promoting their products and seeking cooperation with local partners.
"We are focusing on promoting Serbia as a tourist destination, and developing more business relations with Chinese travel agencies during the expo," said Vladimir Koricanac, managing partner with Serbia Tour Operation Group.
"China's tourism industry is rebounding now, and I believe it will be renewed in full capacity this year as it was before," he said.
(Reporting by Tian Zhongquan, Wan Pengqi, Xu Penghang, Yu Pei, Yao Yuan; Video reporters: Pan Zhiwei, Yu Guoqing, Fang Yadong, Wan Pengqi, Deng Nan, Yu Pei; Video editors: Liu Yutian, Hui Peipei) ■