China introduces policies to stabilize foreign trade
0 Comment(s)Print E-mail Xinhua, April 24, 2023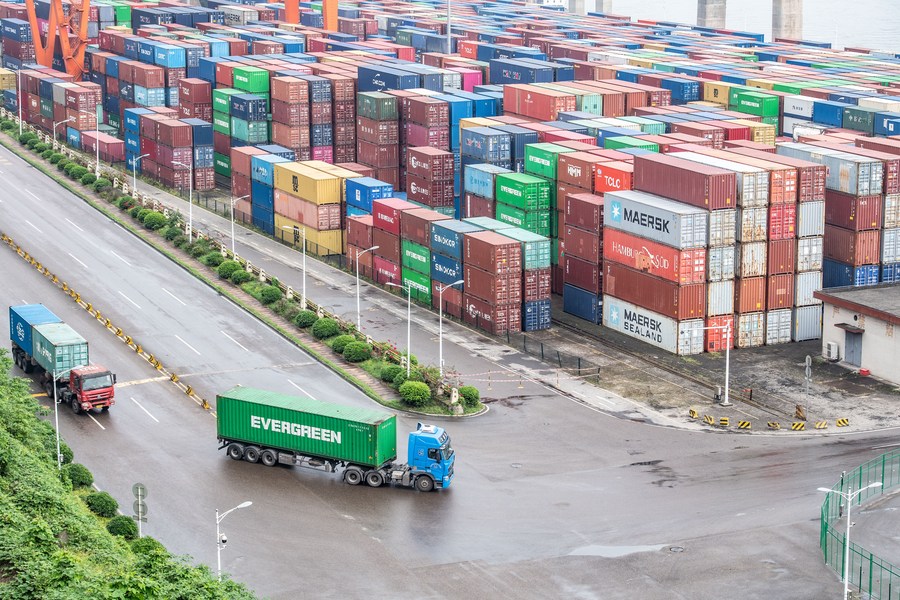 Containers are transported by trucks at Guoyuan Port in southwest China's Chongqing, April 20, 2023. (Xinhua/Tang Yi)
BEIJING, April 23 (Xinhua) -- China has introduced a series of policies to stabilize the scale of its foreign trade and improve its structure amid uncertain external demand, trade risks and other challenges, said the Ministry of Commerce on Sunday.
To keep the foreign trade scale stable, the country will make efforts to create more opportunities, stabilize trade of important products and support foreign trade companies, Vice Commerce Minister Wang Shouwen told a press conference.
China will extensively resume domestic offline exhibitions and promote the resumption of international passenger flights. It will issue country-specific trade guidelines, help automakers establish and improve their international marketing and service systems, and improve foreign trade financing services for medium, small and micro enterprises, said Wang.
To improve foreign trade structure, China will guide the transfer of processing trade to the central, western and northeastern regions, formulate green and low-carbon standards for some foreign trade products, guide enterprises to make good use of cross-border e-commerce retail export related tax policies, and improve the efficiency of customs clearance, said Wang.
China's foreign trade got off to a steady start in 2023, as total goods imports and exports expanded 4.8 percent year on year in the first quarter, official data showed.