Foreign investment remains stable in Q1
Zhong Nan

0 Comment(s)Print E-mail chinadaily.com.cn, April 21, 2023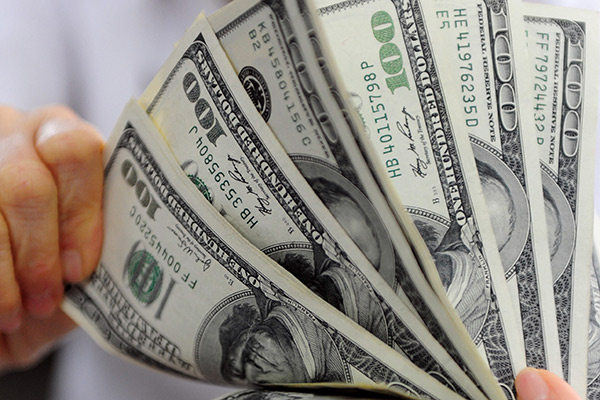 A teller counts and arranges dollar notes at an Agricultural Bank of China branch in Qionghai, Hainan province. [Photo/China Daily]
China's appeal in attracting foreign investment remained stable in the first quarter of 2023, thanks to the country's huge consumer market, its continuous efforts toward industrial upgrading and further opening-up of its economy, analysts and business executives said on Thursday.
Foreign direct investment in the Chinese mainland, in terms of actual use, rose 4.9 percent year-on-year to 408.45 billion yuan ($59.37 billion) in the first quarter, data from the Ministry of Commerce shows.
Supported by an improved business environment and a series of promotional activities, more than 10,000 foreign-funded companies were established in China between January and March, representing a year-on-year growth of 25.5 percent, ministry spokeswoman Shu Jueting said.
In addition to benefiting from China's technological advancements, many foreign companies see China as a gateway to the broader Asia-Pacific region and view investing in China as a means of gaining access to the country's vast network of supply chains and distribution channels, said Zhao Ping, vice-dean of the academy of the Beijing-based China Council for the Promotion of International Trade.
She said that China's optimized COVID-19 response measures, along with its effective steps to boost foreign trade and consumption and organize leading trade fairs, including the China International Consumer Products Expo and the ongoing China Import and Export Fair, will help further bolster the nation's social and economic vitality this year.
The Chinese market offers a range of advantages, including well-developed industrial clusters, good transportation infrastructure and a robust labor pool, according to Wang Guowen, director of the center for logistics and supply chain management at the China Development Institute, a think tank based in Shenzhen, Guangdong province.
He noted that many foreign companies have established research and innovation centers in China to tackle engineering challenges on a global scale.
To capitalize on these prospects, Japanese electronics manufacturer Omron Group put a new phase of its plant in Dalian, Liaoning province, into operation in early April. With a total investment of 300 million yuan, the company aims to develop this factory into a global innovation and production base.
Wang Dengkui, general manager of Omron (Dalian) Co, said the company plans to invest 10 million yuan this year to upgrade its Dalian plant with a digital system to monitor warehousing, production and assembly.
Despite challenges, such as trade protectionism and geopolitical tensions, China saw FDI from France and Germany jump 635.5 percent and 60.8 percent year-on-year, respectively, in the first three months, while investment from the United Kingdom expanded 680.3 percent on a yearly basis, according to data from the Commerce Ministry.
Saint-Gobain SA, a French industrial group operating more than 50 factories in China, plans to put the second phase of its Yangzhou manufacturing base into operation in 2024 to further meet the soaring market demand for construction materials in China's eastern region.
"Upon completion of the project, our Yangzhou manufacturing base will serve the central and northern parts of Jiangsu province, and also cities in Anhui province," said Ludovic Weber, Saint-Gobain's CEO for Asia-Pacific.
Facing diversified demands from Chinese consumers, European companies operating in China are basically in a "fitness center", said Joerg Wuttke, president of the European Union Chamber of Commerce in China.
"They are operating here, learning from local consumers where they have to make new adjustments and amendments. That can be replicated in their businesses in other parts of the world," he added.