China-Laos Railway starts cross-border passenger services
0 Comment(s)Print E-mail Xinhua, April 13, 2023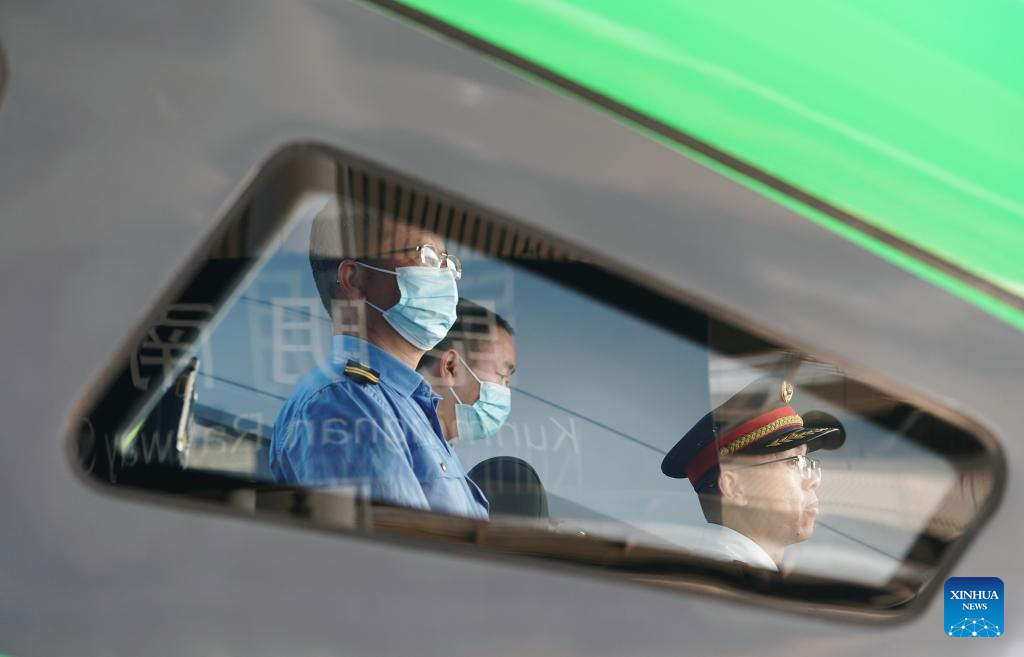 Crew members of a passenger train bound for the Lao capital Vientiane prepare for departure from Kunming South Railway Station in Kunming, southwest China's Yunnan Province, April 13, 2023. (Xinhua/Xing Guangli)
KUNMING/VIENTIANE, April 13 (Xinhua) -- The China-Laos Railway started cross-border passenger services on Thursday, a move that is expected to boost regional connectivity.
The first passenger train departed from Kunming, capital of southwest China's Yunnan Province, at 8:08 a.m. (Beijing Time), heading for the Lao capital Vientiane.
The train, which is packed to capacity for this trip, will travel at a speed of up to 160 km per hour through mountains and valleys. There are eight stations along the route that stretches over 1,000 km, and the journey takes 10 and a half hours, including the time spent on going through customs.
Liu Jin, 32, is on this first train along with his mother, and they are traveling to Luang Prabang in Laos. He has made eight previous trips to Laos, usually by bus, when his journey lasted more than 27 hours on winding mountain roads.
"The launch of cross-border train services has made traveling to Laos much easier," said Liu. "It cuts the travel time and offers great comfort."
Shortly after 9 a.m. (Beijing Time), a train departed from Vientiane for Kunming. Starting Thursday, one passenger train will operate daily from Kunming to Vientiane and another one the other way around.
The China-Laos Railway, a landmark project showcasing high-quality Belt and Road cooperation, began operation in December 2021. The railway also serves as a docking project with Laos' strategy to convert itself from a landlocked country to a land-linked hub.
After its launch in 2021, passenger train services have been offered along the section between Kunming and the Chinese border town of Mohan, as well as the section connecting Vientiane and Boten, the border town on the Lao side.
As of Sunday, 13.93 million domestic passenger trips had been handled and 18.38 million tonnes of cargo transported on the China-Laos Railway. ■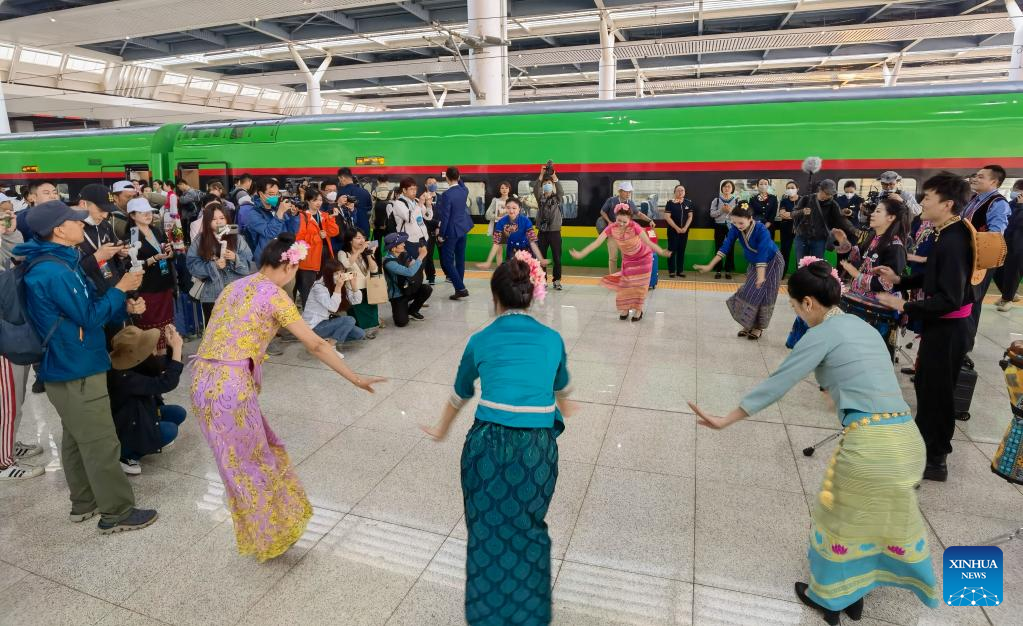 Performers dance during a launch ceremony for the first passenger train from Kunming to the Lao capital Vientiane at Kunming South Railway Station in Kunming, southwest China's Yunnan Province, April 13, 2023. (Xinhua/Wang Changshan)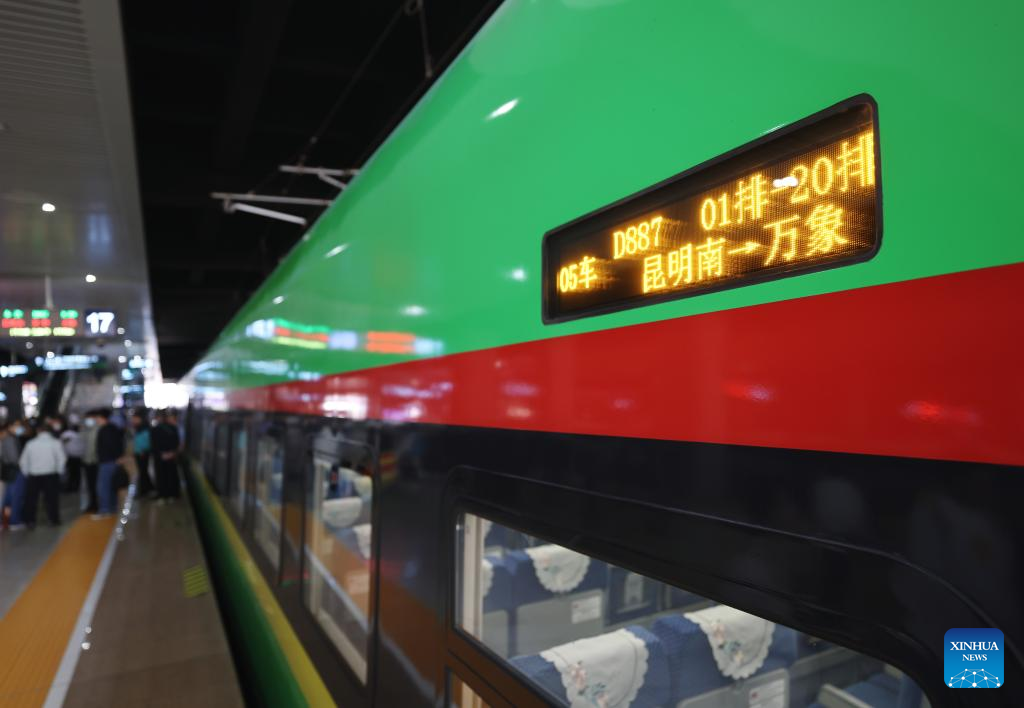 A passenger train bound for the Lao capital Vientiane awaits departure from Kunming South Railway Station in Kunming, southwest China's Yunnan Province, April 13, 2023. (Xinhua/Xing Guangli)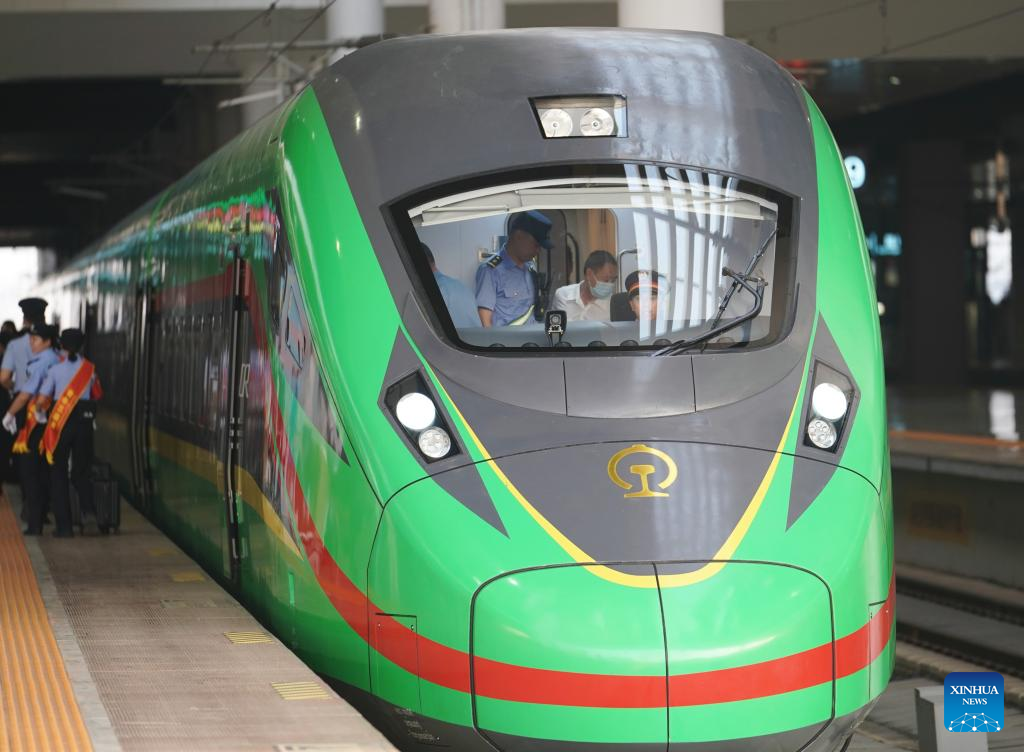 A passenger train bound for the Lao capital Vientiane awaits departure from Kunming South Railway Station in Kunming, southwest China's Yunnan Province, April 13, 2023. (Xinhua/Xing Guangli)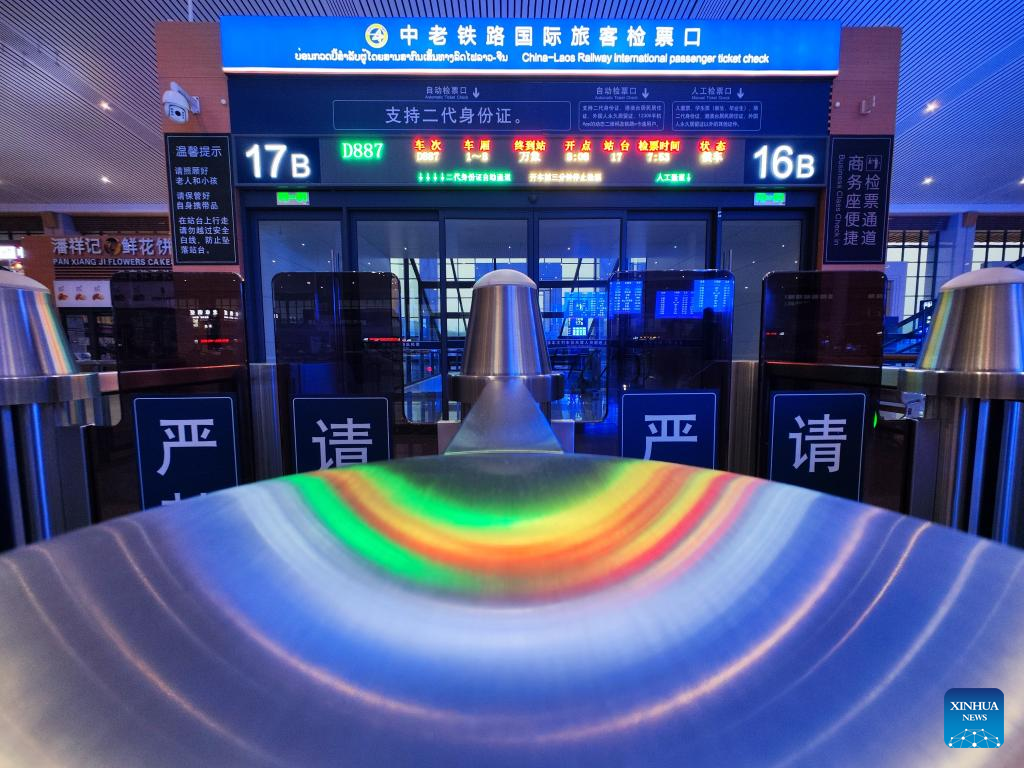 This photo taken on April 13, 2023 shows ticket gates at Kunming South Railway Station in Kunming, southwest China's Yunnan Province. (Xinhua/Xing Guangli)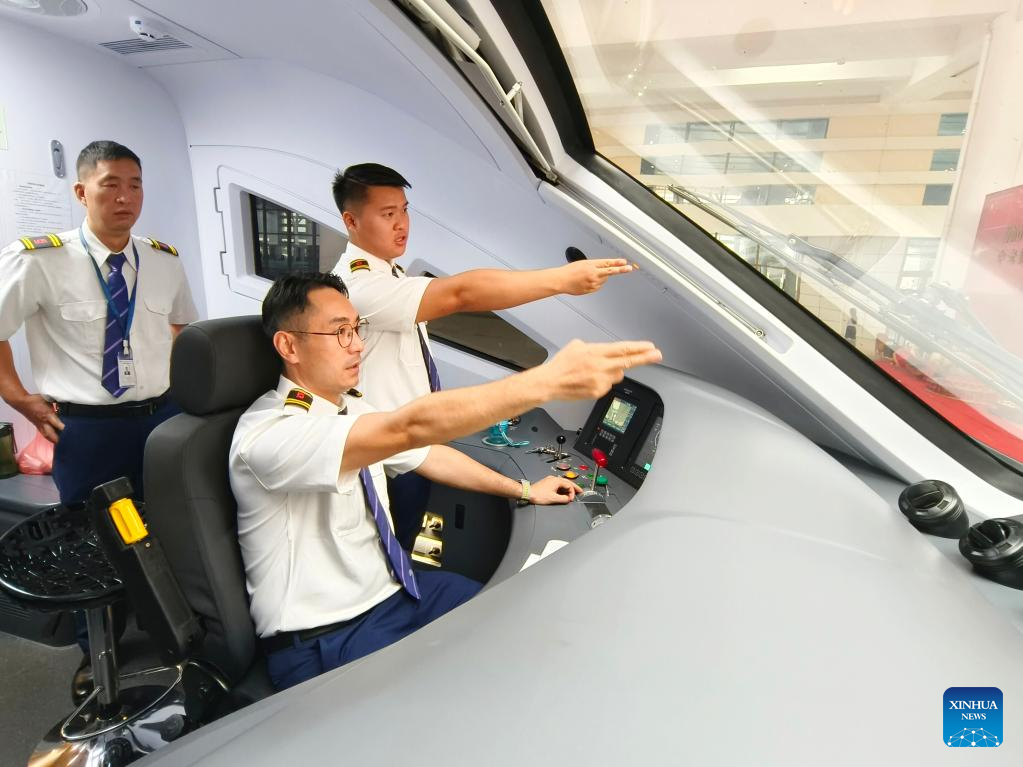 Lao and Chinese drivers of a cross-border passenger train bound for Kunming in southwest China's Yunnan Province prepare for departure from Vientiane, Laos on April 13, 2023. (Photo by Yang Yongquan/Xinhua)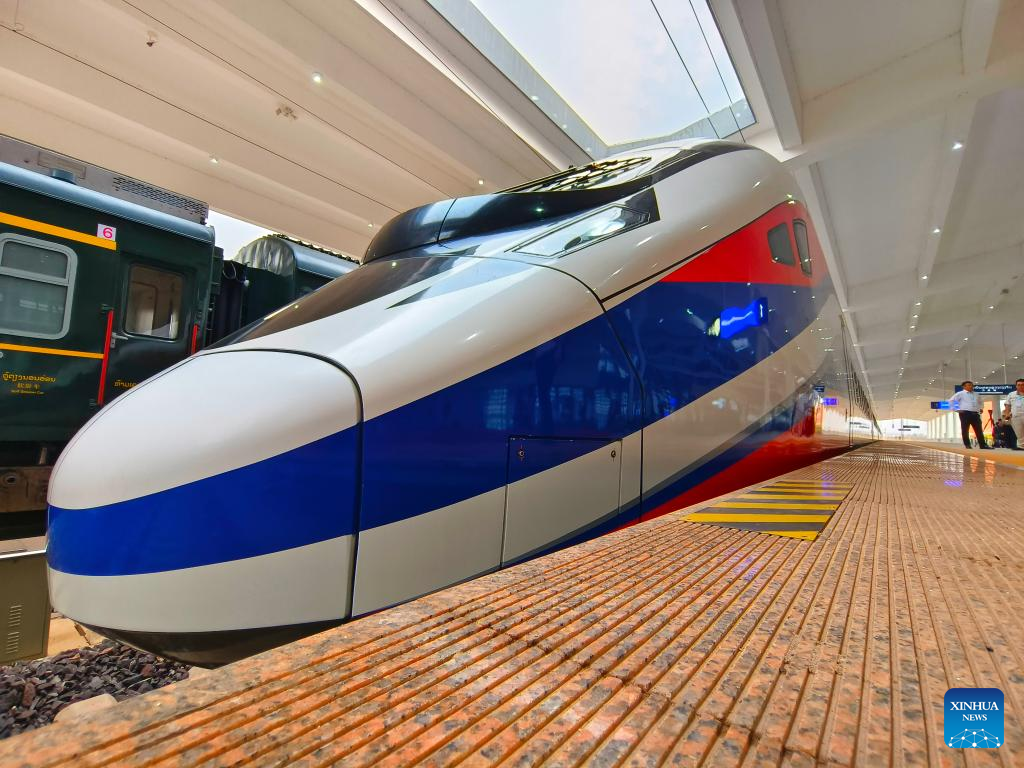 The first cross-border passenger train bound for Kunming in southwest China's Yunnnan Province awaits departure from Vientiane, Laos on April 13, 2023. (Photo by Yang Yongquan/Xinhua)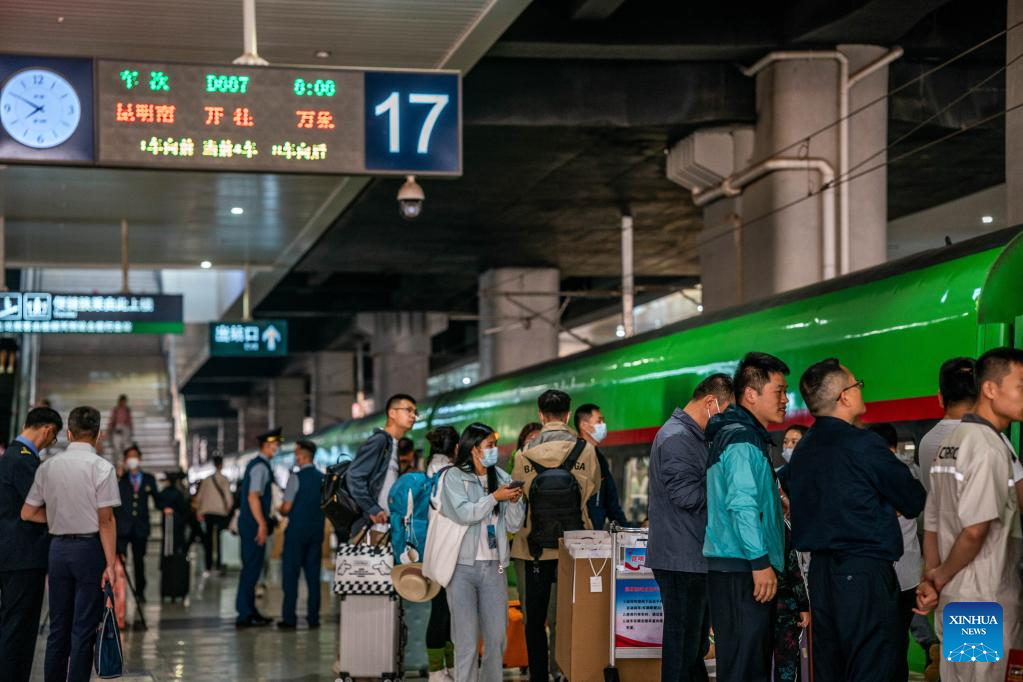 Passengers prepare to board the first cross-border passenger train bound for the Lao capital Vientiane at Kunming South Railway Station in Kunming, southwest China's Yunnan Province, April 13, 2023. The China-Laos Railway started cross-border passenger services on Thursday, a move that is expected to boost regional connectivity. (Xinhua/Hu Chao)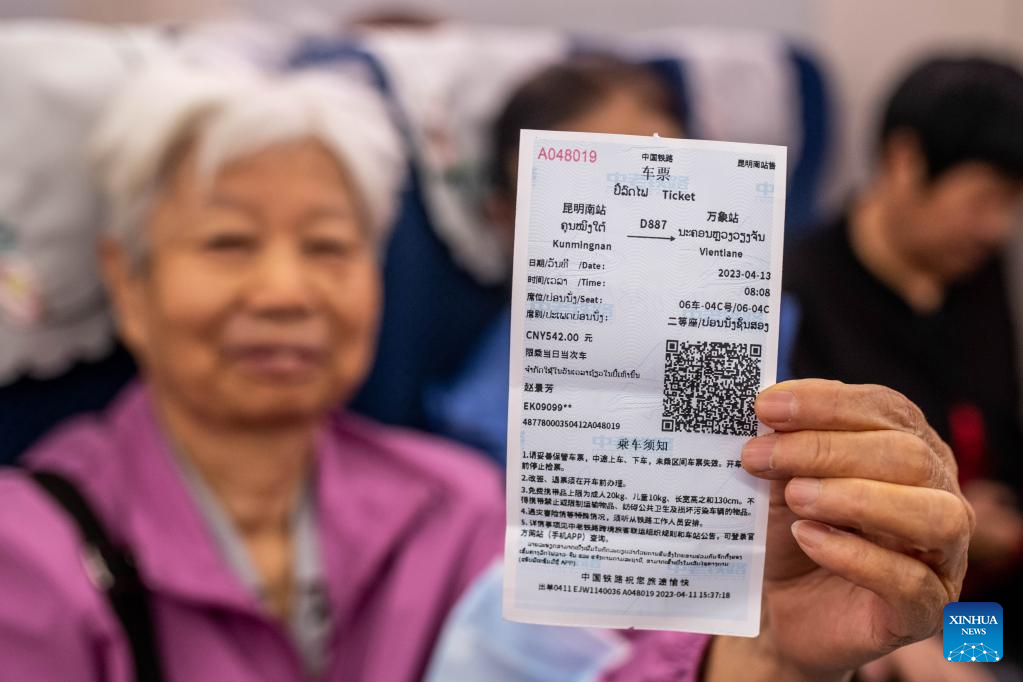 A passenger shows her ticket aboard the first cross-border passenger train from Kunming, southwest China's Yunnan Province to the Lao capital Vientiane on April 13, 2023. The China-Laos Railway started cross-border passenger services on Thursday, a move that is expected to boost regional connectivity. (Xinhua/Hu Chao)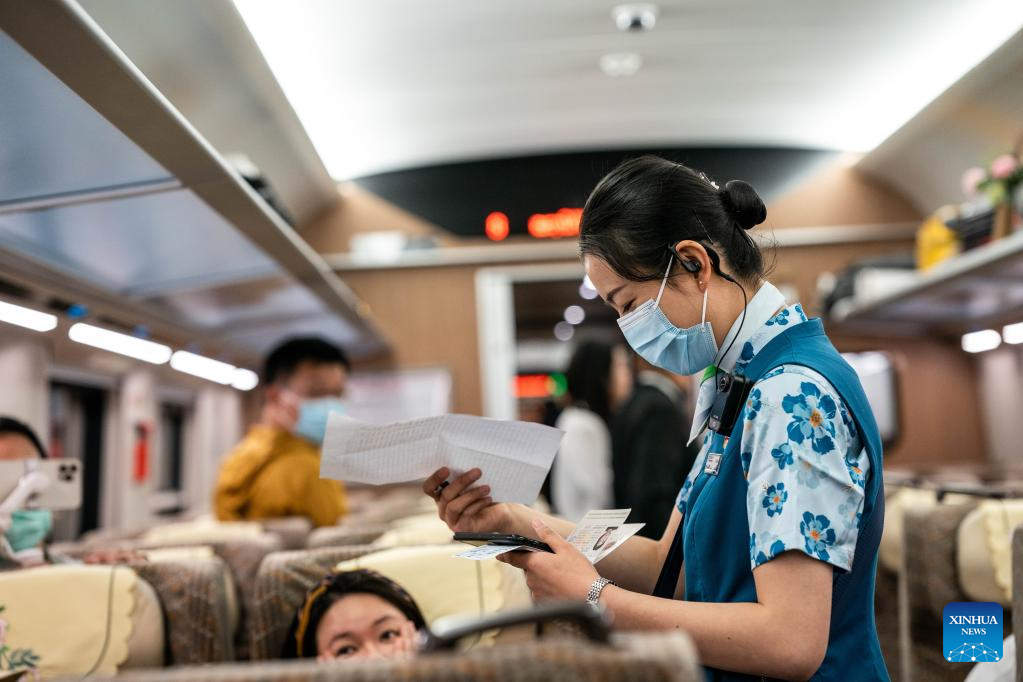 A train attendant checks a passenger's ticket and travel document aboard the first cross-border passenger train from Kunming, southwest China's Yunnan Province to the Lao capital Vientiane on April 13, 2023. The China-Laos Railway started cross-border passenger services on Thursday, a move that is expected to boost regional connectivity. (Xinhua/Hu Chao)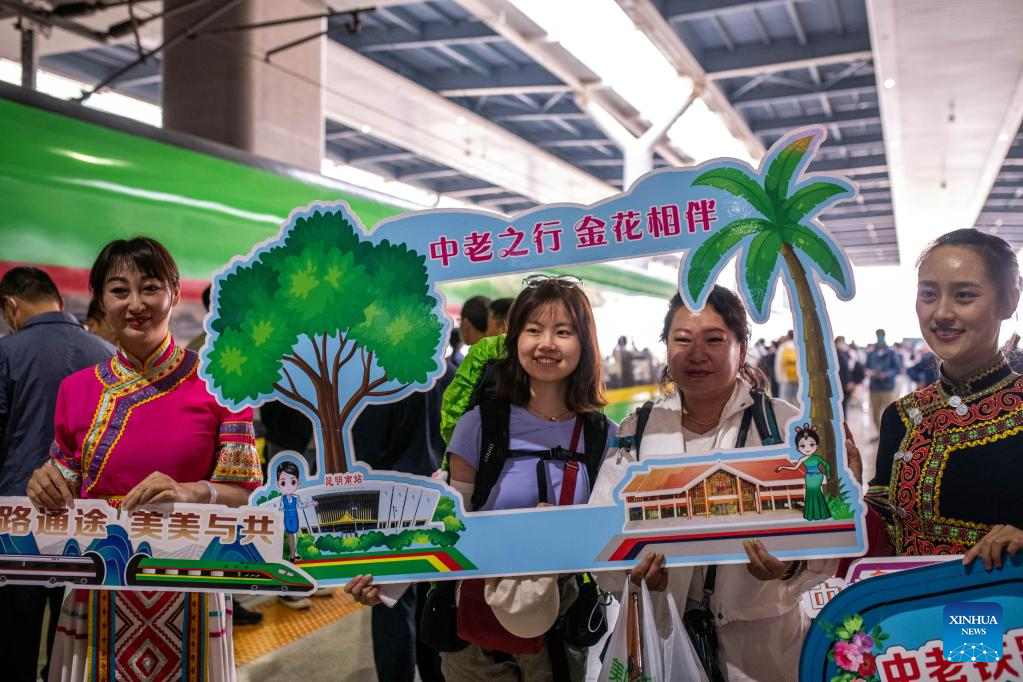 Passengers taking the first cross-border passenger train bound for the Lao capital Vientiane pose for a photo before departing from Kunming South Railway Station in Kunming, southwest China's Yunnan Province, April 13, 2023. The China-Laos Railway started cross-border passenger services on Thursday, a move that is expected to boost regional connectivity. (Xinhua/Hu Chao)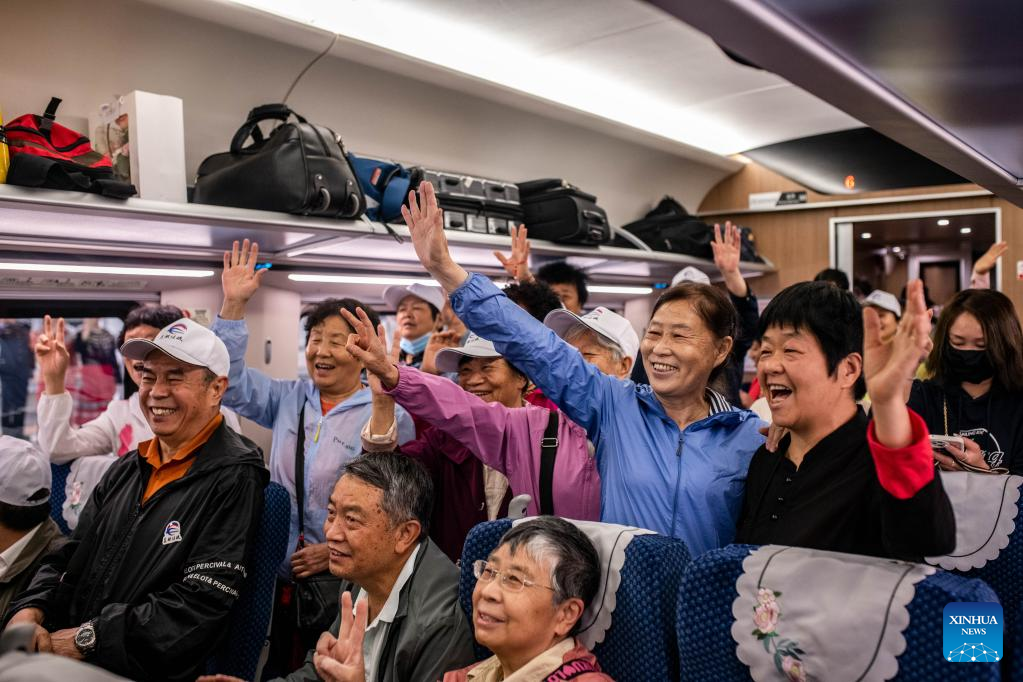 Passengers pose for a photo aboard the first cross-border passenger train from Kunming, southwest China's Yunnan Province to the Lao capital Vientiane on April 13, 2023. The China-Laos Railway started cross-border passenger services on Thursday, a move that is expected to boost regional connectivity. (Xinhua/Hu Chao)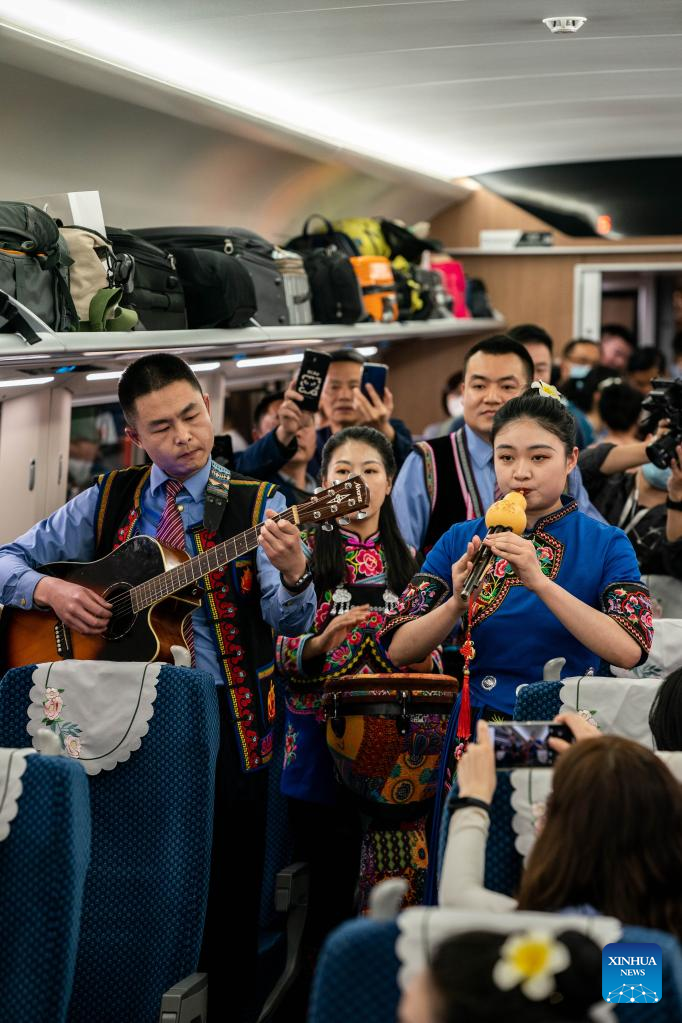 An art performance is staged aboard the first cross-border passenger train from Kunming, southwest China's Yunnan Province to the Lao capital Vientiane on April 13, 2023. The China-Laos Railway started cross-border passenger services on Thursday, a move that is expected to boost regional connectivity. (Xinhua/Hu Chao)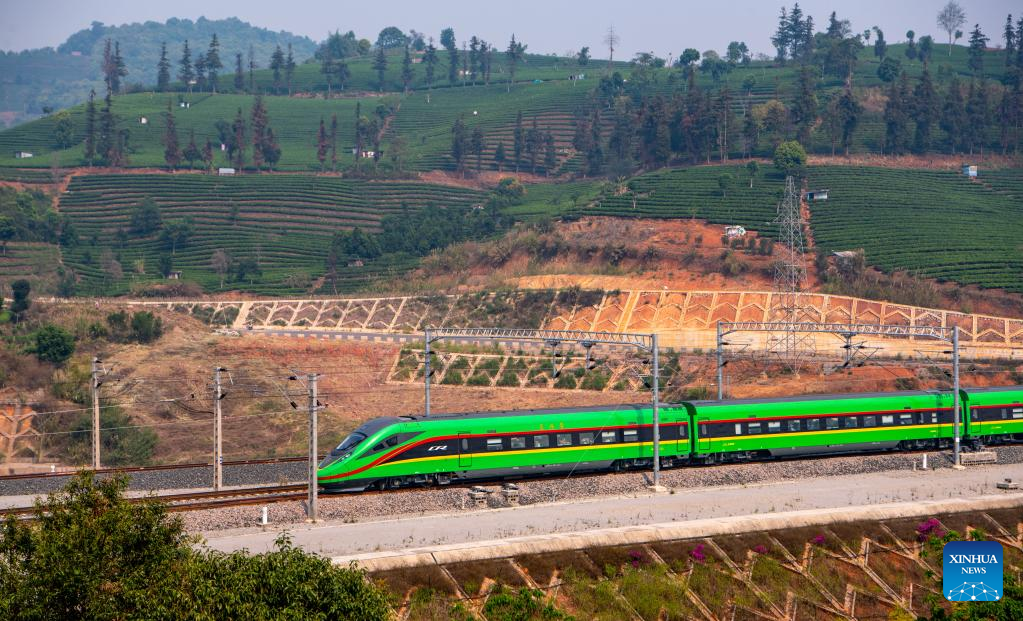 The first cross-border passenger train from Kunming, southwest China's Yunnan Province to the Lao capital Vientiane passes by tea plantations in Pu'er, southwest China's Yunnan Province, April 13, 2023. The China-Laos Railway started cross-border passenger services on Thursday, a move that is expected to boost regional connectivity. (Xinhua/Jiang Wenyao)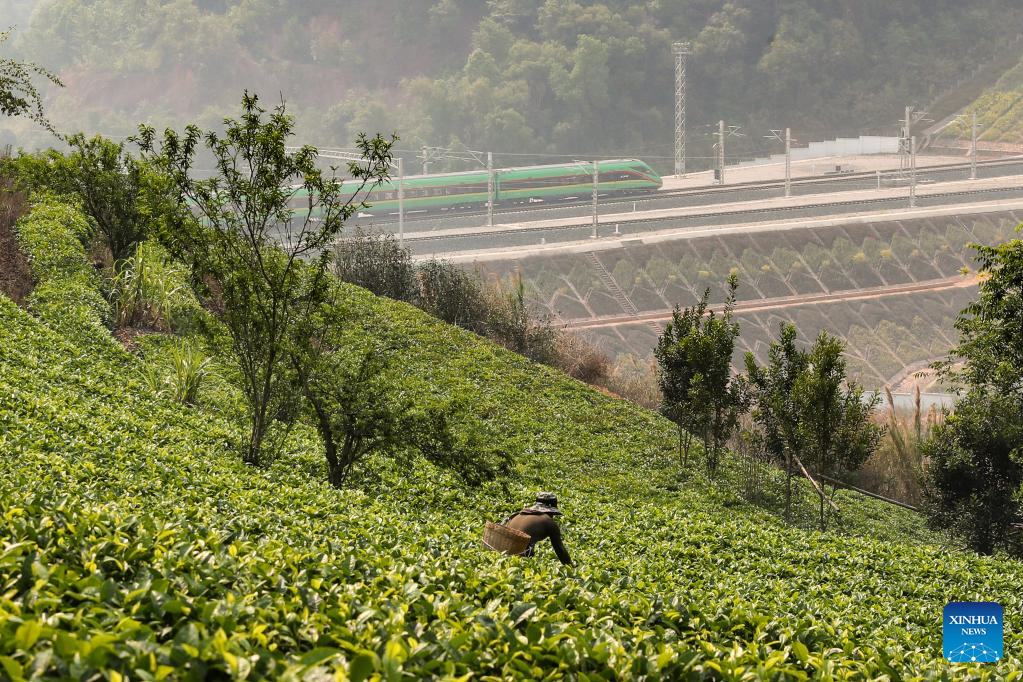 A Fuxing bullet train passes by tea plantations in Pu'er, southwest China's Yunnan Province, April 13, 2023. The China-Laos Railway started cross-border passenger services on Thursday, a move that is expected to boost regional connectivity. (Xinhua/Shan Yuqi)