Stable China-Europe ties in focus
Cao Desheng

0 Comment(s)Print E-mail chinadaily.com.cn, April 07, 2023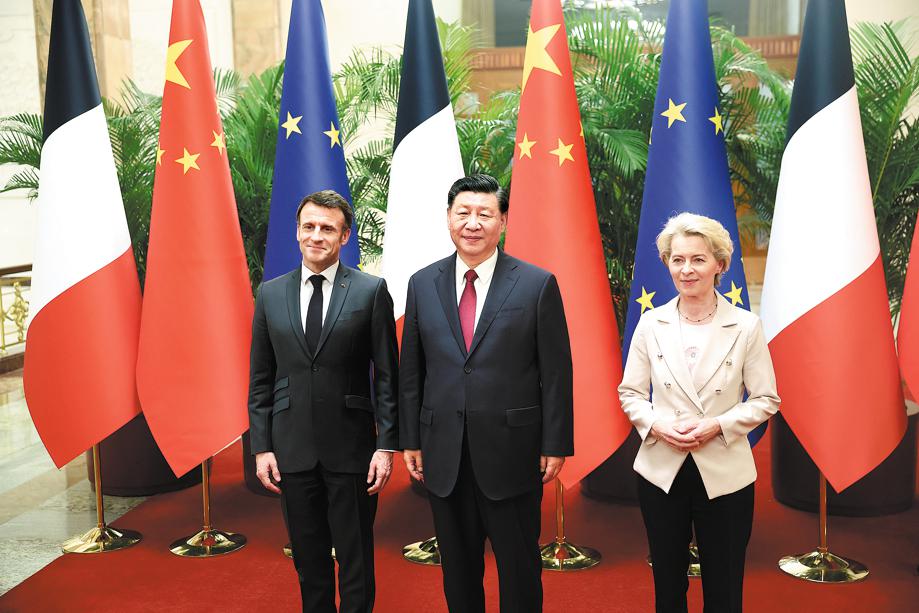 President Xi Jinping meets with French President Emmanuel Macron and European Commission President Ursula von der Leyen in the Great Hall of the People in Beijing on Thursday. Feng Yongbin / China Daily
Xi calls for mutual trust in talks with French, EU leaders
China and France agreed on Thursday to keep bilateral ties stable and pursue mutually beneficial cooperation, and they pledged to maintain communication on the Ukraine crisis and play a positive role in achieving a political settlement.
President Xi Jinping and visiting French President Emmanuel Macron reached the agreement during their talks at the Great Hall of the People in Beijing.
Macron's visit is the first by a European head of state since the full resumption of China's exchanges with the world, which were disrupted by the COVID-19 pandemic. Xi gave Macron a grand welcoming ceremony before they held official talks.
Coupled with Macron's visit, European aircraft manufacturer Airbus signed an agreement with China Aviation Supplies Holding Co on Thursday and landed orders for 160 new aircraft, including 150 A320-family aircraft and 10 A350-900 widebody aircraft.
Airbus CEO Guillaume Faury also signed an agreement with Tianjin Free Trade Zone Investment Co and Aviation Industry Corp of China to expand its A320-family final assembly capacity with a second line at its Tianjin site.
European Commission President Ursula von der Leyen, on her first visit to China since taking office in 2019, joined Xi and Macron at a trilateral meeting later on Thursday, and vowed to increase constructive dialogue to promote the consistent and stable development of China-EU ties.
During their talks, Xi and Macron agreed that China and France, as permanent members of the UN Security Council and major countries with a tradition of independence, should keep to the overall direction of a comprehensive strategic partnership that is stable, mutually beneficial, enterprising and dynamic, inject new vitality into China-Europe relations, and make new contributions to international cooperation against global challenges.
Speaking as he jointly met the media with Macron after the talks, Xi said that the two countries agreed they will continue to support a multipolar world and greater democracy in international relations, oppose the Cold War mentality and bloc confrontation, and jointly tackle all types of global challenges.
On bilateral ties, Xi said that the two countries will maintain close communication at the head-of-state level, and hold a new round of meetings under the three high-level mechanisms on strategic, economic and financial, and people-to-people dialogues within this year.
The two sides reiterated mutual respect for each other's sovereignty, territorial integrity and core interests, he said.
After their talks, Xi and Macron jointly witnessed the signing of a series of important cooperation agreements. These included deepening cooperation in traditional areas such as aviation, aerospace and civilian nuclear energy, as well as cultivating new growth drivers in cooperation such as green development and scientific and technological innovation, including building a China-France carbon neutrality center and strengthening joint training of talents.
Xi conveyed to Macron China's readiness to advance high-standard opening-up and share new opportunities in its development with countries around the world.
Macron said to Xi that France respects and pursues the one-China policy, and wants to continue to maintain close communication and cooperation on such issues as climate change and food security.
France appreciates China's upholding of the principles of the UN Charter and playing a positive role in resolving international and regional issues, Macron said, adding that his country looks forward to coordination with China to promote lasting global peace and stability.
Noting that France adheres to an independent foreign policy and upholds the strategic autonomy of Europe, the French president said that his country supports international solidarity and cooperation, and hopes major countries maintain stable relations. France opposes bloc confrontation and will not take sides, he added.
Both presidents also attended the closing ceremony of the fifth meeting of the Sino-French entrepreneurs' committee.
During the trilateral meeting with Macron and von der Leyen, Xi said that the China-EU relationship is not targeted at, subjugated to, or controlled by any third party. He expressed his hope that the EU could take an independent approach to developing its relations with China and adopt a pragmatic and proactive China policy.
Hyping up the so-called issue of "democracy versus authoritarianism" and provoking a new "Cold War" will result in division and confrontation, Xi said.
He called for fostering a cooperation environment that upholds openness and mutual trust, and avoiding the politicization of economic and trade issues.
China and the EU need to jointly safeguard global stability and prosperity, and oppose hegemonism and unilateralism, Xi said.
Both Macron and von der Leyen expressed their opposition to economic decoupling and the disruption of industrial and supply chains, saying that such attempts are not in the interests of the EU.
In a separate meeting with Von der Leyen, Xi called for China and the EU to maintain close communication, enhance strategic mutual trust, focus on win-win cooperation and jointly overcome disturbances and challenges in order to realize the high-level development of China-EU ties.
Both sides should carry out in-depth dialogue and communication on economic and trade issues, he said.
Noting that China is an important partner of the EU in addressing challenges such as those arising from energy supply and inflation, as well as in improving competitiveness, Xi said that the nation welcomes the EU continuing to share the dividends of its development.
Von der Leyen reiterated that the EU has no intention of changing its long-standing one-China policy and recognizes that the government of the People's Republic of China is the only legitimate government representing China, and she expressed the EU's hope that peace and stability are maintained across the Taiwan Straits.
Zhu Wenqian contributed to this story.