Medical guides make life easier for patients
ZHANG XIAOMIN

0 Comment(s)Print E-mail China Daily, April 06, 2023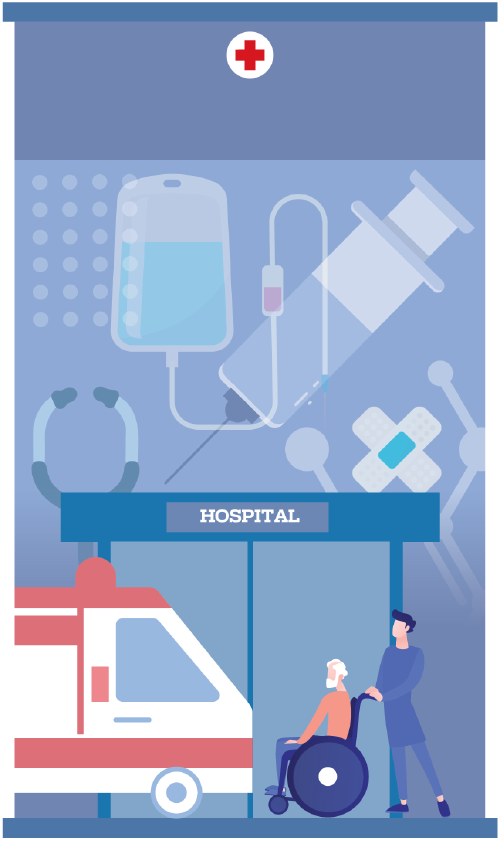 LU PING/CHINA DAILY
Help provided with admissions, obtaining medication, test results
Almost every day, Li Taining visits the main hospitals in Dalian, Liaoning province, to accompany patients to see doctors, or to collect medicines for them.
The 41-year-old is a hospital escort, or medical guide, a new occupation that is attracting increasing attention in China.
"In recent years, more people have turned into escorts for hospital visits. We provide useful advice and help patients handle matters such as admissions, test results and medicines," Li said. "As we know the hospitals and treatment processes well, we can help patients save time."
Demand for hospital escorts is rising in tandem with China's elderly population and the increasing need for better medical treatment.
Data from Qichacha, a company that tracks business registrations, shows that as of March 25, the nation is home to 827 enterprises whose names and products contain the word peizhen, which translates as "hospital escorts".Among these enterprises, 369 were set up within a year, including 133 that launched in the past three months.
Li, who used to work as an insurance salesman, saw the work of hospital escorts while watching a television show in March last year.
"I felt I could do this work, as I am familiar with the medical system and have a good understanding of patients," he said.
Initially, Li helped patients obtain medicine, as many of them could not visit a hospital due to COVID-19 prevention and control measures.
"During the busiest period two months before Chinese New Year, I received about 10 requests for medicine each day, and accompanied patients requiring emergency treatment, or those who were severely ill, to the hospital," Li said.
He became a full-time hospital escort this year, and recently registered his own company.
"Attitudes toward consumption are changing. More people are willing to pay for such medical services, and the fees are not high," Li said.
On average, he charges 199 yuan ($29) for each request he receives for help, and 299 yuan for a full day's work. He earns about 10,000 yuan per month, and receives tips from some 30 percent of his customers.
Seniors who are 60 or older account for 30 percent of his clients, young mothers of sick children 20 percent, while single young people working and living alone in Dalian account for another 20 percent.
With Li running errands for them, young mothers can focus on their children without worrying about having to find their way around a large hospital.
"Many of the requests I receive for help are from patients I have dealt with before," he said, adding that some who have chronic diseases need him to bring them medicine regularly.
Li enjoys sharing his work on social media outlets such as the video-sharing platform Douyin, which helps him attract more clients.
He is now working with four part-time hospital escorts.
After a year of frequent hospital visits with patients, Li said that in addition to being optimistic about his business, he is now paying more attention to his health.
"Going to the hospital can be worrying, so good if we look after our own health and that of our family members," he said.
Deep understanding
Zhao Ming, 36, has a deep understanding of the anxiety that comes with accompanying a family member to the hospital.
During the past two years, he has traveled to Beijing from Hengshui, Hebei province, several times for his mother to have medical treatment after she injured her leg in a car accident.
"Someone who is familiar with the hospital and treatment process can be of great assistance to people like us who live outside the capital," Zhao said.
The first time he and his mother went to a well-known hospital, they got out of a taxi at the wrong gate and had to walk 20 minutes in strong winds before reaching the right entry point.
"I planned the hospital visit carefully, but several unexpected situations occurred," Zhao said.
After his mother saw the doctor, she needed a CT scan, an X-ray and blood tests. The pair had to line up for each examination, and any delay could result in the examinations being deferred.
For his mother's CT scan, Zhao was given a number at 8:30 am that was fourth-to-last on that day's waiting list.
"If I had gone there after the other two examinations, we would have had to return for the CT scan the next day," he said.
He saw one man break down after arriving in the wrong area of the hospital, which resulted in a doctor's appointment being canceled.
When Zhao spoke to a friend in his hometown about the trouble of going to Beijing for medical treatment, the friend advised him to hire a hospital escort.
The friend, who is an administrative worker at a local hospital, also said he wanted to escort patients in Beijing to earn more.
New career
Song Xianming, who comes from Dalian, traveled to Beijing in December to start work as a hospital escort.
The 42-year-old used to run an off-campus school in Dalian to provide students with additional academic instruction, but due to the impact of the COVID-19 epidemic, he decided to change his job, setting his sights on the elderly.
Song first encountered a hospital escort at the end of last year, when he accompanied a colleague to see doctors in Beijing.
"With its rich medical resources, Beijing is a destination for patients nationwide who have complex medical conditions. Some large hospitals in the city treat 10,000 outpatients a day," Song said.
"Even local residents may not be familiar with a particular hospital in the capital, while those from other cities can be even more confused and helpless."
Sensing the prospects for hospital escorts, Song registered a company and rented an office in Beijing's Dongcheng district.
He feels the most fundamental part of such a service is running errands. The more-professional aspect involves providing useful information and helping patients avoid unnecessary costs.
Song and his colleagues started work in the neighborhood near their office. Their first client was a woman in her 70s whose only child works overseas.
After signing a contract to clarify both sides' rights and obligations, Song helped the woman secure a doctor's appointment, before accompanying her to the hospital.
At the request of the woman's son, and with the doctor's permission, Song and the son were in contact on WeChat throughout the process.
"She and her son were so satisfied with our work that the mother recommend our services to her neighbors," Song said.
His company now has six employees who handle about five requests for help from patients a day. It charges 320 yuan for each request that takes less than four hours to handle, and 550 yuan for those that take more than four hours.
The team also offers remote medical consultation services for patients living in other cities.
Patients do not need to travel to Beijing, as they can email copies of their medical history, test results and medicare card to Song, who sees the doctor, obtains the medication, and mails it to the patients.
"This is really convenient, fast and much cheaper than traveling to Beijing," Song said.
Regulations needed
As a new profession, hospital escorts are not listed in the latest version of the Occupational Classification Code of the People's Republic of China published by the Ministry of Human Resources and Social Security last year.
The occupation has yet to have an agreed set of standards for safety and sustainable development.
Song said, "There is a lot at stake, including what to do if a client withholds some information, or if accidents happen to patients."
To avoid such risks and improve their services, Song and his colleagues always wear a small video camera to record the entire process while they accompany patients to the hospital.
Some hospital escorts require a family member to accompany patients who are 80 or older and pregnant women in labor.
After seeing the success of the hospital escort business on social media outlets such as Douyin and the Xiaohongshu lifestyle platform, more people are ready to try their hand at the occupation.
Short videos broadcast on such platforms portray a market in full swing and tell how hospital escorts can earn tens of thousands of yuan a month.
However, the escorts seldom have the requisite knowledge or experience of medicine and healthcare.
Bai Yujing, a National People's Congress deputy and staff member at Liaoyuan Water Group Co in Jilin province, has appealed for the new profession to be standardized.
"This type of one-on-one medical guidance, which helps residents with medical treatment and also increases employment, still has some pitfalls," she said.
Before this year's two sessions, China's main annual political events, Bai visited hospitals and residential communities to learn about the situation and seek suggestions.
"The government departments involved should issue management measures for professional medical guidance as soon as possible, clarifying duties, services and fees," she said.
Bai also urged the authorities to regulate the entry threshold for hospital escorts and help avoid conflict between the escorts and patients.
Voluntary efforts
In January, National Bureau of Statistics data showed people who are 65 or older accounted for nearly 15 percent of the population on the Chinese mainland.
Meanwhile, the National Working Commission on Aging said that in 2020, more than 42 million people who were 60 or older were finding it difficult to perform everyday tasks.
Jia Nan, director of Aiyuanhui, a private nonprofit professional social work service organization in Dalian, said, "Intelligent medical services requiring the use of smart devices can be difficult for some elderly people to use."
On March 4, Jia and her colleagues performed voluntary work at First Affiliated Hospital of Dalian Medical University, helping outpatients familiarize themselves with the treatment process and use self-service machines, among other tasks.
"I saw the need for medical guidance, and we'll take this a step further," Jia said.
In residential communities that have hired social workers, Jia plans to provide hospital escorts for free to those living in extreme poverty on subsistence allowances.
Many hospitals provide volunteer services for patients.
In August, the volunteer team at Second Affiliated Hospital of Dalian Medical University joined the Dalian Xiaoshan Da'ai Public Service Center and Dalian Xinghai Anti-Cancer Association in setting up voluntary service desks to provide one-on-one guidance and assistance for the elderly.
The volunteers escort patients to hospital departments and help them use self-service machines, wheelchairs and other services.
Yang Sicheng, secretary of the hospital's youth league committee, said, "The volunteers have offered nearly 5,000 hours of service, benefiting more than 60,000 patients, including over 1,000 seniors with special needs."
When volunteers from the Xinghai Anti-Cancer Association provide counseling, guidance and other services at the tumor clinic, they also offer patients emotional support.
Ji Mingluo, head of the association, said, "Many patients not only need medical treatment, but also emotional comfort.
"As we volunteers are recovering from cancer surgery ourselves, we have more in common with the patients, so we can conduct psychological counseling for them when they face pressure and experience pain."
Liu Mingtaiin Changchun contributed to this story.