Construction of new high-speed rail gains traction
0 Comment(s)Print E-mail China Daily, March 31, 2023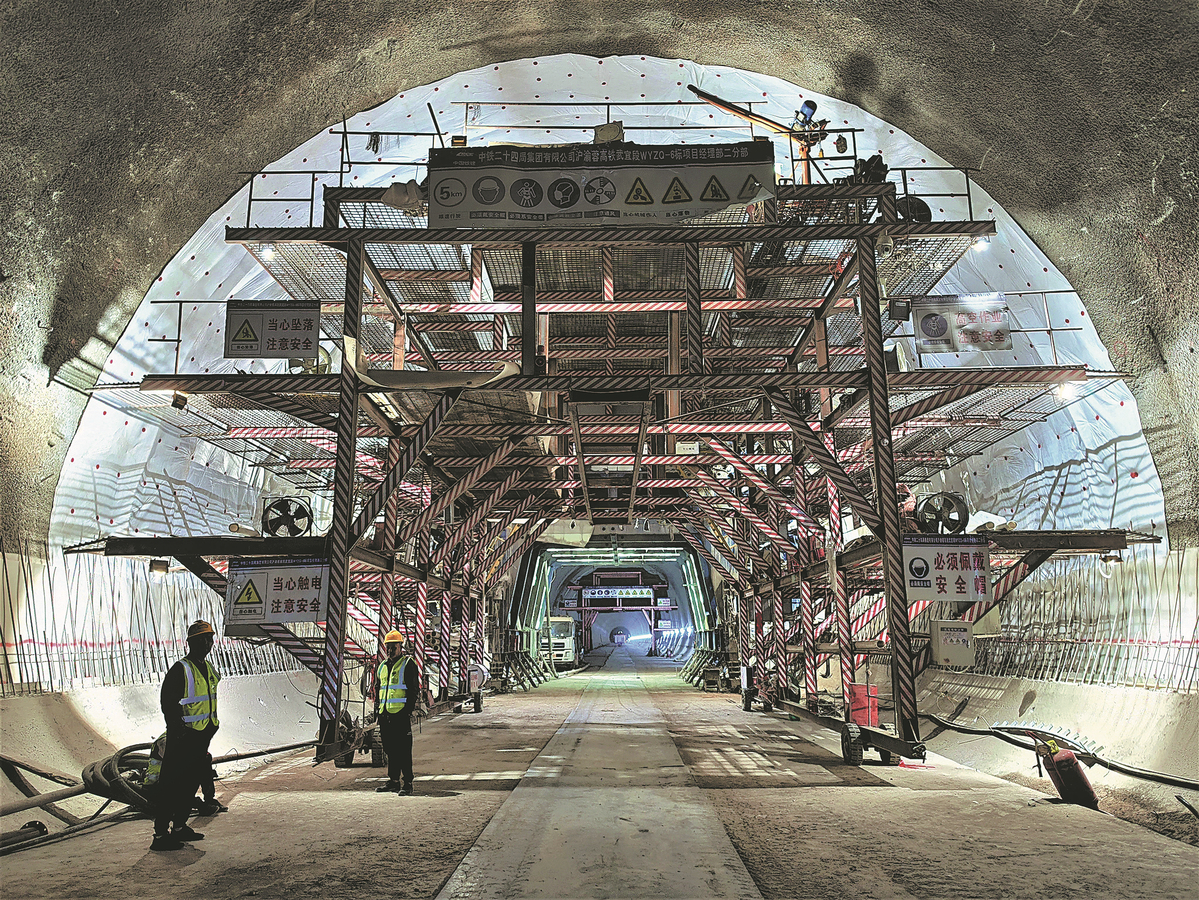 Builders of China Railway 24th Bureau Group Corp Ltd work at the Dangyang Tunnel in Hubei province on Thursday. [Photo/China Daily]
State contractors have once again showcased their edge in infrastructure construction with the recent completion of a tunneling project on a major railway under construction.
China Railway 24th Bureau Group Corp Ltd (CR24), which is building the Shanghai-Chongqing-Chengdu High-speed Railway together with other major infrastructure builders, including units from China Communications Construction Co Ltd and China Railway Group Ltd, said its construction teams completed the tunneling project on the railway on Thursday.
As the first tunnel over one kilometer long that has been dug on the railway, the maximum burial depth of the two-rail Dangyang Tunnel reaches 86 meters, going through many fault areas in the mountainous region of Hubei province.
Construction of the 1.4 km tunnel was a massive undertaking that required the use of some of the most advanced tunneling technology available, said the project manager with CR24, who declined to be named.
The construction team used a combination of tunnel-boring machines and traditional drilling methods to excavate the tunnel and managed to complete the work 40 days ahead of schedule, the manager said.
The tunnel is designed to accommodate high-speed trains that will run at speeds of up to 350 kilometers per hour, making the journey much faster and more convenient for passengers in cities between Shanghai and Chengdu, Sichuan province, the China Railway Construction Corp unit said.
The completion of the tunneling project is a major milestone for the high-speed railway project, which is expected to bring significant economic benefits to the region, CR24 said.
The 2,100-km new railway line, connecting six provinces with the nation's rail network, will provide a much-needed transportation link for the Yangtze River Delta region, a fast-growing region identified as a major economic driver for China, it added.
The project is also expected to create new job opportunities and stimulate domestic demand — a key mission for the country this year, experts said.
The nation has long been known for its edge in infrastructure construction, which has played a significant role in the country's economy over the past few years, especially under the shadow of the COVID-19 pandemic. The country's infrastructure investments have been instrumental in connecting cities and regions, improving transportation and logistics and boosting economic development, according to a report by Shandong International Trust Co Ltd.
In recent years, local governments have been ramping up effective investment in infrastructure projects as part of efforts to promote economic growth, shore up employment and improve livelihoods, it added.
By connecting cities and regions and improving transportation and logistics, effective infrastructure investment in key projects such as upgrading the railway network nationwide will play an increasingly important role in boosting the nation's economy and livelihoods, said Yuan Haixia, deputy director of the research institute of credit rating agency CCXI, in a report on financial tools supporting infrastructure.