China sets its own path to inspire others
0 Comment(s)Print E-mail chinadaily.com.cn, March 28, 2023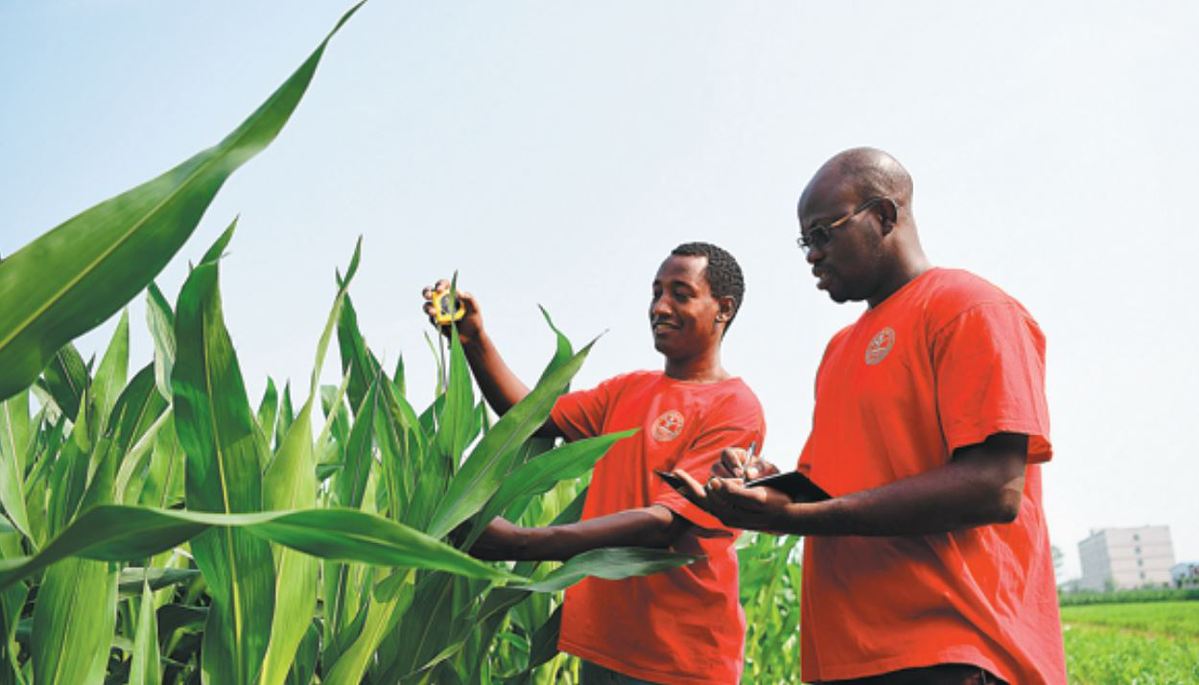 Burkina Faso students learn how to grow crops at an experimental farm in Hebei province. [Photo/Xinhua]
Cooperation: Nation's success inspires world
With border conflicts, climate change and rising prices threatening the food security of millions of people displaced from their homes in Burkina Faso, emergency humanitarian assistance funded by China poured into the country earlier this month.
The aid, from China's Global Development and South-South Cooperation Fund, delivered lifesaving food and other nutritional assistance to 170,000 refugees in the West African nation, marking another effort by Beijing to bolster Burkina Faso's food security.
"This is the demonstration of China's role as a major country and its support for the developing nations; a vivid practice of building a community with a shared future for mankind," said Lu Shan, Chinese ambassador to Burkina Faso, at a handover ceremony of the aid this month.
A team of Chinese agricultural experts and another of medical workers have continued to operate in the African nation.
Behind the moves are Beijing's greater commitment to building a community with a shared future for mankind by supporting global South-South cooperation, aiding developing nations in attaining a higher level of independent development and presenting a vision for countries, cultures and civilizations to better connect, said analysts and observers.
While setting out the vision for the Chinese path to modernization at the 20th National Congress of the Communist Party of China, Xi Jinping, general secretary of the Communist Party of China Central Committee, underlined the building of a community with a shared future for mankind, which he first put forward in 2013, as an essential part of the modernization process.
Xi, who is also Chinese president, underscored in his report to the Congress that China will stand firmly on the right side of history and on the side of human progress and stay dedicated to peace, development, cooperation, and mutual benefit as the nation follows its own path to modernization.
Over the past decade, Beijing has emerged as one of the top providers of global public goods, proposing the Belt and Road Initiative, the Global Development Initiative and the Global Security Initiative and initiating the establishment of the Asian Infrastructure Investment Bank and the Silk Road Fund.
As of 2021, Beijing had sent over 2,000 agricultural experts to more than 70 countries and regions, sharing technologies and methods that directly benefited over 1.5 million rural households, according to the Ministry of Agriculture and Rural Affairs.
Chinese medical teams, now working at 115 locations in 56 countries, are at the forefront of China's broader push to help developing countries improve their level of healthcare.
The nation responded quickly in February when the deadly earthquakes struck Turkiye and Syria, sending key supplies including makeshift homes, clothing, tents and medical equipment.
As China strides forward on its own path to modernization, the nation will remain steadfast in supporting other developing countries, to expedite their growth and work toward a better world, State Councilor and Foreign Minister Qin Gang wrote in an article on Friday.
While addressing the High-level Dialogue on Global Development in June, President Xi announced China's decision to upgrade the South-South Cooperation Assistance Fund to a Global Development and South-South Cooperation Fund, and add $1 billion to it on top of the $3 billion already committed to boost global development cooperation.
Koh King Kee, president of the ASEAN Research Center for a Community with Shared Future, said the building of a community with a shared future for mankind is a manifestation of China's foreign policy goal of peace, equality, development and win-win cooperation.
He noted that the vision is rooted in Chinese civilization, and represents China's answer to the world being beset by myriad challenges and risks including COVID-19, slow economic growth, climatic change, protectionism and anti-globalization.
The Malaysian scholar said Beijing's commitment to following its own path to modernization will inspire other developing countries to explore development paradigms tailored to their own conditions.
"Beijing's phenomenal rise to the world's second-largest economy has shown developing countries that modernization does not necessarily mean Westernization," he said.
"China's success stories are inspirations and encouragements to leaders of the developing world who see in China an alternative development model, and an important trade partner and a source of foreign investment," he said.
In the past decade, China has ratcheted up efforts to help developing countries, including those from Africa and members of the Association of Southeast Asian Nations, to boost their growth amid global headwinds.
Xi announced in 2021 that Beijing would undertake 10 poverty reduction and agricultural projects in Africa and send 500 agricultural experts to the continent. China's imports from African nations will total $300 billion between 2022 and 2024.
Guo Jia, an associate researcher at the China-Africa Institute, said Beijing's unwavering commitment to building a community with a shared future for mankind and its success in following its own path to modernization will be of particular significance to developing countries, especially Africa.
"For Africa, one favorable factor in its modernization process is that China will remain a good friend, partner and brother and make sure bilateral cooperation is on an equal footing, is win-win and fruitful, which is a key requirement for building a community with a shared future for mankind," she added.
China has also offered more scholarships to students from developing nations over the past decade in an effort to help build up these countries' talent base. Since 2015, Beijing has offered 10,000 government scholarships to countries participating in the BRI.
Muhammad Fahad Baqa, a Pakistani postgraduate student at the University of the Chinese Academy of Sciences, said he appreciates the opportunity to study in China because of the top research environment and the chance to better understand the nation's development and culture.
"Historically, we have seen that it is difficult for less-developed nations to modernize under a global political and economic structure that was created by and is dominated by Western wealthy nations," he explained. "Some aspects of China's development provide an example for other nations pursuing sustainable development, such as motivating the populace to build … infrastructure, legal frameworks, industrial policies and education," he said.
Mushahid Hussain Sayed, chairman of the Pakistani Senate's Defense Committee, said Xi's vision for building a community with a shared future for mankind "is based on inclusivity, people-centric development and win-win cooperation".
He said the Global Civilization Initiative put forward by Xi on March 15 seeks to present an alternative to the "military-oriented, security-centric, Cold War mindset" being promoted by some hawkish elements in the West, who still have a zero-sum mentality that sees the world in black-and-white terms.
"This mindset divides and builds barriers, while President Xi's vision unites and builds bridges, as China did recently by promoting Iran-Saudi Arabia peace and rapprochement," he said.