Building better world with a shared future
0 Comment(s)Print E-mail Xinhua, March 24, 2023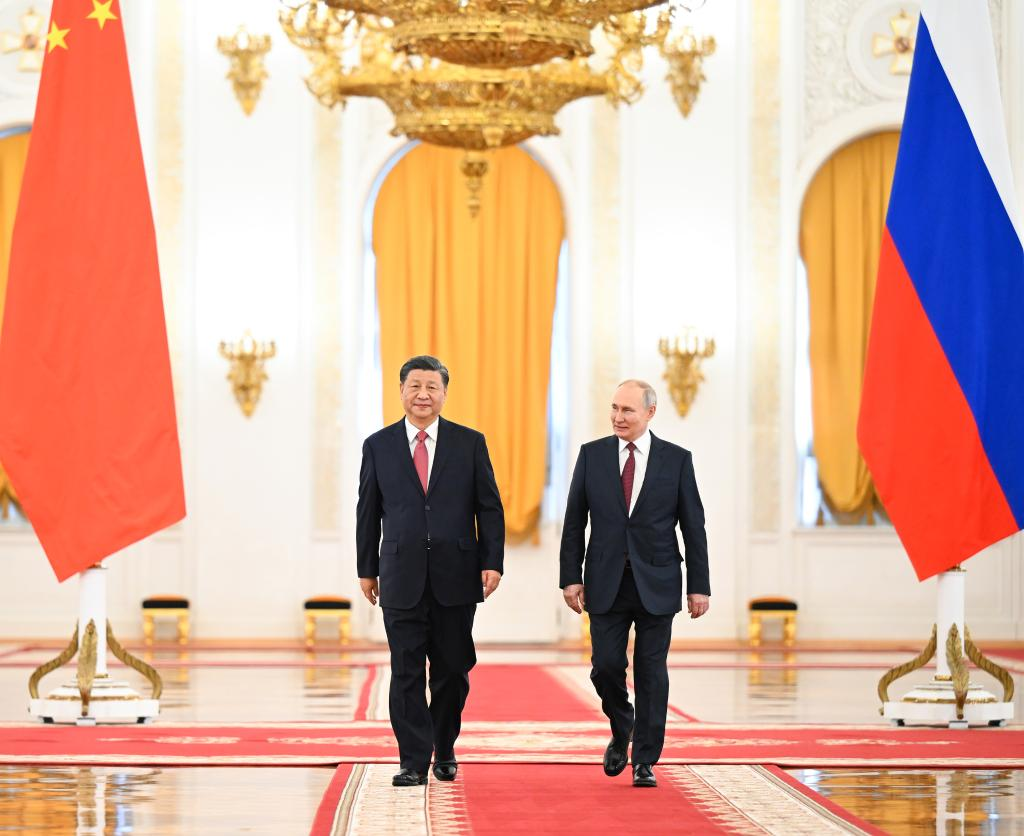 Russian President Vladimir Putin holds a solemn welcome ceremony for Chinese President Xi Jinping at the St. George's Hall at the Kremlin in Moscow, Russia, March 21, 2023. Xi on Tuesday held talks with Putin in Moscow. (Xinhua/Xie Huanchi)
BEIJING, March 23 (Xinhua) -- President Xi Jinping's state visit to Russia this week, which is also his first overseas trip since being re-elected as Chinese president, is widely believed to be a journey of friendship, cooperation, and peace.
In addition to strengthening bilateral relations, Xi and his Russian counterpart, Vladimir Putin, discussed global hotspot issues, including the Ukraine crisis, and reached consensus.
The two leaders signed and issued a joint statement and emphasized the need to resolve the Ukraine crisis through dialogue. The Russian side reaffirms its commitment to the resumption of peace talks as soon as possible.
Meeting the press with Putin at the Kremlin, Xi said China has all along actively encouraged peace talks on the Ukraine crisis.
"China has based its position on the merits of the matter per se and stood firm for peace and dialogue and on the right side of history," he said.
It is China's latest effort to play an active role in peace-making after it succeeded in brokering a rapprochement between Saudi Arabia and Iran. On March 10, the two Middle East countries reached an agreement in Beijing to resume diplomatic relations.
China's endeavors to help countries "beat the swords into plowshares" embody the belief that humanity shares the same future.
A decade ago, when he visited Russia in his first foreign trip as Chinese president, Xi put forward the vision of building a community with a shared future for humanity. This is seen as China's solution to addressing global challenges and creating a better future through concerted efforts of the international community.
"The common interest of all humankind is in a world united and peaceful rather than divided and volatile," Xi said.
NOTION FOR A HARMONIOUS GLOBAL FAMILY
In his signed article on Russian media published before he visited the country, Xi again referred to his speech in 2013 that put forward the shared-future notion.
"Humankind, by living in the same global village in the same era where history and reality meet, has increasingly emerged as a community of common destiny in which everyone has in himself a little of others," he said.
Over the past decade, Xi has expounded on the essence of a "human community with a shared future" on numerous occasions.
As the term suggests, it means that the future of every nation and country is interlocked. "We should endeavor to build this planet of ours into a single harmonious family, and turn people's longing for a better life into reality," he once said.
In his reply to a letter from teachers and students of a secondary school in Malta last year, Xi said peace and harmony amongst all states is a wonderful, long-held aspiration of the Chinese nation for human society.
It is the cultural root of the vision of building a human community with a shared future, he said.
China has not only been building shared-future communities among countries and regions but has also been working globally to build communities with a shared future in cyberspace, nuclear security, maritime affairs, and healthcare.
The concept has won extensive support from the international community. It has been included in some documents of multilateral mechanisms and international institutions such as the United Nations (UN).
Keith Bennett, vice chair of Britain's 48 Group Club, said the idea of a community with a shared future for mankind strikes a chord with many countries and peoples "because people realize that there is a rather stark choice between a community with a shared future and a community with no future."
CONCRETE ACTIONS FOR A BETTER WORLD
Concrete actions have been taken to turn the vision into reality.
For years, China has been active in providing assistance to countries in times of distress.
Last month, after massive earthquakes hit parts of Türkiye and Syria, Beijing immediately sent rescue teams and supplies to the stricken areas. Xi sent his message of sympathy to the leaders of the two countries.
During the past three years of the COVID-19 pandemic, China launched the largest global emergency humanitarian operation in the history of the people's republic. It shared COVID-19 prevention, control, and treatment experience with over 180 countries and international organizations and sent medical expert teams to 34 countries.
Xi made the commitment to making COVID-19 vaccines a global public good. The country has provided over 2.2 billion vaccine doses to more than 120 countries and international organizations.
Xi has put forward the Belt and Road Initiative (BRI), the Global Development Initiative, the Global Security Initiative, and the latest Global Civilization Initiative as platforms to turn the shared-future vision into reality.
Borrowing the idea of the ancient "Silk Road" that once linked Asia and Europe with vibrant trade, Xi envisioned the BRI as a framework connecting countries around the world through trade, investment, infrastructure development, and people-to-people exchanges, among others.
Over the past decade, 151 countries and 32 international organizations have joined the initiative.
Some of the key BRI projects have been advanced by state leaders themselves. During his trip to Bali, Indonesia last November, Xi and his Indonesian counterpart, Joko Widodo, witnessed the operational trial of the Jakarta-Bandung High-speed Railway via video link.
As the first high-speed railway in Indonesia, the railway is one of the accomplishments of the Belt and Road cooperation, which also include the construction of Pakistan's first underground line, a massive water supply and sewerage project in Sri Lanka, and a cooperation project in Greece which turned the decaying Piraeus Port into one of the fastest-growing container ports in the world.
With enhanced infrastructure, trade and investment cooperation, countries participating in the BRI have grabbed more development opportunities, and their future and destiny are closely linked.
"Development holds the key to people's well-being," Xi once said.
In September 2021, Xi put forward the Global Development Initiative, which has gained support from over 100 countries and a number of international organizations, including the UN. Nearly 70 countries have joined the Group of Friends of the initiative.
About seven months later, Xi proposed the Global Security Initiative to promote security for all around the globe. This has gained support from more than 80 countries and regional organizations.
FUTURE OF A MULTIPOLAR WORLD
As China moves closer to the center of the global stage, its proposal and practice of a human community with a shared future manifest a rejection of the logic that a strong country is bound to seek hegemony, observers said.
At the tone-setting national congress of the Communist Party of China last October, the Party announced its central task from then on as "advancing the rejuvenation of the Chinese nation on all fronts through a Chinese path to modernization." One of the five features of Chinese modernization, according to Xi, is "peaceful development."
"The international community has recognized that no country is superior to others, no model of governance is universal, and no single country should dictate the international order," Xi explicated China's commitment to peace in his signed article before the Russian trip.
The country's stance has won the praise of many, including UN Secretary-General Antonio Guterres, who called China a pillar of multilateralism.
The goal of practicing multilateralism is building a human community with a shared future, said the UN chief.
While visiting Russia, Xi again stressed practicing true multilateralism and opposing hegemonism and power politics. He underscored the need to steer and promote global governance in a direction that meets the expectations of the international community and called for promoting a human community with a shared future.
The idea of building a human community with a shared future indicates that there is more than one development model in the world, said Anatoly Torkunov, president of the Moscow State Institute of International Relations.
Holding that today's world is rather a multipolar world than a unipolar one, Torkunov said "the concept of building a community with a shared future for humanity promotes dialogue and communication among countries on an equal footing, which will contribute to the progress and development of humankind in the future." ■