Xiong'an New Area continues development
0 Comment(s)Print E-mail China Daily, March 23, 2023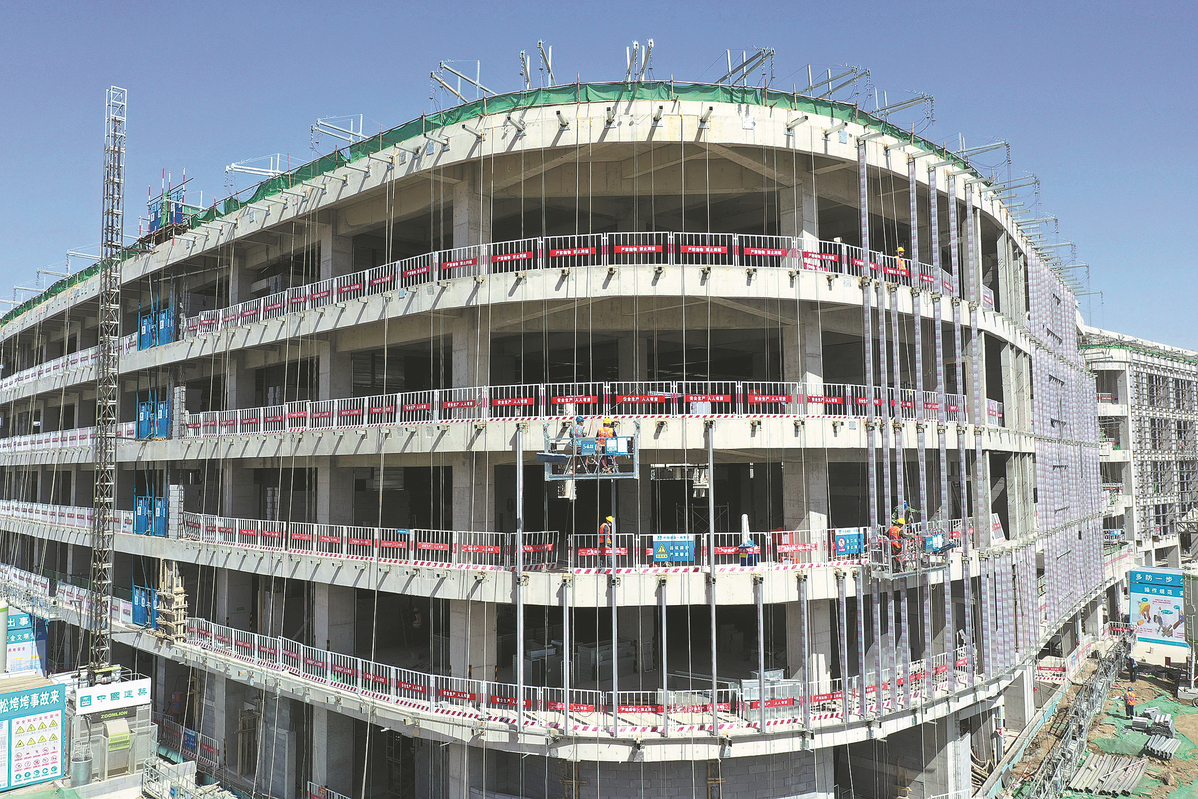 The headquarters of China Satellite Network Group under construction in Xiong'an New Area of Hebei province this month. [Photo/Xinhua]
Hub for integration benefiting workers, industries and State-owned enterprises
Xiong'an New Area in North China's Hebei province is continuing to grow as a development hub for Beijing-Tianjin-Hebei integration just six years after its establishment, with relocated industries, offices and workers benefiting from the convenience provided by world-class infrastructure.
At 5:30 pm on March 1, Zhang Shen was waiting for a flight to Shanghai at Beijing Daxing International Airport, where he would embark on a business trip to pass on the experiences of the new area. It had taken him only about an hour to reach the airport, which opened in 2019, via high-speed train from Xiong'an.
"I didn't expect it to be so convenient to go to the airport from Xiong'an," said the 36-year-old project manager.
The convenient transport infrastructure was one of the reasons Zhang chose to move to Xiong'an from Beijing for work in 2019. Via the intercity high-speed train, Zhang, a Beijing resident, can get home in an hour.
"I saw great opportunity in Xiong'an where I can bring my potential into full play," he said, adding that the brand-new city, built from the ground up, has state-of-the-art infrastructure.
April 1 marks the sixth anniversary of the establishment of Xiong'an New Area as a new economic zone about 100 kilometers southwest of Beijing.
"A modern socialist city's prototype has begun to show itself," Ni Yuefeng, secretary of the Hebei Provincial Committee of the Communist Party of China, said during a meeting held on Feb 23 in Xiong'an to study the area's construction and development.
Ni stressed the importance of building the area utilizing advanced concepts and international standards.
The area's key role is to facilitate noncapital functions transferred from Beijing, including some company headquarters, higher education institutions and financial institutions.
State-owned enterprises have set up more than 140 institutions or departments in Xiong'an. Three State-owned enterprises, including Sinochem Holdings and China Huaneng Group, are building their headquarters in the area.
China Telecom Digital City Technology, for which Zhang works, is a subsidiary of China Telecom. It was founded in 2021 and is dedicated to carrying out digital projects in Xiong'an.
"During the past several years, our practice in Xiong'an has been ripe with rich experiences, which we are striving to promote in cities domestically," Zhang said.
According to the 2018-2035 master plan for Xiong'an, it will be built into a national model of high-quality development and a new engine for the modern economic system.
By 2035, Xiong'an will have basically developed into a modern city that is green, intelligent and livable, with relatively strong competitiveness and harmonious human-environment interaction, Xinhua News Agency reported.
"It's been six years, and only we who are in Xiong'an have been able to experience the gradual emergence of the city," Zhang said.
The large-scale construction of Xiong'an is in full swing, with shuttle buses, roaring machines and towering cranes seen at multiple construction sites, he said.
According to the area's WeChat account, 270 key projects are expected to be carried out in the area this year, with a total investment of 664 billion yuan ($96 billion).
Among them is China Telecom Smart City Industrial Park, to which Zhang will move for daily work after the park is put into operation, which is expected at the end of this year.
"Everything is taking shape here step by step," Zhang said.