Fairs aim to increase jobs for graduates
Zou Shuo

0 Comment(s)Print E-mail China Daily , March 21, 2023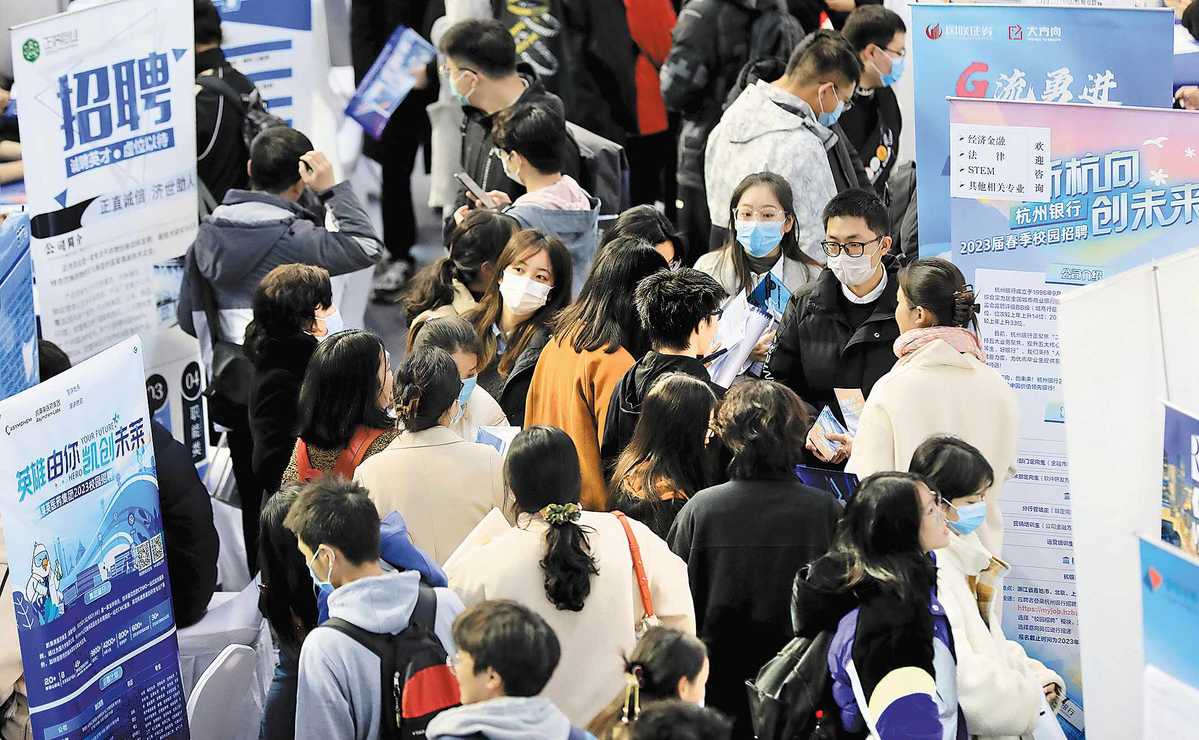 Students look for jobs at a career fair for graduates at Southeast University in Nanjing, Jiangsu province, on Sunday. LIU LI/FOR CHINA DAILY
National recruitment campaign to provide more career opportunities
The Ministry of Human Resources and Social Security has launched a special recruitment campaign from March 19 to May 26 aimed at achieving fuller employment of college graduates.
The campaign targets this year's new college graduates and those who graduated in previous years and have not yet found employment, according to a release from the ministry.
Employers and human resources agencies have been mobilized to participate in on-site recruitment fairs of various scales with specialized, precise and customized focuses, the release said.
In cities with a large number of universities, as well as in central and western regions, cross-regional recruitment fairs will provide more job opportunities for local college graduates.
Industry-specific and region-specific online recruitment events will be launched in succession, and activities such as livestreaming recruitment events will be held frequently.
The campaign will be held at the China National Talent Network, and graduates can log in and search for job opportunities.
The first phase of the campaign from March 19 to 29 will see the launch of 19 offline recruitment fairs, eight cross-regional recruitment fairs and 26 online recruitment fairs in industries such as manufacturing, medicine and health, the internet, new energy and cross-border e-commerce.
There will be nine livestreaming job fairs, four online employment guidance events and one policy promotion activity, the release said. Minister of Human Resources and Social Security Wang Xiaoping said that with an estimated 11.58 million fresh graduates expected this year, employment pressures remain.
Meanwhile, the structural contradictions of job supply and demand mean it is difficult for some companies to find employees and also difficult for some graduates to find jobs, she said at a recent news conference.
However, with the recovery of the economy, the employment situation will pick up and remain stable, she said.
Tsinghua University hosted its largest offline job fair for new graduates this year on Thursday, with 340 companies offering more than 10,000 posts, according to the university.
The university is expecting to have around 8,600 new mainland graduates this year, and more than 70 percent of them have received job offers already.
The job fair includes sections for graduates to work in western regions and in key technologies to encourage them to work in areas where the country needs them the most.
Around 200 companies offered posts for international students, and those from the Hong Kong and Macao special administrative regions and Taiwan.
Peking University hosted its largest offline job fair in three years since the COVID-19 epidemic outbreak on Saturday, attended by more than 400 companies offering 16,506 jobs.