Bilateral trade expected to maintain long-term growth
0 Comment(s)Print E-mail chinadaily.com.cn, March 21, 2023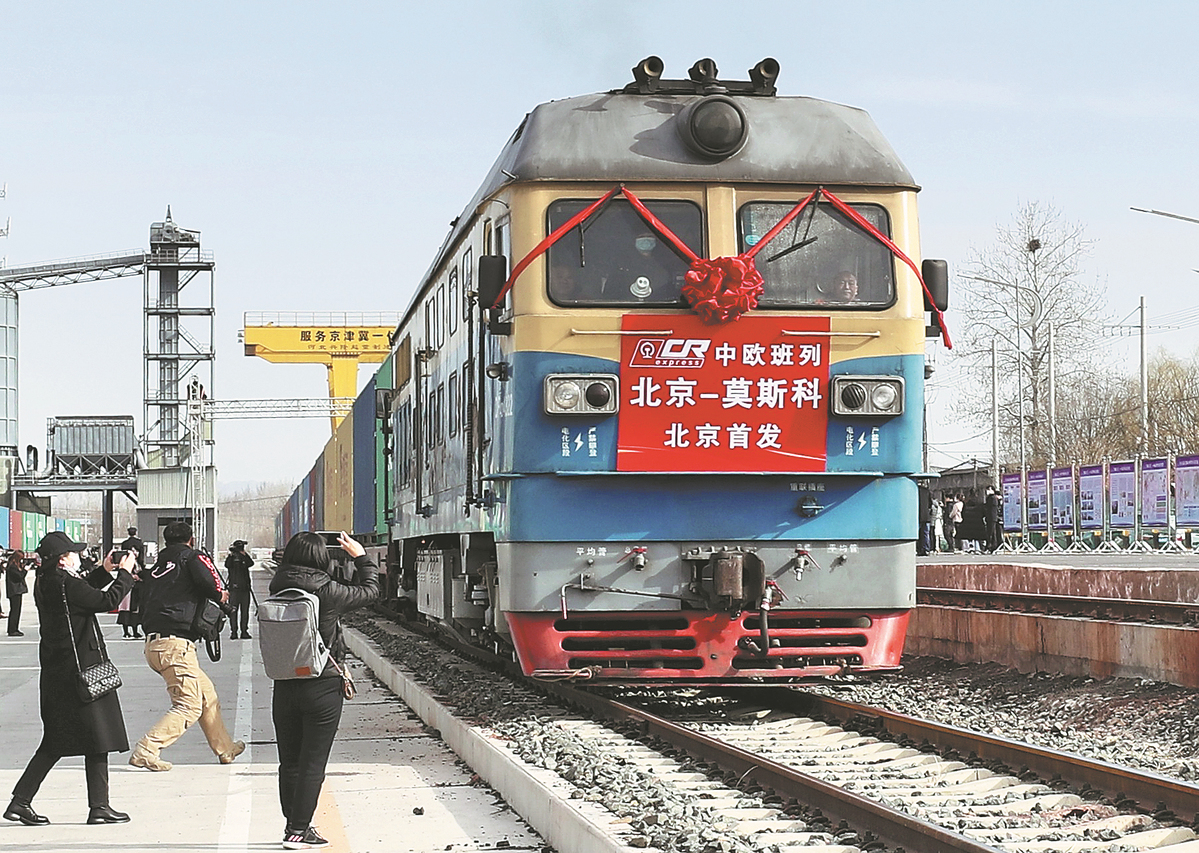 A freight train departs for Moscow, Russia from Beijing's Mafang Station in suburban Pinggu district, becoming the latest cargo service linking China with Europe via railway. [Photo by Zou Hong/China Daily]
China-Russia trade is expected to grow at a rapid pace in the years ahead, as both countries are actively reinforcing business ties in commodity trade, regional connectivity and other emerging fields, according to government officials and experts.
Recent data from the General Administration of Customs showed that in the first two months of 2023, trade between China and Russia surged 36.4 percent year-on-year to 232.5 billion yuan ($33.8 billion), indicating continuous and strong growth momentum in bilateral economic cooperation.
As both countries deepen their mutual political trust and expand the convergence of interests, they are leveraging their comparative strengths to further widen market access and jointly promote high-quality growth, said Li Yonghui, a researcher at the Chinese Academy of Social Sciences' Institute of Russian, Eastern European and Central Asian Studies.
China has been Russia's top trading partner for 13 consecutive years as of the end of 2022, Li said, adding that both sides have been consolidating the trade of bulk commodities, including energy and minerals, and expanding new growth points in the digital economy, biomedicine, cross-border e-commerce and trade in services during this period.
Despite challenges ranging from waning global demand for goods to geoeconomic shocks, China-Russia trade surged 29.3 percent year-on-year to $190.27 billion in 2022, according to customs statistics.
Shu Jueting, a spokeswoman for the Ministry of Commerce, said at a news conference in Beijing last month that for the next step, the ministry will work with relevant government departments as well as with Russia to keep their trade and economic ties on the track of steady development.
Song Kui, president of the Contemporary China-Russia Regional Economy Research Institute, said: "There is more space for the two countries to further expand their business ties this year. For instance, Russia has announced plans to build special economic zones in the Far East, which will spur the country's mineral and agricultural exports to China."
The Heihe-Blagoveshchensk cross-border highway bridge over the Heilong River opened to traffic in June. The new channel, a milestone in infrastructure connectivity, has connected China's northeastern provinces and Russia's Far East amid flourishing economic and trade cooperation between the neighbors.
The China-Russia trading structure has improved and new business forms are booming, said Chen Chao, deputy director of the department of international trade and economic affairs at the Ministry of Commerce. Cross-border e-commerce cooperation between the two countries has developed rapidly, Chen added.
Thanks to the enhanced coordination and cooperation within multilateral frameworks, China and Russia have also notably heightened the synergy between the Belt and Road Initiative and the Eurasian Economic Union in recent years, said Xu Hongcai, deputy director of the China Association of Policy Science's Economic Policy Commission in Beijing.