China's modernization drive offers new prospects for humanity
0 Comment(s)Print E-mail Xinhua, March 17, 2023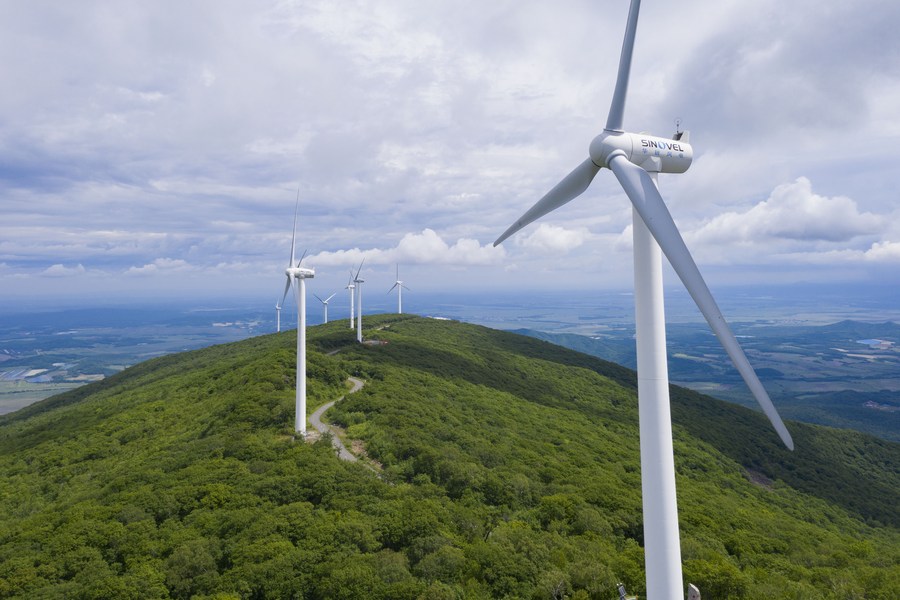 This aerial photo taken on June 19, 2022 shows wind turbines in a forest park in Raohe County, northeast China's Heilongjiang Province. (Xinhua/Xie Jianfei)
As a role model for the world, Chinese modernization has provided great wisdom and opened up a new prospect for humanity's sustainable development.
BEIJING, March 16 (Xinhua) -- "The ultimate goal of modernization is people's free and well-rounded development," Chinese President Xi Jinping, also general secretary of the Communist Party of China (CPC) Central Committee, said Wednesday in a keynote speech during the CPC in Dialogue with World Political Parties High-level Meeting.
"Modernization does not fall into our laps automatically. It is the result of hard work with strong historic initiative," Xi said, stressing that political parties worldwide should integrate party building with national modernization.
Xi also proposed the Global Civilization Initiative, emphasizing that tolerance, coexistence, exchanges and mutual learning among different civilizations play an irreplaceable role in advancing humanity's modernization.
International observers said Xi's remarks elaborate on the responsibilities of global political leaders in advancing humanity. As a role model for the world, Chinese modernization has provided great wisdom and opened up a new prospect for humanity's sustainable development.
CHINESE MODERNIZATION NOT BUILT IN A DAY
China's modernization embraces the masses while balancing development with the harmony of nature, setting an example for the world, said Dogu Perincek, chairman of the Patriotic Party of Türkiye.
"The modernization of the People's Republic of China has followed a path that embraces the society as a whole and attaches importance to the spiritual enrichment of humanity," he said, adding it is admirable to achieve modernization with a population of 1.4 billion people thanks to Chinese socialism.
Zaher Raad, foreign affairs commissioner of Lebanon's Progressive Socialist Party, said Xi's speech answered many questions of concern to the participating parties and proposed that political parties should take on the responsibilities of promoting modernization. Ensuring people-centered modernization is the key to advancing the modernization cause.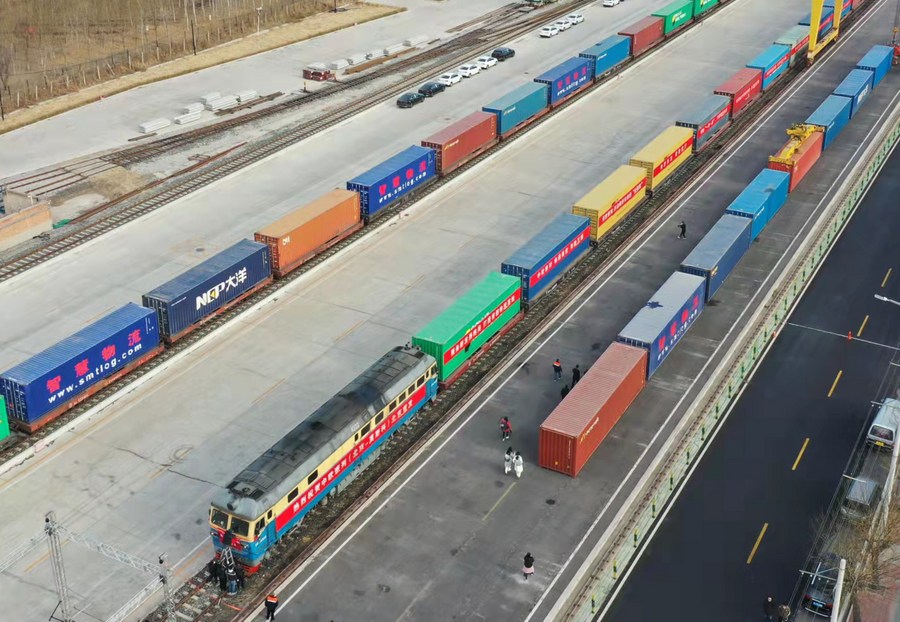 This aerial photo taken on March 16, 2023 shows a China-Europe freight train heading for Moscow at Mafang railway station in Pinggu District of Beijing, capital of China. (Xinhua/Ren Chao)
Xi further expounded his important proposition on modernization and development, which is conducive to reducing the Global North-South Gap and establishing a security and development model featuring fairness, justice, joint contribution and shared benefits, said Andres Alvarez, secretary of the International Relations Department of the Colombian Communist Party.
With this model, he added that people worldwide would have more rights to make their own choices.
The realization of Chinese modernization is not achieved overnight. It requires strong leadership and precise policy-making by a political party, said Benjamin Anyagre, general secretary of the Ghana-China Friendship Association.
He added that the CPC, which is leading the Chinese people on the path of modernization, has set an example for African political parties.
NEW TYPE OF INT'L RELATIONS
In his speech, Xi called for leveraging the strength of a new type of party-to-party relations for the building of a new type of international relations and expanding global partnerships by fostering stronger partners with world political parties.
Pakistan's political parties welcome the remarks, which promotes people-to-people exchanges, said Asif Luqman Qazi, director of foreign affairs of the Jamaat-e-Islami Party in Pakistan.
As one of the major political parties in Pakistan, he said the Jamaat-e-Islami Party looks forward to further enhancing cooperation and exchanges with the CPC through think tanks, youth organizations, women's organizations and other channels.
Wang Yi (C), a member of the Political Bureau of the Communist Party of China (CPC) Central Committee and director of the Office of the Foreign Affairs Commission of the CPC Central Committee, attends a closing meeting of the talks between the Saudi delegation led by Musaad bin Mohammed Al-Aiban (L), Saudi Arabia's Minister of State, Member of the Council of Ministers and National Security Advisor, and Iranian delegation led by Admiral Ali Shamkhani (R), Secretary of the Supreme National Security Council of Iran, in Beijing, capital of China, March 10, 2023. (Xinhua/Luo Xiaoguang)
Gustavo Pinto, a Brazilian professor, said China's role in facilitating the resumption of diplomatic relations between Saudi Arabia and Iran demonstrates its responsibility as a major country.
Pinto said Chinese civilization advocates inclusiveness and magnanimity, something other countries should understand further since it will create a better future for the world.
The CPC is committed to upholding international fairness and justice, promoting world peace and stability, advocating and practicing genuine multilateralism, and safeguarding the international system with the United Nations as its core, according to Cavince Adhere, a Kenya-based international relations scholar.
"Without peace, no country can develop. The Communist Party of China has set a good example in this regard for other political parties in other countries," said Adhere.
NEW INITIATIVE MEETS NEEDS OF THE TIMES
Xi's Global Civilization Initiative respects different civilizations, said Vanxay Tavinyan, deputy chief of the Propaganda and Training Board of the Lao People's Revolutionary Party Central Committee.
He noted that the initiative conforms to the call of the times and helps different civilizations coexist and learn from each other.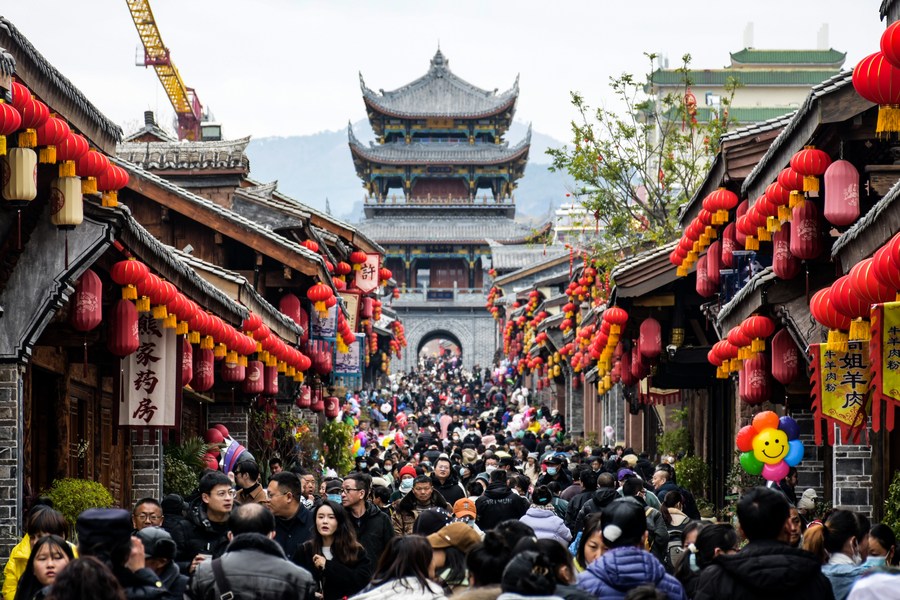 People visit Jianchang ancient city during the Spring Festival holiday in Xichang, southwest China's Sichuan Province, on Jan. 27, 2023. (Photo by Li Jieyi/Xinhua)
Attending the conference, Sergey Sanakoev, deputy chairman of the Russian-Chinese Friendship Society and president of the Asia-Pacific Region Research Center, said that the initiative is a natural development in the concept of building a community with a shared future for mankind, adding that the new initiative would help build a multipolar world and promote common prosperity.
Eleni Karamalengou, director of the BA in Archaeology, History and Culture of Ancient Greece at the University of Athens, said that China's efforts to enhance mutual learning among world civilizations are significant.
Taking Greece-China cooperation as an example, Karamalengou, who has closely cooperated with Chinese universities in recent years, said deepening cooperation between the two countries in culture and education has helped promote more frequent and fruitful Greece-China collaboration.
Countries should develop peacefully, and civilizations should respect each other. The Global Civilization Initiative will help the world work together to meet pressing global challenges, reduce conflicts and confrontation, and realize harmonious coexistence, said Stephanos Stephanou, secretary general of Cyprus' Progressive Party of Working People.
Asadollah Badamchian, general secretary of the Islamic Motalefeh Party of Iran, noted that both Iran and China are ancient civilizations with thousands of years of history, and both have contributed to the development of world's civilization.
He added that the Global Civilization Initiative would help people of all countries emerge from the shadow of colonialism, imperialism and hegemony. ■