China's new journey of development brings win-win opportunities for the world
0 Comment(s)Print E-mail Xinhua, March 15, 2023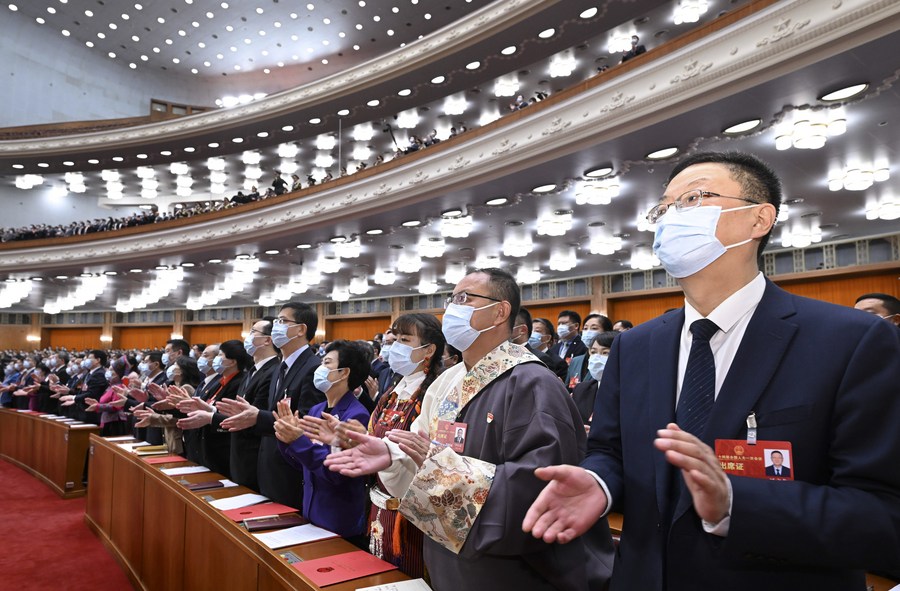 The closing meeting of the first session of the 14th National People's Congress (NPC) is held at the Great Hall of the People in Beijing, the capital of China, March 13, 2023. (Xinhua/Rao Aimin)
BEIJING, March 14 (Xinhua) -- "The relay baton of building a great modern socialist country and advancing national rejuvenation has been historically passed on to our generation," Chinese President Xi Jinping said here Monday at the closing meeting of the first session of the 14th National People's Congress, the national legislature.
"We will be dedicated to peace, development, cooperation, and mutual benefit, stand firmly on the right side of history, practice true multilateralism, and uphold the shared values of humanity," Xi said.
As this year's "two sessions" have wrapped up, Xi's words showed China's confidence in starting a new chapter of Chinese modernization with competent leadership and detailed policies, offered a glimpse into China's successful governing experience, and demonstrated China's resolution in promoting a community with a shared future for mankind.
NEW CHAPTER, FRESH OPPORTUNITIES
Within a century, the Chinese nation has made great transformation. Its great rejuvenation is now on an irreversible historical course.
China's development benefits the world and China cannot develop in isolation from the rest of the world, Xi noted Monday.
Mohammed Al Ajlan, deputy chairman of Ajlan & Bros Holding Group, a leading investment holding company in the Middle East and one of the largest private enterprises of Saudi Arabia in China, has found these words by Xi particularly pertinent.
"China is an attractive country, which supports investment and foreign companies," he said, adding he believes that "under the leadership of the new government, China's economy will grow steadily."

"I am confident in promoting cooperation with various fields of China," he said.

In his address, Xi also reiterated China's determination to unswervingly advance high-quality development and make concrete efforts to advance high-standard opening up, both widely recognized by the international community.
China advocates high-quality development, bringing inspiration to the Thai government and people, said Tang Zhimin, director of China ASEAN Studies at the Bangkok-based Panyapiwat Institute of Management.

Staff members perform tasks at a workshop of HT-Tech (Nanjing) Co., Ltd. in Pukou Economic Development Zone of Nanjing, east China's Jiangsu Province, March 9, 2023. In recent years, Pukou Economic Development Zone in Nanjing has made efforts in the integrated circuit industry, a new contributor to the development of the regional economy. (Xinhua/Ji Chunpeng)
"China's development philosophy, new technologies, and the Belt and Road Initiative, represented by the China-Laos-Thailand railway, are conducive to deepening cooperation between regional countries and China," Tang said.
As the world's second-largest economy, China is committed to safeguarding an open and inclusive global economy, said Alexander Lomanov, head of the Center for Asia-Pacific Studies of the Institute of World Economy and International Relations of the Russian Academy of Sciences, adding that China's new development will create fresh opportunities for the world, injecting confidence and impetus into global economic recovery.
"Technological progress in China is coming to the forefront in many areas," said Kubanichbek Tabaldiyev, former director general of Kyrgyzstan's Kabar News Agency. "Using modern technological advances, Chinese society is further expanding the horizon for its development."

"I had the opportunity to go to China and I saw the way their development is green. China understands the future and environmental protection and knows exactly how it will influence development in the future," said Augustine Njamnshi, executive secretary of Bioresources Development and Conservation Programme Cameroon.

ENLIGHTENING GOVERNING NOTIONS
A people-centered philosophy of development must be implemented so that the gains of modernization will benefit all people fairly, Xi said Monday.
The Chinese leader also underlined the importance of always having the courage to carry out self-reform, conducting full and rigorous Party self-governance unceasingly, and fighting corruption resolutely.
For Samer Khair Ahmed, a Jordanian writer and expert on Arab-China relations, Xi's remarks have provided an illuminating insight into the Communist Party of China (CPC)'s governing notions on the party and the country.
"What he said fully embodies his consistent and profound people-centered development thought," he said.
China has made significant achievements in improving people's living standards and eliminating extreme poverty, setting a model for other developing countries, he noted, voicing confidence that China's development will not only better benefit the Chinese people, but bring greater opportunities for the world.

Much impressed by Xi's emphasis on putting the people first, Greek scholar Pelagia Karpathiotaki said, "the people are the purpose and meaning of the (Chinese) government."

"China's people-centered philosophy is not a superficial slogan, but a principle in the core of the CPC's philosophy, and this could be easily confirmed by the positive changes that have been carried out in the lives of Chinese citizens," she said, citing China's success in poverty alleviation as an example.
Elvis Ngolle Ngolle, a professor at the University of Yaounde II in Cameroon, said strong intergovernmental relations, zero-tolerance for corruption, good pieces of legislation, bottom-up people's empowerment and resounding technology are tools that have propelled China's development. He added that it will be wise for Cameroon and Africa in general to learn from China's model of development.
Aerial photo taken on July 19, 2022 shows the Central Business District (CBD) project in Egypt's new administrative capital in the east of Cairo, Egypt. The construction of the Central Business District (CBD) in Egypt's new administrative capital, which is being implemented by China State Construction Engineering Corporation (CSCEC), has injected new vitality into the country's economic and social development.(CSCEC Egypt/Handout via Xinhua)
WIN-WIN COOPERATION FOR SHARED FUTURE
China will not only leverage global markets and resources for its own development, but also promote the development of the whole world, Xi said Monday, sharing his thoughts on how China and the world could develop and prosper together.

Applauding Xi's remarks, Egyptian economist Waleed Gaballah said, China "aims to cooperate with all and seeks to keep the economy away from political and geopolitical conflicts."

Noting that China has accumulated world-leading experience in renewable energy and green development in recent years, Mohammad Abu Atieh, country manager of China Three Gorges International Corporation Jordan, said more Chinese companies investing in and constructing solar and wind power projects in other developing countries and sharing their successful experience in renewable energy will help those countries upgrade the economy, increase employment, and achieve green and sustainable development.

China will play an active part in the reform and development of the global governance system, contribute its share to building an open world economy, advance the implementation of the Global Development Initiative and the Global Security Initiative, add more stability and positive energy to the peaceful development of the world, and foster a favorable international environment for China's development, Xi said.

To many people, these lines have injected strong confidence into a world beset with raging regional conflicts and rising anti-globalization sentiment.
"Be it in the governance, socio-economic or security sector, the Chinese leadership's position and vision towards common prosperity and global peace and security development are highly recognized and appraised by the international community," said Costantinos Berhutesfa Costantinos, professor of public policy at Addis Ababa University.
Xi's resolute commitment to multilateralism and building a community with a shared future for mankind "is very important to the international community," said Zamir Ahmed Awan, founding chair of Islamabad-based think tank the Global Silk Route Research Alliance, commending China's positive contribution to all important issues closely related to humankind under Xi's leadership.
"Solidarity, cooperation, and building a community with a shared future for mankind are the right paths to development," said Jose Ricardo dos Santos Luz Junior, CEO of Group of Corporate Leaders China. ■