China solicits logos for manned space missions in 2023
0 Comment(s)Print E-mail Xinhua, February 15, 2023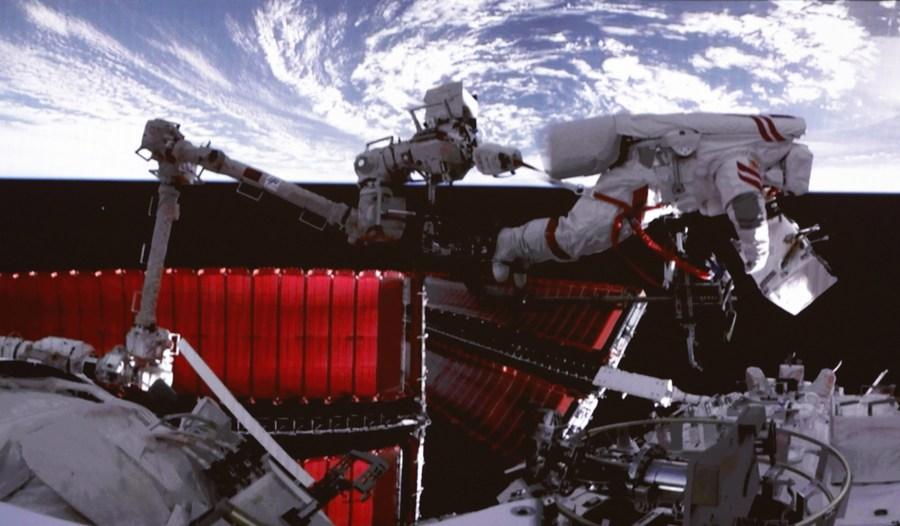 This screen image captured at Beijing Aerospace Control Center on Feb. 9, 2023 shows Shenzhou-15 taikonaut Fei Junlong conducting extravehicular activities (EVAs) out of the space station lab module Wentian. (Xinhua/Liu Fang)
BEIJING, Feb. 15 (Xinhua) -- The China Manned Space Agency (CMSA) began to solicit logos on Wednesday for the country's upcoming crewed space missions, marking the first open logo solicitation of its manned space program.
The event aims to solicit logos for three missions of China's manned space program this year, including the launches of the cargo craft Tianzhou-6, and the crewed spaceships Shenzhou-16 and Shenzhou-17, according to an announcement on the event released by the CMSA.
Ever since China's historic Shenzhou-5 manned space flight in 2003, an iconic logo has been designed for each of the country's manned missions. The 12 mission logos designed during the construction phase of the country's space station, in particular, reflect China's remarkable achievements in space exploration.
The solicitation for mission logos this time is open to the public and will run until March 6. It is aimed at those who are enthusiastic about China's manned space program, said the announcement.
With its construction completed, China's space station has entered into the stage of application and development, and a total of two manned spaceships and one or two cargo craft will be launched as scheduled every year, said the CMSA.
The Tianzhou-6 cargo craft is expected to be launched in May this year in accordance with the mission plan. It will deliver supplies, including daily necessities and consumables for astronauts, maintenance spare parts, and propellants, and return with in-orbit trash.
The Shenzhou-16 and Shenzhou-17 spaceships will be launched as planned in May and October, respectively, and dock with the space station to form a combination of three modules and three spaceships. The two crews will conduct extravehicular activities and exit tasks of the cargo airlock cabin, and carry out space science experiments and technology tests, said the announcement. ■