China issues No. 1 central document for 2023, highlights rural vitalization tasks
0 Comment(s)Print E-mail Xinhua, February 14, 2023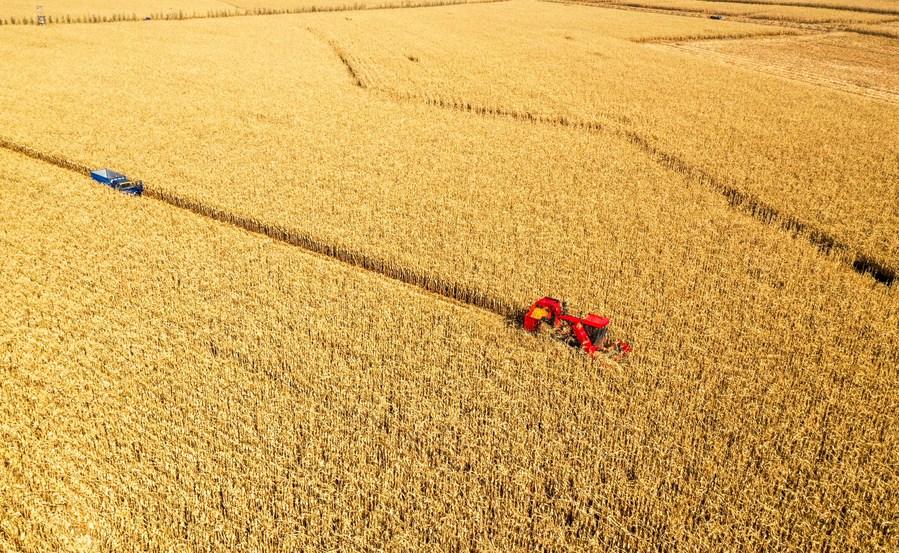 This aerial photo shows farmers harvesting corn in Naiman Banner of Tongliao City, north China's Inner Mongolia Autonomous Region, Oct. 13, 2022. (Xinhua/Lian Zhen)
BEIJING, Feb. 14 (Xinhua) -- China unveiled its "No. 1 central document" for 2023 on Monday, outlining nine tasks for comprehensively promoting rural vitalization this year.
As the first policy statement released by China's central authorities each year, the document is seen as an indicator of policy priorities. Work on agriculture and rural areas has been high on the agenda for 20 consecutive years since 2004.
The document called for enhanced efforts to stabilize production and ensure the supply of grain and important agricultural products, to boost the construction of agricultural infrastructure, to strengthen support for agricultural science, technology and equipment, to consolidate and expand the achievements of poverty alleviation, and to promote the high-quality development of rural industries.
In an interview with Xinhua, Minister of Agriculture and Rural Affairs Tang Renjian said the document has not only detailed major tasks for comprehensively promoting rural vitalization, but also put forward specific arrangements for accelerating the building of China's strength in agriculture.
It highlighted tasks needed to broaden the channels for farmers to increase their incomes and promote their ability to secure wealth, to solidly promote the building of a beautiful and harmonious countryside that is desirable to live and work in, to improve the rural governance system led by Party organizations, and to strengthen policy guarantees, and structural and institutional innovation.
The document noted that the most arduous and heavy task of building a modern socialist country in all respects still lies in the countryside.
With the accelerated evolution of global changes on a scale unseen in a century, China's development has entered a period of coexistence of strategic opportunities, risks and challenges, with increasing uncertainties and unpredictable factors, the document said, adding that it is extremely important to maintain the bedrock of "agriculture, rural areas and farmers" in a solid and healthy manner, as there is no room for error.
Agricultural development is essential to meeting the people's needs for a better life, achieving high-quality development and consolidating the foundation of national security, said Tang. He said that a country's strengths are built on self-sufficiency in grain supply, as well as the independence of key technologies and supply chains.
To ensure the stable production and adequate supply of grain and other important agricultural products, the document underlined efforts to keep annual grain production over 650 billion kg, expand the acreage of soybeans and oil crops, and develop modern facility agriculture.
China will make plans for transforming all of its permanent basic farmland to high-quality farmland, invigorate its seed industry and strive to make key technological breakthroughs in agriculture, Tang said.
To these ends, the document called for more progress in building permanent observation stations and sites for agricultural studies. It also urged the completion of a national census on germplasm resources, and more efforts on developing advanced farm machinery.
In terms of expanding poverty-relief achievements, the document stressed the prevention of a large-scale return to poverty. Tang called for efforts to accelerate development in poor areas and narrow the income and development gaps between rich areas and less affluent regions.
Tang said it is also important to cultivate industries and businesses that leverage local strengths. The country will strive to ensure that more than 60 percent of the central government subsidies for rural vitalization is used to develop local industries, according to the document.
China will work harder to reduce poverty through helping poor workers secure jobs, Tang said, noting that the country will make sure that more than 30 million people who have shaken off poverty will be employed.
With regards to building a beautiful and harmonious countryside, the document underscored solid work on improving the rural living environment and enhancing rural infrastructure in key areas such as roads, water supply systems and power grids, as well as reinforcing the security of rural housing.
"Efforts should aim at ensuring modern living conditions in rural areas," said Tang, adding that the country will improve public facilities and services, so that farmers can enjoy a modern life where they are now.
The Communist Party of China Central Committee believes that it is necessary to unremittingly consider solving the "agriculture, rural areas and farmers" problems as the top priority of the whole Party's work, and give full play to the efforts of the whole Party and society to comprehensively promote rural vitalization and accelerate the modernization of agriculture and rural areas, according to the document. ■