China's resumption of outbound group travel expected to revive global tourism industry
0 Comment(s)Print E-mail Xinhua, February 07, 2023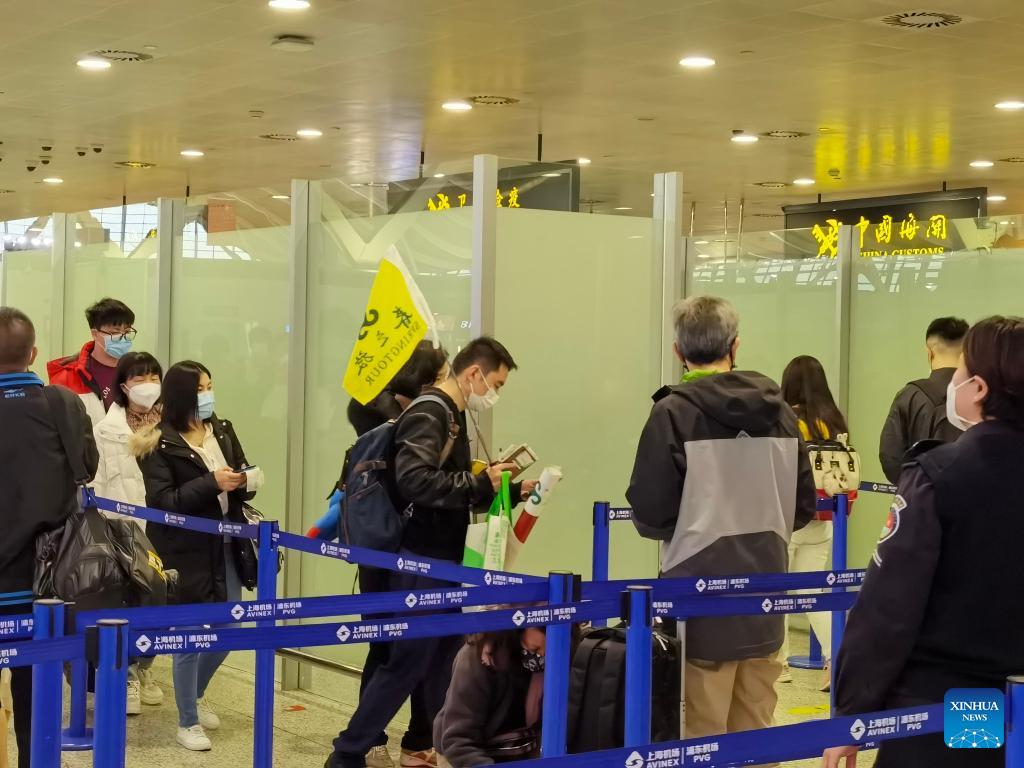 A group of tourists following their guide are about to set off for Thailand at the Shanghai Pudong International Airport in east China's Shanghai, Feb. 6, 2023.(Xinhua/Chen Aiping)
SHANGHAI, Feb. 6 (Xinhua) -- The global tourism industry is expected to get a boost as China, one of the world's largest outbound tourism markets before the pandemic, resumed outbound group tours on Monday.
At the Shanghai Pudong International Airport, with great joy, Huang Xing, 69, checked in with three of his buddies for a long-planned trip to Phuket.
They had made several overseas trips together before the pandemic, and now they are also planning a trip to Eastern Europe later this year.
"Thailand is relatively close, and even though it is a group trip, the schedule is quite relaxed and it's nice to be with friends," said Huang.
Huang is among 25 tourists on a Thailand-bound tour organized by the Shanghai Airlines Tours International (Group) Co., Ltd.
Starting Monday, China resumed outbound group travel to 20 countries, including Thailand, the Maldives, the United Arab Emirates, Russia and New Zealand.
The move, announced in January, sparked a frenzy of trip planning and saw online searches for overseas destinations spike, with Thailand being the most popular.
Cheng Chaogong, chief researcher with a tourism research institute affiliated to the online travel agency Tongcheng-eLong, said that countries with friendly entry policies towards China are preferred destinations. Among them, Southeast Asian countries are on the top of the list, also due to the cozy climate they offer during this time of the year.
According to Nonglux Yooyendee, director of the Tourism Authority of Thailand Shanghai Office, 11 million Chinese tourists visited Thailand in 2019, amounting to a quarter of Thailand's inbound market. It is estimated that 5 to 6 million Chinese tourists will visit Thailand this year. Since January, Thailand has welcomed about 90,000 Chinese tourists.
Dai Bin, president of the China Tourism Academy, said that the resumption of group travel underlined China's sense of responsibility and commitment to staying open. "(It shows that) we are ready to share opportunities and development dividends with other countries," Dai noted.
Shanghai Jinjiang Tours Co., Ltd. has chosen the United Arab Emirates as the destination for its first overseas group tour.
Liu Ning, president of Shanghai Jinjiang Tours Co., Ltd., said the Middle East is a promising tourist market as the Qatar World Cup had drawn much attention to the region, while economic cooperation between China and the Middle East is deepening.
The mass return of Chinese travelers is boosting confidence in the economic recovery of countries that depend heavily on tourism.
Rekindled passion for traveling abroad during the recent Spring Festival holiday, for instance, has already displayed the growing vitality of the Chinese economy and provided optimism for a world seeking to remedy an economic downturn.
According to Tongcheng-eLong, outbound air ticket and hotel reservations grew 258 percent and 177 percent year on year, respectively, during the week-long holiday.
A survey by qyer.com shows that more than 90 percent of respondents plan to travel abroad within a year, with about a quarter scheduling a trip within six months.
The resumption of outbound group travel in China is of great significance to Thai tourism, and the governments and private enterprises in both countries have shown positive attitudes in this regard. Travel companies that cater towards tourists in Thailand are rolling out relevant products to meet the preferences of Chinese tourists, Nonglux Yooyendee noted.
Yet the full recovery of the industry may still take some time.
Zhou Weihong, deputy general manager of Spring Tour Travel Agency, said several factors are still restricting the recovery of the outbound travel market, including the shortage of international flights and the high cost of group tours, inflicted by exorbitant fares, and hotel and reception fees.
Tourism enterprises are therefore considering more diversified, small-scale and customized products to woo would-be vacationers with niche marketing and a better service experience.
"We also hope overseas destinations will be ready to embrace the influx of Chinese tourists, in terms of the supply chain, ground resources, flight delivery, personnel and so forth," Dai said. ■