China's economy stands out in global arena
0 Comment(s)Print E-mail Xinhua, January 30, 2023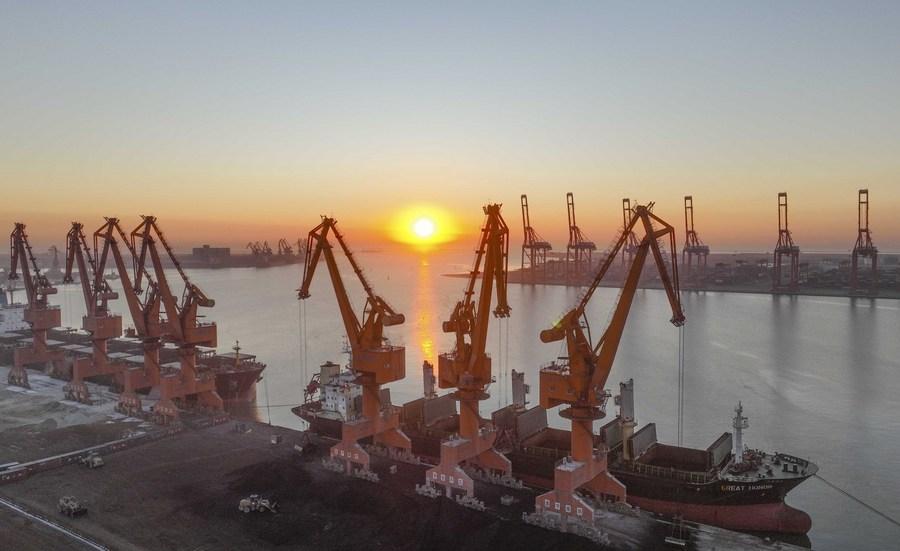 This aerial photo taken on Jan. 17, 2023 shows a morning view of Jingtang Port Area at Tangshan Port in Tangshan, north China's Hebei Province.(Photo by Liu Mancang/Xinhua)
BEIJING, Jan. 29 (Xinhua) -- In its three-year-long fight against COVID-19, China posted outstanding results in economic development and epidemic control, reinforcing its status as a leading engine for the global economy.
From 2020 to 2022, China's economy posted an annual average growth of 4.5 percent, outpacing the world average of around 2 percent, according to Yuan Da, director of the Department of National Economy of the National Development and Reform Commission.
In 2022, the economy grew 3 percent year on year to a record high of 121 trillion yuan (about 18 trillion U.S. dollars), with the increment standing at 6.1 trillion yuan, equivalent to the economic aggregate of a medium-sized country.
It also marks a new and higher level in terms of economic aggregate after the Chinese economy topped the thresholds of 100 trillion yuan and 110 trillion yuan in 2020 and 2021, respectively -- maintaining its position well as the world's second-largest economy.
Analysts attributed the hard-won results to the country's effective coordination in fighting COVID-19 and its economic fallouts simultaneously.
Thanks to effective virus control and timely pro-growth policies, China's economy has quickly emerged from the epidemic-induced slump and consolidated its recovery momentum for a brighter outlook.
CURBING THE VIRUS
To cope with the constantly evolving epidemic situation, China has been dynamically optimizing its control measures while enhancing the treatment and vaccination capacity, effectively safeguarding the lives and health of its 1.4 billion population at minimum costs.
As of Jan. 13, 92.9 percent of the Chinese population has been fully vaccinated, with more than 90 percent of people above 60 covered by vaccination.
With Omicron much less pathogenic and deadly, China, in December last year, announced ten new measures to lift numerous COVID-19 restrictions. On Jan. 8, its management of COVID-19 was officially downgraded from Class A to Class B.
Less than one month after the optimization of COVID-19 response measures in December 2022, China reported declining numbers of fever patients and critical COVID-19 cases as both had passed the peak.
ECONOMIC RESILIENCE
In the just-concluded Spring Festival holiday, China's consumption made a strong comeback.
During the week-long holiday, sales revenue of China's consumption-related sectors rose 12.2 percent from the same holiday period in 2022. Its cinemas sold 129 million tickets, generating a whopping revenue of 6.76 billion yuan, the second highest-grossing to date.
Wen Bin, the chief economist with China Minsheng Bank, said that warming demand at home would propel the turnaround in the Chinese economy this year and estimated the country's full-year GDP growth at around 5.5 percent.
Aside from the overall economic growth, China also made significant headway in maintaining consumer price stability, guaranteeing food and energy security, and improving people's livelihoods.
In 2022, China's CPI grew by 2 percent, a fraction of the increases reported in the United States, the eurozone, and Britain. It is also lower than those of other emerging economies.
Amid a global food crisis, the country has secured a bumper harvest for the 19th year in a row, with its grain output at about 686.53 billion kg in 2022, up 0.5 percent from 2021.
A total of 11.86 million, 12.69 million, and 12.06 million new urban jobs were created in 2020, 2021, and 2022, respectively, all surpassing the targets set for each year.
Despite the gloomy global investment environment, China remains one of the most attractive investment destinations in the world. Foreign direct investment (FDI) in the Chinese mainland, in actual use, expanded 6.3 percent year on year to 1.23 trillion yuan in 2022.
China has now become a major trading partner for more than 140 countries and regions, with its total trade of goods up 7.7 percent year on year in 2022, topping the world for six consecutive years.
BRIGHTER OUTLOOK
Recently, multiple international investment banks and financial institutions, including Morgan Stanley, Goldman Sachs, HSBC, Barclays, and Natixis, have upwardly revised their forecast for China's economic growth rate in 2023, betting on the country's rosy prospects and strong resilience.
China has remained a glimmer of hope despite the bleak outlook of the global economy grappling with recession fears and persistent economic weakness.
A recent flagship report by the United Nations painted a gloomy picture of the global economy. It warned that multiple and intersecting crises would likely add more damage to the worldwide economy. It is projected that global economic growth would slow from 3 percent in 2022 to 1.9 percent this year.
However, despite the downbeat global outlook, the report projected China's GDP growth to hit 4.8 percent in 2023.
China "can play a vital role in stimulating global growth," said Hamid Rashid, chief of the Global Economic Monitoring Branch, Economic Analysis and Policy Division, UN Department of Economic and Social Affairs. He cited China's ample room for monetary policy maneuvers, low inflation rate, and strong consumption recovery momentum.
Echoing Rashid's point, Bob Moritz, global chairman of PricewaterhouseCoopers, said he is bullish on China's economic outlook, given its strong consumer base, technological advancement, and top exporter's position.
"China has always been very impressive in dealing with challenges. I'm quite optimistic about the outcome," Saudi Minister of Industry and Mineral Resources Bandar Alkhorayef told Xinhua, adding that China would play an essential role in helping to boost global economic growth. ■