China issues white paper on green development
0 Comment(s)Print E-mail Xinhua, January 20, 2023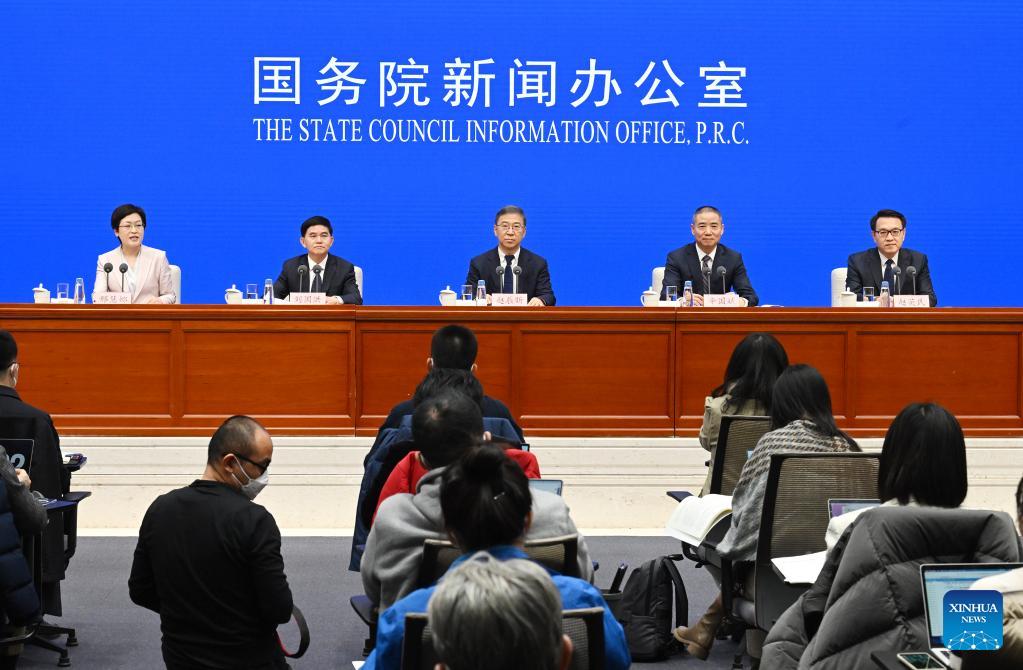 Deputy Director of the National Development and Reform Commission Zhao Chenxin (C, back), Vice Minister of Industry and Information Technology Xin Guobin (2nd R, back), Vice Minister of Natural Resources Liu Guohong (2nd L, back), Vice Minister of Ecology and Environment Zhao Yingmin (1st R, back), and spokesman of the State Council Information Office attend a press conference introducing a white paper titled "China's Green Development in the New Era" issued by the State Council Information Office in Beijing, capital of China, Jan. 19, 2023. The white paper aims to present a full picture of China's ideas, actions, and achievements in green development in the new era, and to share with the world its experience in this regard. (Xinhua/Li He)
BEIJING, Jan. 19 (Xinhua) -- China's State Council Information Office Thursday released a white paper titled "China's Green Development in the New Era."
The 18,000-character white paper mainly focuses on seven aspects of China's green development, including the country's commitment to green growth, a green territorial configuration, adjustment and improvement of the industrial structure, application of green production methods, eco-friendly living, institutions and mechanisms for green development and efforts to build the earth into a beautiful home.
It systematically summarizes China's actions and achievements in green development over the past decade, and expounds the country's ideas and experience of green development, Zhao Chenxin, deputy director of the National Development and Reform Commission, told a press conference on the release of the white paper.
"Green is the defining feature of China in the new era, and green development features the Chinese path to modernization," read the white paper.
From 2012 to 2021, China planted 64 million hectares of trees, carried out desertification prevention and control over 18.53 million hectares of land, and added or restored more than 800,000 hectares of wetland, data from the paper showed.
Renewable energy has played a more significant role in the country's energy mix.
The proportion of clean energy sources in China's total energy consumption increased from 14.5 percent in 2012 to 25.5 percent by the end of 2021, while the proportion of coal decreased from 68.5 percent to 56 percent over the same period.
China's green industries continue to grow. The renewable energy industry is growing rapidly, and China leads the world in the manufacture of clean energy generation facilities for wind and photovoltaic power.
In 2021, the output value of China's energy conservation and environmental protection industries exceeded 8 trillion yuan (about 1.18 trillion U.S. dollars).
The paper also presents the joint efforts between China and the rest of the world on building the earth into a beautiful home, Zhao added.
China actively participated in global climate negotiations in a constructive manner and made historic contributions to the conclusion and implementation of the Paris Agreement, the white paper said.
China is also an active participant in South-South cooperation on climate change and is committed to working with other countries on promoting green development under the Belt and Road Initiative.
It is the common responsibility of all countries to protect the environment and promote sustainable development, the white paper noted.
China stands ready to work with the international community to advance eco-environmental conservation, promote green development, protect the green earth, and build a cleaner and more beautiful world, the white paper said. ■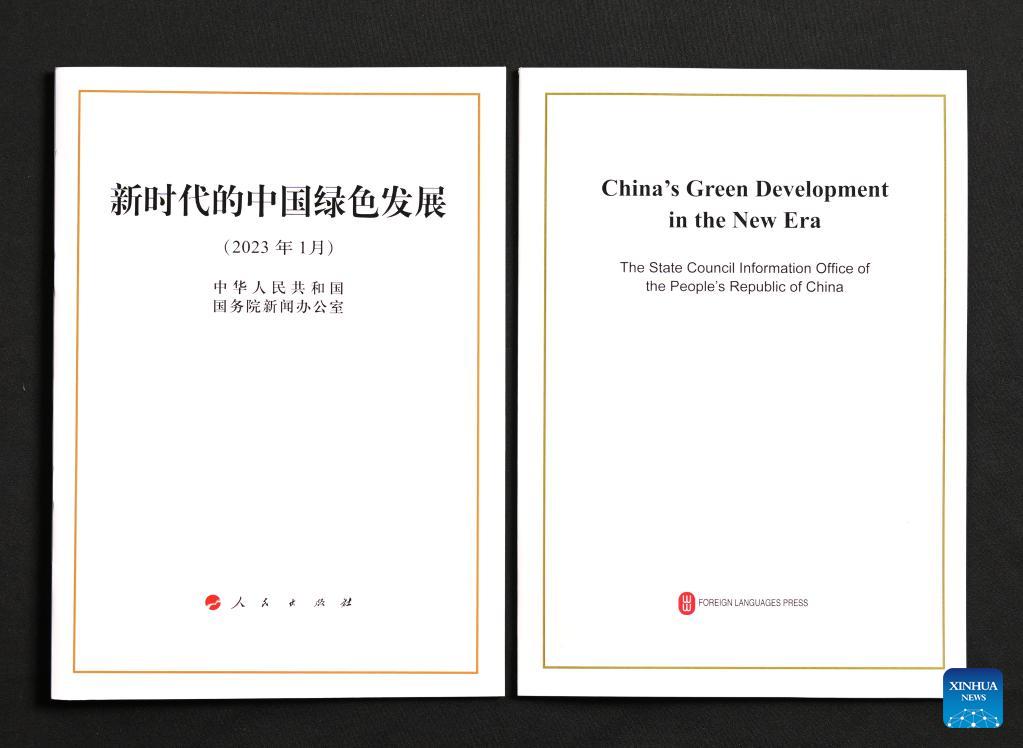 This photo taken on Jan. 19, 2023 shows the Chinese and English version of a white paper titled "China's Green Development in the New Era" issued by China's State Council Information Office. The white paper aims to present a full picture of China's ideas, actions, and achievements in green development in the new era, and to share with the world its experience in this regard. (Xinhua/Li He)