Feature: Chinese work ethic cheers 70-year-old former TAZARA worker
0 Comment(s)Print E-mail Xinhua, November 18, 2022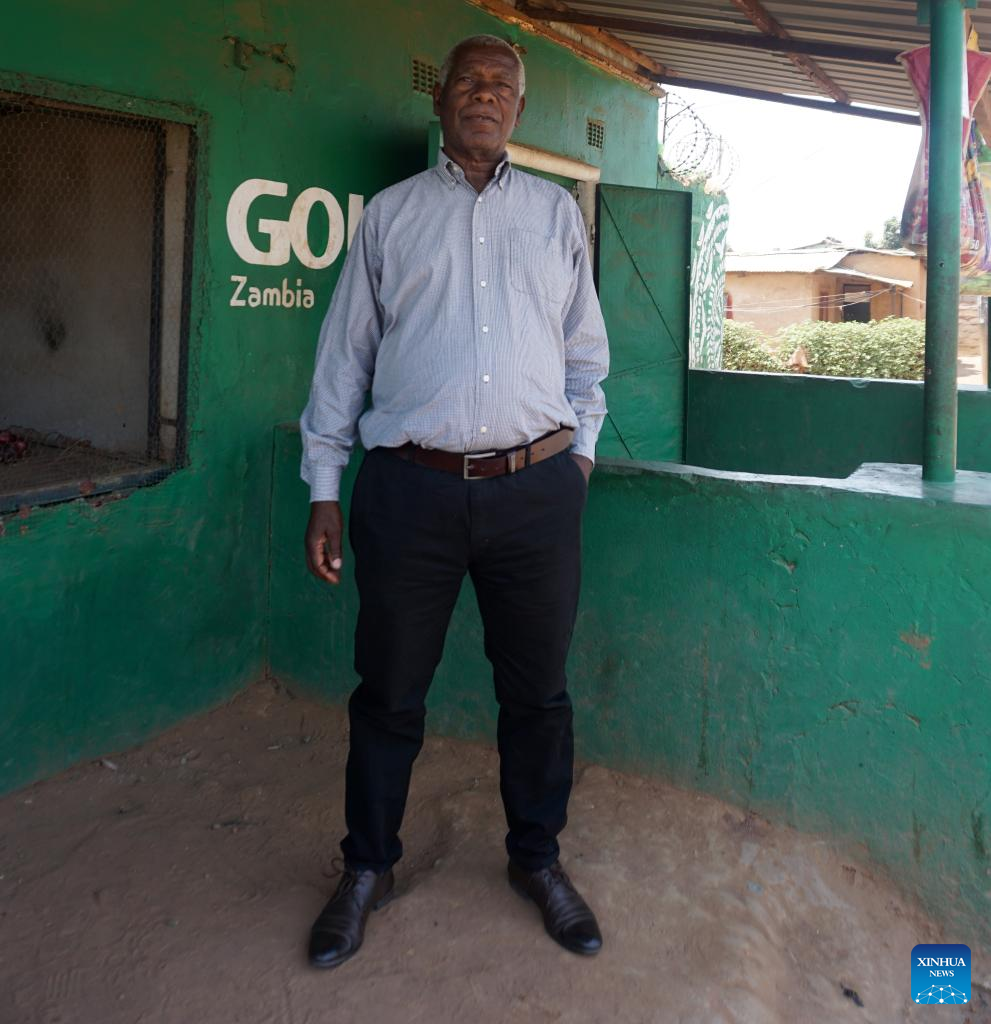 John Mulenga, a former employee of the Tanzania-Zambia Railway Authority (TAZARA), poses for a photo in Ndola, Copperbelt province, Zambia, Nov. 3, 2022. (Photo by Lillian Banda/Xinhua)
LUSAKA, Nov. 17 (Xinhua) -- The story of the Tanzania-Zambia Railway construction has often served as a reminder of the longstanding relationship between Zambia and China.
For John Mulenga, a 70-year-old Zambian man, the story evokes fond memories dating back to 1972 when he, as a youth, traveled from Ndola District in Copperbelt Province to Mpika District in Muchinga Province in search of employment.
"I managed to get a job as a wages clerk with the Chinese company that was charged with the responsibility of constructing the railway in 1972. I was a 19-years-old lad at the time," Mulenga recounted.
The enthusiastic septuagenarian mentioned that it was during this period that he acquired knowledge and skills in railway management, which he shares readily whenever called upon.
"I am able to articulate railway management issues quite well. And because of that, some people think that I obtained this wealth of knowledge overseas. The truth is that I have not even been to college or university. My Chinese supervisors ensured that I received well-grounded on-the-job training," he said.
Speaking to Xinhua in Ndola, his hometown, Mulenga confessed owing his work success to his Chinese supervisors, who he said gave him and his colleagues practical and relevant training.
"The Chinese are good teachers who impart discipline and diligence. Those of us that had Chinese supervisors turned out well and were often sought after by prospecting employers," he said.
Mulenga further narrated that he went on to join the Tanzania-Zambia Railway Authority (TAZARA), a company overseeing rail line operations that runs from Dar es Salaam in Tanzania to New Kapiri Mposhi in Zambia.
"With the TAZARA, I started as a passenger train conductor in February 1976 and rose through the ranks. I retired as senior passengers services officer in 2007," he stated.
Among Mulenga's noteworthy achievements so far is his contribution toward the drafting of a handbook for new TAZARA employees working in commercial departments. He has also written a number of articles on railway management.
"It is the same knowledge that my Chinese supervisors passed on to me that has enabled me to do all these wonderful things," he pointed out.
Mulenga went on to implore young Zambians, who have the opportunity to work alongside Chinese nationals, to learn more about Chinese work culture, which encourages people to pursue long-term goals.
"The Chinese are good at sharing knowledge. They are often willing to teach others what they know. However, one has to be humble and willing to learn," he noted.
Mulenga, also a self-taught writer, is currently working on a documentary about his work experiences.