Building Lives: A big vision on the Little Red Dot
0 Comment(s)Print E-mail CGTN, July 06, 2022
Besides contributing extensively to Singapore's public housing Projects over the past 30 years, China Construction (South Pacific) Development Co eyes bigger development in southeast Asia.
Established in 1992, China Construction (South Pacific) Development Co, also called CSCEC Singapore as it's a subsidiary of China State Construction Engineering Corporation (CSCEC), has built over 40,000 public housing units, or HDB flats - the name they are locally known by, during its three decades in the republic.
In Singapore, over 80 percent of its population lives in public housing. It is subsidized, built and managed by the government of Singapore and therefore it is mandatory that each HDB development meets tight guidelines.
"There is a very high standard. The building itself may be not so complicated but the requirement, the audit that the project team has to follow is of a very high standard," said Tang Xun, a Project Manager with MKPL Architects, which serves as a consultant for Singapore's Housing Development Board's (HDB) Bidadari estate - one of the country's newest public housing projects located near the heart of Singapore.
When asked about his experience of working with CSCEC Singapore, Tang said that "China Construction is an international company. [They have] very good support from top management, also the staff is very competent."
While working on the Bidadari project, Tang said that any and all issues that came up during construction, whether they were related to manpower or raw materials, were resolved swiftly and "within the time frame" by the CSCEC team.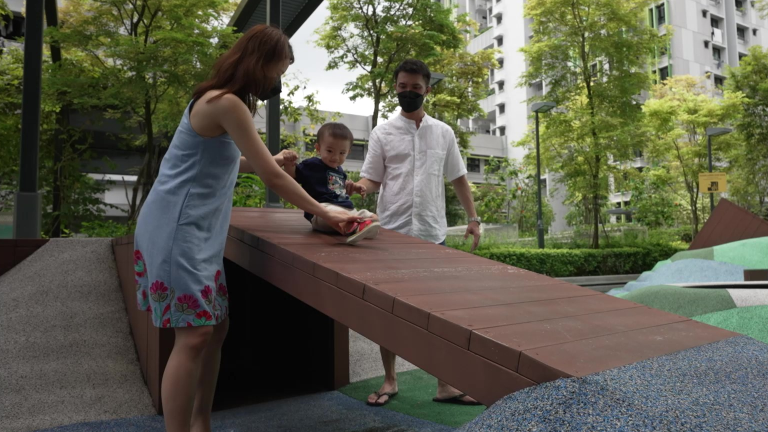 The Ongs enjoy some quality family time at the Alkaff CourtView playground. /CGTN
A strong foundation in public housing
CGTN was invited to visit CSCEC's projects, Alkaff CourtView and Alkaff LakeView in the Bidadari estate. The two built-to-order (BTO) developments comprise a total of 1789 units, and each unit is designed to allow residents greater flexibility in configuring their home layouts.
At first glance, CSCEC's Alkaff projects don't look like regular public housing estates. The projects boast of picturesque greenery and landscaped rooftop gardens.
Alkaff CourtView faces the future Bidadari Park, which is currently under construction. Once completed, the 10-hectare park will feature a lake, open lawns, a heritage walk and six kilometers of wooded trails.
It is this sense of "living in a garden" that attracted the nature-loving Ong family to Alkaff CourtView as the ideal location for their first home. The other factors that drew them to Alkaff was its unique design, its central location and the great connectivity it offers.
The building "looked unique. It is just like a trademark for this area. It is near a lot of expressways, near town, and it is also being developed to have a lot of amenities like schools, childcare centers, supermarkets, and shopping centers," Ong Jing Yong said.
"I think we made a great choice. It is really like a dream come true to own a house here," Juwita Sia said.
Before moving into Alkaff CourtView, the Ong family used to stay with Jing Yong's parents and two sisters. In 2015, the couple decided to move out and applied to buy the highly sought-after property.
"We are so lucky that we got this unit. Even though our queue number was very, very far away, we managed to secure one," said Juwita.
The family got their key in January 2020, the same month in which Singapore detected its first COVID-19 case.
"That (the pandemic) actually delayed our sourcing of a reliable interior designer company, because a lot of interior designers were having shortage of manpower and they were not able to take the job," said Juwita.
Juwita said it took them a while to find an interior designer, and even once they found one, the manpower shortage caused by the pandemic led to further delays. Under normal circumstances, the renovation should have been completed in two to three months, but it ended up taking six whole months for their home to be ready for them to move in.
Throughout this process, Juwita said she received constant support and help from the CSCEC Singapore's customer relations team stationed at the properties.
One member of that team is Delsen Toh. Delsen told us that CSCEC Singapore's work does not conclude with just constructing the properties. They often station a team of customer relation officers onsite to help families navigate any issues that may arise in the first few months after they move in.
Delsen and his team were stationed at Alkaff CourtView for nearly two years from 2019 till 2021. During this time they helped 60-80 percent of the residents resolve their issues, and settle into their new homes.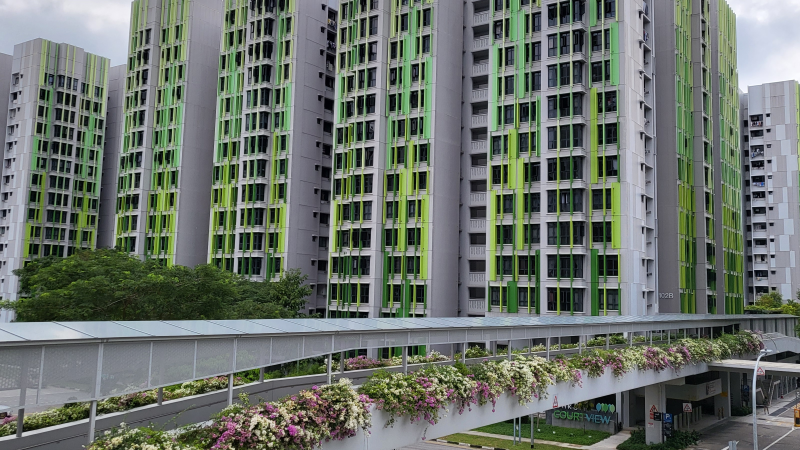 A view of the Alkaff LakeView and its vast rooftop garden. /CGTN
Tackling COVID-19 and the resultant manpower shortage
The manpower shortage that Juwita mentioned was felt across the construction industry in Singapore.
"It was very tough for the whole industry. After the 'Circuit Breaker' (Singapore's partial lockdown), many workers left Singapore to head back to their hometown. So, we were facing huge labor loss and also labor shortage," said Qian Liangzhong, the managing director of China Construction (South Pacific) Development Co.
In order to tackle the crisis, CSCEC Singapore employed a two-pronged approach.
First, they partnered with local entities and labor subcontractors to help maintain a labor force for ongoing projects. Second, they requested their parent company to help recruit workers in China and urged the Singapore authorities for an exemption policy to bring these workers into the city state.
CSCEC also constructed Quick Build Dormitories, providing dormitory workers with more spacious accommodation so that they can keep a safe distance from one another.
In addition, the company also built living quarters for workers at its Bulim Square project, where work is still ongoing.
Alkaff CourtView and Alkaff Lakeview boast of lush greenery, landscaped gardens. /CGTN
Three decades in Singapore
The success of CSCEC Singapore has much to do with its parent company. CSCEC, headquartered in Beijing, is a leading global engineering and investment group and has a presence in over 100 countries and regions.
Backed by the experience, expertise and credibility of its parent company, the Singapore subsidiary has accumulated 223 awards and accolades for its work in the city state over 30 years.
"Our daily operations are fully in line with our Beijing headquarters' policies in the company's governance and management regime. Another part is the cooperation between our counterparts in China, technology adoption and also project management," Qian said.
Qian further attributed the company's success in the city state to what he refers to as its "localized strategy."
"Development and upskilling of employee has always been our top priority. Since establishing in 1992, we have brought in local staff, cultivated them, and adapted to the local environment, the culture and customer demand," Qian said.
Future plans
Having established itself as a reliable entity within Singapore, CSCEC is now looking to expand into the rest of the Association of Southeast Asian Nations (ASEAN) region.
"Singapore is known very well by the world as a trade, financial and transportation hub with its strong relations within the ASEAN region. It plays a very important role in promoting the development of countries in the region," Qian added.
Qian believes CSCEC Singapore can play a significant role in the Belt & Road Initiative, through assisting in the expansion of the regional markets, and by providing the knowledge and experience that it has gathered over the years.
"The confidence and the trust earned through our projects in Singapore over the last 30 years; together with our strength in construction supply chain and global operations capacities, I think, it places CSCEC in a good position to expand our business outside Singapore and be deeply involved in the Belt and Road Initiative."
Beyond geographical expansion, the company is also moving upwards in the value chain. CSCEC has entered the real estate development market in Singapore and has already received encouraging feedback on its maiden project Twin VEW as a developer.