China responds proactively to unexpected pressure in foreign trade
0 Comment(s)Print E-mail Xinhua, April 15, 2022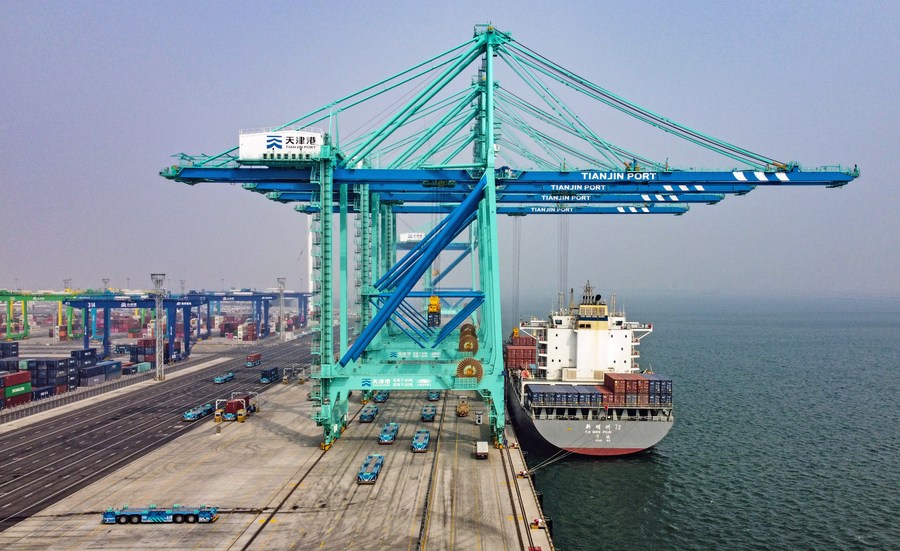 Aerial photo taken on April 9, 2022 shows a container ship by the Beijiang Port Area of Tianjin Port in north China's Tianjin. (Xinhua/Zhao Zishuo)
BEIJING, April 14 (Xinhua) -- Despite sustained double-digit growth in foreign trade, Chinese regulators and businesses are taking note of "unexpected" pressure in both internal and external environment, seeking a more proactive response to stabilize trade growth.
Official data on Wednesday showed the country's total imports and exports expanded 10.7 percent year on year to 9.42 trillion yuan (about 1.48 trillion U.S. dollars) in the first three months.
While acknowledging a hard-won stable start to the year, customs authorities called for greater efforts to achieve the country's trade goal as some "sudden internal and external factors have exceeded expectations."
Globally, commodity price volatility and geopolitical conflicts are creating mounting uncertainties, while the resurgence of COVID-19 in major cities including Shanghai and stubbornly lackluster domestic demand are affecting business activity and sentiment.
"In the current situation, China needs to roll out more supportive policies and ensure their solid implementation to effectively help foreign trade businesses stabilize orders and production," noted Zhuang Rui, a professor at the University of International Business and Economics.
A State Council meeting on Wednesday detailed a slew of polices aimed at easing the difficulties facing foreign trade firms and promoting stable growth of imports and exports.
The coverage of the departure tax refund policy will be expanded, and facilitation measures such as tax refunds upon purchase will be promoted, according to the meeting.
Accelerating the process for export rebates will also be targeted, with better cross-departmental data sharing, simplified paperwork and shorter time needed for rebates.
Customs clearance for returning export goods will be made more efficient, while policies will be devised to support the development of overseas warehouses and facilitate cross-border e-commerce returns and exchanges, the meeting pledged.
While hoping to benefit from government policies to overcome the challenges, many firms are leading their own initiatives and capitalizing on new opportunities brought by regional economic pacts.
Shantou Xindao Knitting Co., Ltd. in south China's Guangdong Province recently successfully applied for a certificate of origin under the Regional Comprehensive Economic Partnership (RCEP) from local customs authorities, which will allow the company to enjoy tax breaks for its knitting products exported to Japan.
Zhuang said that relevant departments and foreign trade enterprises should seize the opportunities brought by the RCEP and the Belt and Road Initiative to further improve the level of trade and investment liberalization and facilitation so as to ensure the stability and improvement of foreign trade.