Spearheading stem cell toxicology at special lab in Beijing: a profile of Italian professor Francesco Faiola
0 Comment(s)Print E-mail p.china.org.cn by Yan Bin, January 10, 2022
.
At 7 a.m. on a recent frigid December day in Beijing, professor Francesco Faiola opened the door to his office with a hot cup of Jin Junmei – a special type of Chinese black tea from the Wuyi Mountains – in hand that he had just made and began working as the light of the rising sun poured in through the windows. The first full-time foreign researcher at the Chinese Academy of Sciences' Research Center for Eco-Environmental Sciences, the Italian, who goes by Fei Fan in Chinese, established the Stem Cell Toxicology research group at its State Key Laboratory of Environmental Chemistry and Ecotoxicology when he came to China eight years ago and has been eager to apply the data that it is uncovering.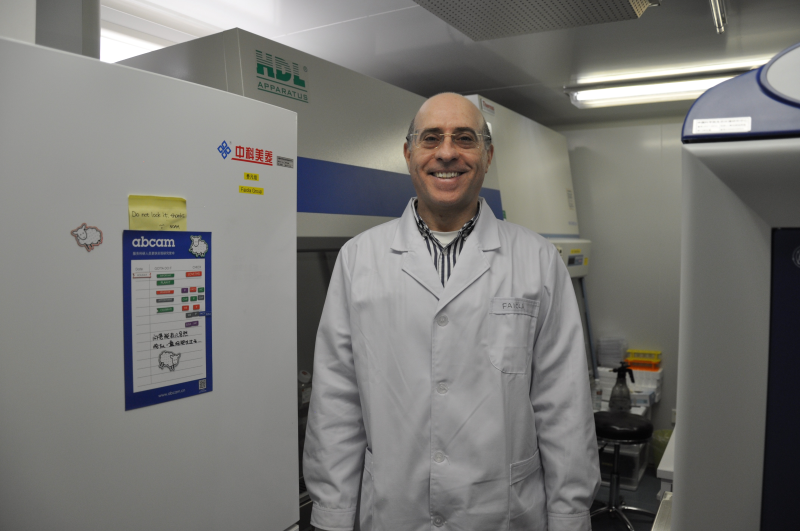 Professor Francesco Faiola in his laboratory [Photo courtesy of the Research Center for Eco-Environmental Sciences, Chinese Academy of Sciences]
Environmental toxicology has been challenged in the last few decades by the exponential discovery of novel persistent pollutants and the relative lack of knowledge of their potential effects on human health. Toxicology science has relied heavily on animal testing since it emerged, but the approach suffers from various shortcomings and limitations. Although vivo experiments have been refined in recent years, they are still expensive, time consuming, labor intensive, accompanied by ethical issues, and not always applicable to human beings due to the fact that different species react to pollutants in different ways. Awareness of the urgency and necessity of collecting innovative, validated, and comprehensive assays that yield toxicity data more relevant to humans has been increasing, however.
Well aware of the situation, Faiola and his team have combined environmental toxicology with stem cell biology and clearly defined and set forth the concept of stem cell toxicology for the first time in order to assess the hazardousness of environmental pollutants and have established evaluation models that assess the mechanisms of various environmental pollutants and their effects on important human tissues, organs, and bodily systems, such as the liver, pancreas, heart, lungs, and central nervous system, particularly during development. Variation in response between species and ethical and welfare issues do not arise since animals are not used as experimental models in their stem cell toxicology research system.
"Our system is safe, relatively inexpensive, and efficient and has been already widely used in the fields of environmental toxicology and medical health," Faiola explained during an interview with china.org.cn.
"Stem cells can be induced in vitro into virtually any type of cells of the normal tissues and organs of the body and thus can mimic normal development and regeneration, so human stem cell differentiation systems can be used in developmental toxicity evaluations," he continued. "Compared to animals, it is relatively easier, cheaper, and faster to grow cells in large numbers for the assays. Our human stem cell multi-directional differentiation system is now widely used in toxicology research very efficiently and can be extended to biomedical applications, such as pre-clinical screening of drugs and medicines."
"China is developing very fast and has been leading in several scientific and technological fields, which is the very reason why I came to China," the professor responded when asked about the nation's stem cell biology efforts. "Nevertheless, there are a few things that can be improved in the future. For example, material and reagent procurement sometimes takes a long time, and they can be very expensive. This may create delays in the research progress. Also, research funding does not always allow enough freedom, particularly when doing basic research...Having said that, I have noticed that things are gradually changing in that direction in China, and now we have more research freedom than before," he added.
Faiola was asked about the international stem cell toxicology research platform that he established when he arrived in China, which was the first of its kind in the world, and its role in promoting the realization of nation's "double carbon" goals, i.e., hitting peak emissions before 2030 and achieving carbon neutrality by 2060 and replied, "Our efforts are focusing on first the patenting and then the manufacturing of eco-friendly stem cell-related reagents, such as cell culture media, to be produced and distributed locally. In fact, in stem cell fields, China still heavily relies on imported materials and reagents, which require long distance shipping and high carbon emission. Moreover, by replacing animals with in vitro systems, we can also reduce carbon dioxide emissions. Finally, since we do not use animals, we do not need large and complex facilities. So we can save electricity, water, and so on."
Faiola with graduating graduate students that he advised in 2020 [Photo courtesy of the Research Center for Eco-Environmental Sciences, Chinese Academy of Sciences]
The academician also teaches and trains master's, doctoral, and postdoctoral students at the Chinese Academy of Sciences. He strongly believes that the role of a teacher and mentor consists of more than just providing new knowledge and information to students.
"We need to make sure their learning process is enjoyable and not too stressful," Faiola explained. "We also need to understand each student's background, skills, and their goals for the future. Then we need to guide them and make them understand how they can be good scientists. For students, I believe the most important things are enthusiasm, motivation, and teamwork. In addition, they need to be able to face difficulties, because academic studies and scientific research are always full of ups and downs...I myself have experienced a lot of ups and downs and changed fields several times during my scientific career. At the end it paid out because I was not afraid and never gave up."
The researcher stated that he considered coming to China after completing a postdoctoral fellowship at the Icahn School of Medicine at Mount Sinai to have been a very wise decision. He mentioned that he was even able to obtain China's Foreign Permanent Resident ID Card.
"Ever since I came to China, I always wanted to get the green card because I know it would make my life much easier...I believe it makes me almost as equal as the other Chinese, so I can do as much as the other Chinese people can do," he noted. "The most important thing is that this will make it easier for me to go back home and come back without really every time asking for a new visa. And also this will make it easier for my family to come here and visit me," he said excitedly.
"I didn't really know much about the Chinese culture, but since I arrived in China, I was shocked by how China has developed, and now I'm very happy to be in China not just because I can do research but also because I can enjoy life here," Faiola concluded. "I realized that Chinese food is great, even though I'm Italian, but I also like Chinese food very much. I'm trying to learn how to make Chinese dishes. Of course, I cannot really speak Chinese because I think Chinese language is kind of difficult, but I still can enjoy life also thanks to the help of my staff that are always willing to help me no matter what I need."