China's industrial output up 9.8 pct in April
0 Comment(s)Print E-mail Xinhua, May 18, 2021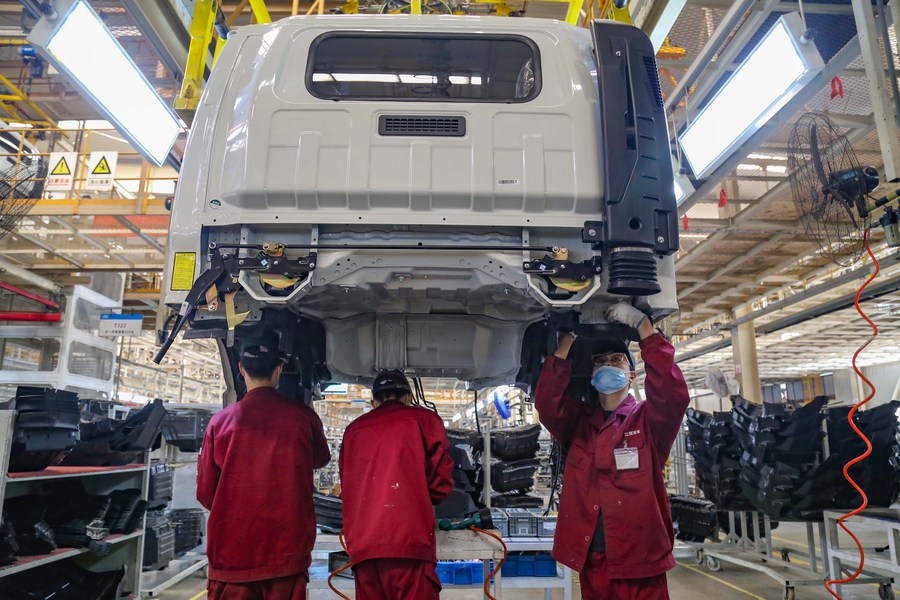 Workers assemble cars at a workshop of an automobile manufacturer in Qingzhou City of Weifang, east China's Shandong Province, April 16, 2021. (Photo by Wang Jilin/Xinhua)
BEIJING, May 17 (Xinhua) -- China's value-added industrial output, an important economic indicator, went up 9.8 percent year on year in April as factory activities continued to pick up, data from the National Bureau of Statistics (NBS) showed on Monday.
The figure was up 14.1 percent from the level seen in 2019, bringing the average growth for the past two years to 6.8 percent, NBS data shows.
In the first four months, industrial output rose 20.3 percent year on year, resulting in an average two-year growth of 7 percent.
Industrial output is used to measure the activity of designated large enterprises with annual business turnovers of at least 20 million yuan (about 3.11 million U.S. dollars).
The private sector's output increased 11.2 percent year on year in April, and the output of state-controlled enterprises rose 8.6 percent.
The manufacturing sector's output jumped 10.3 percent year on year in April while the mining sector saw output increase 3.2 percent.
Last month, the equipment manufacturing output and the high-tech manufacturing output respectively expanded 13.1 percent and 12.7 percent.
China's economic operations further stabilized in April, said the NBS, calling for more efforts to consolidate the growth amid a complicated epidemic situation and uneven global economic recovery. Enditem