Tunisia, China sign economic, technical cooperation agreement
0 Comment(s)Print E-mail Xinhua, 04 07, 2021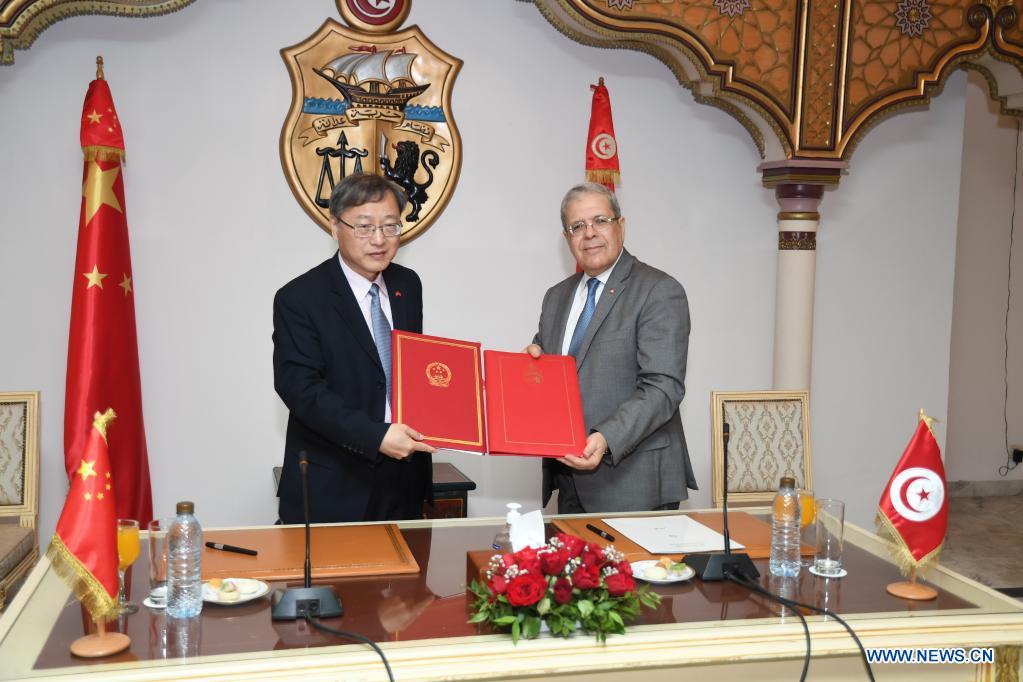 Chinese Ambassador to Tunisia Zhang Jianguo (L) and Tunisian Minister of Foreign Affairs Othman Jerandi pose for a photo during the signing ceremony of an economic and technical cooperation agreement between Tunisia and China in Tunis, Tunisia, on April 6, 2021. Tunisia and China signed the economic and technical cooperation agreement here on Tuesday. (Photo by Adel Ezzine/Xinhua)
TUNIS, April 6 (Xinhua) -- Tunisia and China signed on Tuesday an economic and technical cooperation agreement at the headquarters of the Tunisian Foreign Ministry in Tunis, capital of Tunisia.
The cooperation agreement, signed by Chinese Ambassador to Tunisia Zhang Jianguo and Tunisian Minister of Foreign Affairs Othman Jerandi, "shows, once again, the sincerity and the quality of the friendship between our two peoples and countries," said Zhang.
Some projects Tunisia carried out with the assistance of the Chinese government have become symbols of the cooperation between the two countries, such as the Ben Arous sports center and the Tunisian diplomatic academy which are expected to be delivered by the end of the year, he noted.
"By signing this agreement, I hope we (China and Tunisia) can very quickly target and discuss one or more projects that we will implement together for the benefit of the Tunisian people," Zhang concluded.
For his part, Jerandi said the new agreement with China "will allow Tunisia to benefit from a Chinese financial donation that will serve development in the country."
"Once again, this donation testifies to the solidarity and strong links between Tunisia and China," he told Xinhua.
Speaking of the current COVID-19 pandemic, Jerandi said Tunisia "is very grateful for the aid from China, which included large quantities of COVID-19 vaccines and preventive health equipment."
The partnership between Tunisia and China is manifested, in particular, through several development projects that have an important impact on the lives of the Tunisian people, the Tunisian top diplomat noted.
Besides the Ben Arous sports center and the Tunisian diplomatic academy, other China-aided projects in Tunisia include the sports and cultural centers of Menzah 6 in the north of Tunis, the new university hospital in the southeastern province of Sfax, and the construction of the Medjerda River canal in the northwest of the North African country. Enditem