Largest-Span continuous beam closed in Indonesia's Jakarta-Bandung HSR
0 Comment(s)Print E-mail Xinhua, 03 10, 2021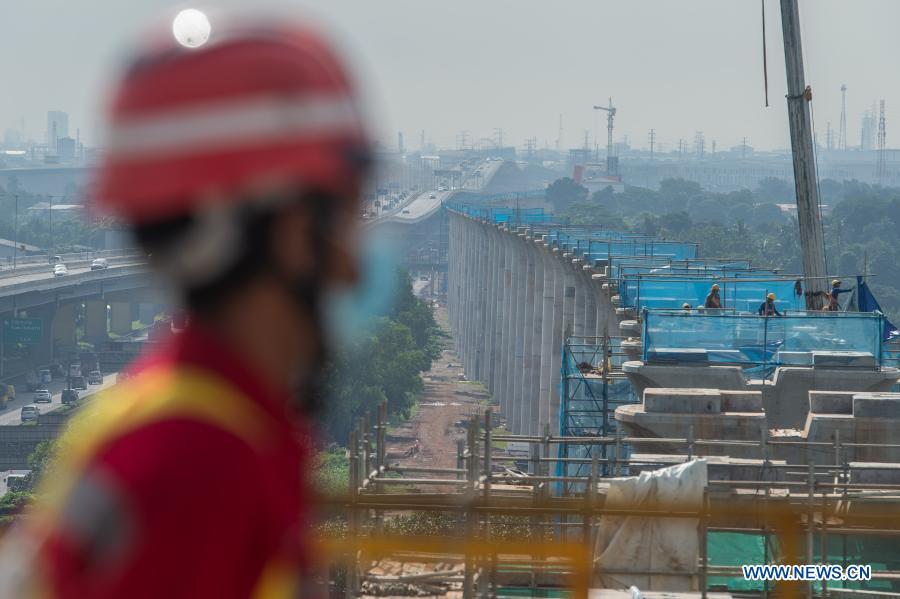 A worker stands on the largest span continuous beam of the Jakarta-Bandung High Speed Railway in Bekasi of Indonesia on March 8, 2021. The continuous beam with the largest span of Jakarta-Bandung High-Speed Railway (HSR) was successfully closed on Monday morning, marking the significant progress of another critical control project in the construction of the railway. A statement released by KCIC, a joint venture consortium by Chinese and Indonesian state-owned firms that runs the 142.3-km HSR, said the beam is closed in West Java province's Bekasi Regency and is the largest beam with 128 meters of main span length in the whole alignment. (Xinhua/Veri Sanovri)
JAKARTA, March 8 (Xinhua) -- The continuous beam with the largest span of Jakarta-Bandung High-Speed Railway (HSR) was successfully closed on Monday morning, marking the significant progress of another critical control project in the construction of the railway.
A statement released by KCIC, a joint venture consortium by Chinese and Indonesian state-owned firms that runs the 142.3-km HSR, said the beam is closed in West Java province's Bekasi Regency and is the largest beam with 128 meters of main span length in the whole alignment.
KCIC said the 273.6-meter-long beam with the main pier height of 25.5 meters and the beam height of 9.2 meters, is closed under complex surrounding environment while crossing the expressway interchange cable-stayed bridge and two ramps.
Besides, KCIC said as of Monday, 14 out of 28 continuous beams in the whole alignment of Jakarta-Bandung HSR have been closed.
With a speed of 350 km per hour, the high-speed railway built with the Chinese technology will cut the journey between Jakarta and Bandung, the capital of West Java province, from more than three hours to around 40 minutes.