Guangxi reports record foreign trade volume
Zhang Li

0 Comment(s)Print E-mail chinadaily.com.cn, 01 28, 2021
Guangxi reports record foreign trade volume
By Zhang Li in Nanning (chinadaily.com.cn)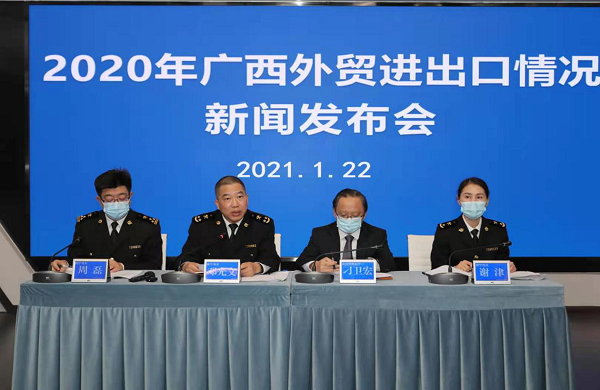 Nanning Customs officials report on Friday that foreign trade by Guangxi Zhuang autonomous region grew by 3.5 percent year-on-year to a record 486.13 billion yuan in 2020. [Photo provided to chinadaily.com.cn]
Foreign trade in the Guangxi Zhuang autonomous region grew by 3.5 percent year-on-year to a record 486.13 billion yuan ($75.22 billion) in 2020, despite the COVID-19 pandemic, customs officials in Nanning said on Friday.
Exports hit 270.82 billion yuan last year, up 4.3 percent year-on-year, while imports totaled 215.31 billion yuan, up 2.6 percent.
Guangxi's trade with the Association of Southeast Asian Nations, Brazil and the Hong Kong Special Administrative Region all saw year-on-year growth in 2020. The three largest trade partners contributed 2.9 percent of the growth in the region's foreign trade volume. In addition, Guangxi's trade with countries involved in the Belt and Road Initiative rose by 1.4 percent to about 258.35 billion yuan last year.
As a gateway to ASEAN countries by land and sea, Guangxi's trade with RCEP members accounted for 55.5 percent of its total foreign trade volume.
"With the Regional Comprehensive Economic Partnership agreement in effect, Guangxi's foreign trade will have a greater chance to grow in the future," an official at the Nanning Customs said.