Rare milu deer to be released into wild in China
0 Comment(s)Print E-mail Xinhua, 12 09, 2020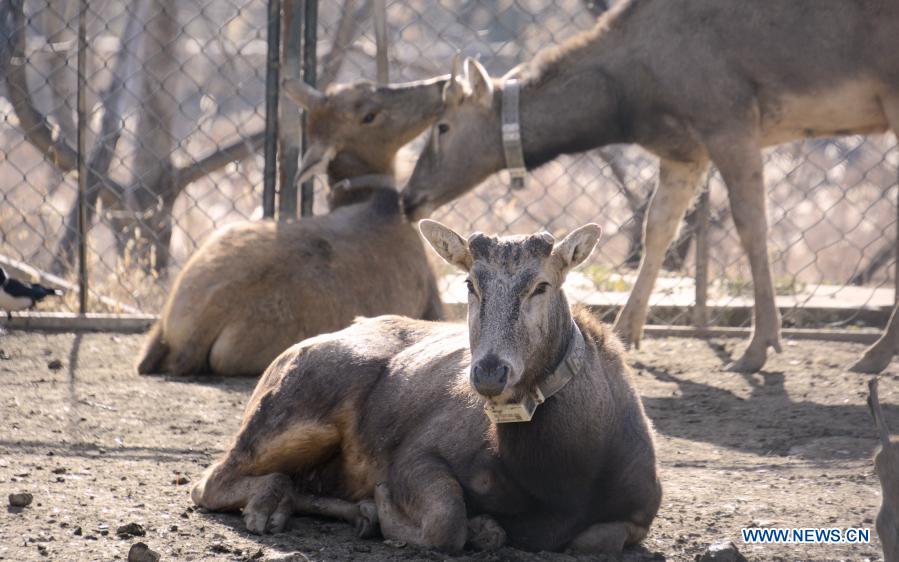 Photo taken on Dec. 4, 2020 shows milu deer in GPS collars ready for shipment at an milu deer ecological experiment center in Daxing District, Beijing, capital of China. Ten adult milu deer, including six males and four females, were shipped Friday from the experiment center in Beijing to the East Dongting Lake National Nature Reserve, a rewilding base in Yueyang City of central China's Hunan Province. (Xinhua/Li Xin)
BEIJING, Dec. 4 (Xinhua) -- Authorities will release 10 rare deer into the wild at a nature reserve in central China's Hunan Province next week.
On Friday, 10 milu deer from the Beijing Nanhaizi Milu Park began their journey toward the East Dongting Lake National Nature Reserve in Hunan. They will be released into the wild during an international bird-watching festival.
The move aims to enrich the gene pool of the milu population in the East Dongting Lake National Nature Reserve, said Bai Jiade with the Beijing Milu Ecological Research Center.
Of the 10 deer, six are male and four are female. They have all been fitted with GPS equipment, allowing experts to follow their exact locations and activities in the future.
The Beijing Nanhaizi Milu Park has sent 546 milu deer to 41 nature reserves across the country since 1989.
Milu, also known as Pere David's deer, are endemic to China where they are known as "sibuxiang," or "like none of the four," for their unique features: a horse's face, a donkey's tail, cow-like hooves and a stag's antlers.
Overhunting and habitat loss drove the wetland deer to extinction in the wild in the early 20th century. Only a few deer that were transported to Europe survived and were later acquired by British duke Herbrand Russell to be raised at Woburn Abbey. In 1985, joint efforts brought 22 milu deer back to China to rebuild the population in the country. Enditem