Central firms roll up sleeves for BRI future
ZHONG NAN

0 Comment(s)Print E-mail China Daily, 10 30, 2020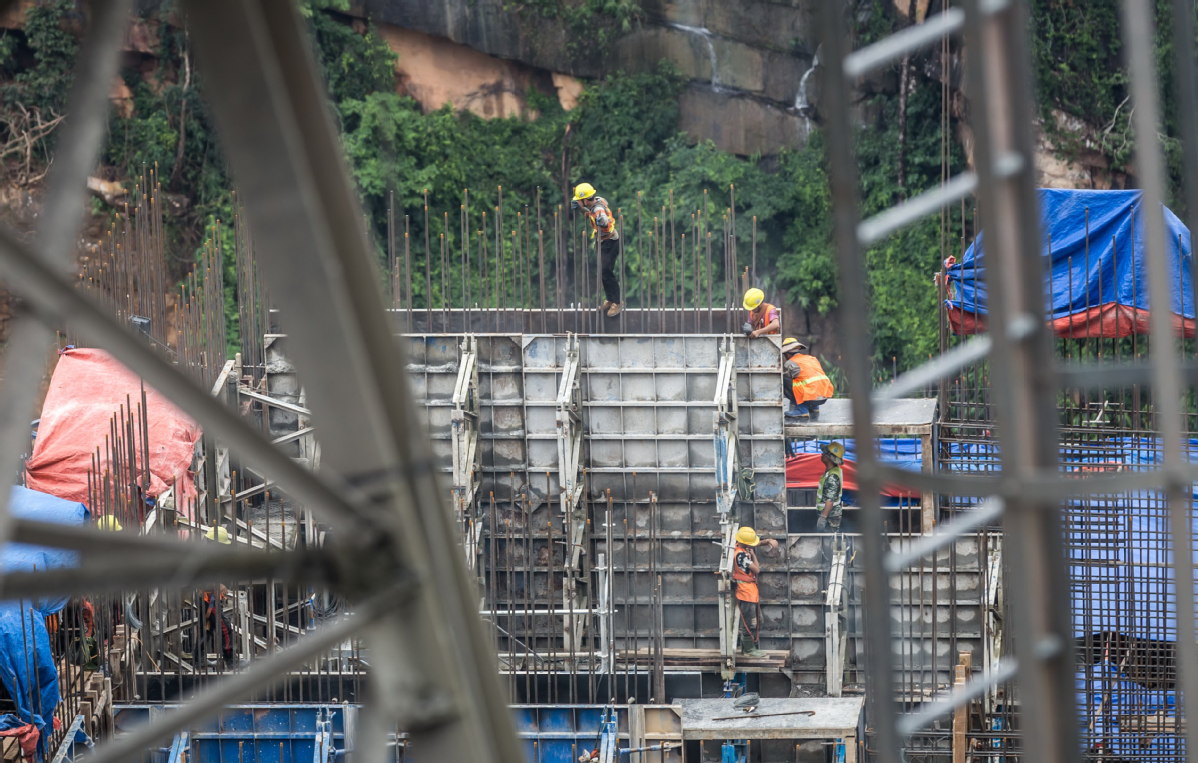 PowerChina employees undertake construction work in Bolikhamxay province, Laos, in August. [Photo/XINHUA]
Partnerships, investments planned to deliver economic and social prosperity
China's centrally-administered State-owned enterprises plan to deploy more resources in economies involved in the Belt and Road Initiative, said company executives and experts.
Central SOEs will also build closer business partnerships with entities in BRI markets to make the most of the country's timely support for both goods trade and outbound direct investment, they said.
This new resolve comes amid the global fight against the COVID-19 pandemic, they said.
The contagion has put a crimp in economic activity, thereby affecting livelihoods in many countries. So, Chinese central SOEs' initiative will help link people and BRI economies through cross-border solutions.
This is expected to support many regions' efforts to achieve both economic and social prosperity in the post-pandemic era, said Zhang Yongjun, a researcher at the Beijing-based China Center for International Economic Exchanges.
China's nonfinancial outbound direct investment in BRI economies surged almost 30 percent on a yearly basis to more than $13 billion in the first three quarters, helping sustain confidence in these markets to support their long-term economic growth, according to latest data from the Ministry of Commerce.
Existing investments of Chinese companies, including SOEs, in BRI markets accounted for 16.5 percent of the country's total ODI. The share was up by 4.1 percentage points from the same period last year.
China Energy Investment Corp, or China Energy, announced earlier this month that the No 2 unit of its coal-fired power generation project, involving two 1,050 MW units in Java, Indonesia, passed a 168-hour test run smoothly late last month.
The project is the largest overseas coal-fired plant built by a Chinese company in terms of the installed capacity with China's intellectual property.
The project's main environmental protection indicators are also most advanced in Indonesia, said Wang Shumin, China Energy's vice-president.
Invested, built and operated by the central SOE, this is a highly efficient and green power station with the largest unit capacity, the highest parameters and the most advanced technology in Indonesia, Wang said.
Located in Banten province, the project has a total investment of more than $1.88 billion and a total installed capacity of 2X1,050MW.
Once the project is fully operable, the annual power output will be about 15 billion kilowatt-hours, which is expected to improve power supply and drive economic growth in the country.
To facilitate the development of both the BRI and the Global Maritime Fulcrum strategy, Indonesia's grand maritime vision, the project has provided about $110 million in taxes and created more than 3,000 jobs for local people during construction.
With many countries making notable progress in containing the spread of the COVID-19 pandemic, central SOEs such as Power Construction Corp of China (PowerChina) and China Communications Construction Co Ltd have begun to organize chartered flights to ship experts and workers abroad to support local infrastructure and economic development.
Central SOEs have also sealed new deals in BRI markets in recent months.
China Railway Construction Corp Ltd, or CRCC, signed an agreement for the construction of the Moscow-Kazan highway late last month.
Valued at about $763.36 million, the project is the first national highway construction in Russia contracted out to a Chinese company.
Starting from Moscow, the highway will pass through Vladimir and Nizhny Novgorod oblasts and terminate at Kazan, Russia's sixth-largest city. Upon completion, travel time between Moscow and Kazan will be shortened to six-and-a-half hours.
The 729-kilometer highway comprises eight sections. CRCC is responsible for a 107-kilometer section, which includes survey and design, construction of subgrades and pavements as well as culverts and bridges, and building of supportive service facilities such as toll stations and gas stations, said Wang Lixin, vice-president of the Beijing-headquartered company.
When the highway becomes operational, the transport time between China, Central Asia and Europe will be greatly shortened, Wang said. It will further drive economic growth of countries and regions involved in the BRI.
Wang Hongyi, an executive researcher at the Institute of West Asia and Africa, which is part of the Chinese Academy of Social Sciences in Beijing, expects that the planning process of the 14th Five-Year Plan period (2021-25) will offer more opportunities for SOEs to think strategically and proactively about how to steer their own transformation and enhance their global market presence, particularly in BRI markets.
"The BRI offers a new impetus to the recovery of the world economy from the changing global situation and growing uncertainties," he said."The improvement in infrastructure, transportation, healthcare and digital-related manufacturing will not only restore the developing strength of the world economy, but also bring new opportunities to the partnerships between domestic and global companies."