What is the Canal Istanbul project?
0 Comment(s)Print E-mail Turkish Embassy in China, 01 06, 2020
Turkey plans to launch the construction of the artificial sea-level waterway Canal Istanbul in 2019. The canal will be an artificial sea-level waterway that will connect the Black Sea to the Sea of Marmara and the Mediterranean, becoming an alternative for the global shipping lane. It is planned to be completed by 2023. It will also redraw the map of one of Europe's biggest cities, turning Istanbul's western side into an island. The project is expected to cost approximately $11 billion.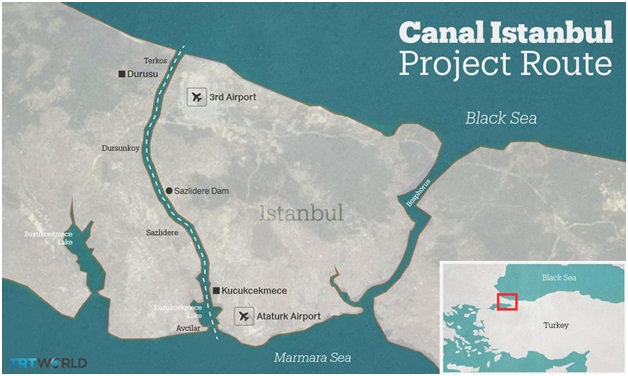 The planned canal is meant to provide relief to shipping traffic between the Black Sea and the Sea of Marmara, particularly oil tanker traffic passing through the Bosporus.
The Bosphorus is one of the busiest maritime passages in the world. With nearly 43,000 vessels passing through in 2018, the Bosphorus sees nearly three times the traffic of the Suez Canal.
The natural waterway cuts through Turkey's Istanbul and divides the country between two continents – Europe and Asia. It is a corridor for commuters, travellers, merchant vessels, and residents who are looking to escape the hustle and bustle of an overflowing city.
The 45-km (nearly 28 miles) canal will be built in Istanbul's Kucukcekmece-Sazlidere-Durusu corridor. It is projected to boast a capacity of 160 vessel transits a day – roughly equivalent to the current volume of traffic through the Bosphorus, where traffic congestion leaves ships queuing for days off the strait.