Nation's firms welcome in Latin America, survey finds
JING SHUIYU

0 Comment(s)Print E-mail China Daily Global, 12 04, 2019
Major Latin American countries have a generally positive impression of Chinese enterprises, with 73 percent of respondents saying they feel good about Chinese firms, according to a report released on Tuesday.
Brazil had the best overall perception of Chinese companies, with 81 percent of those surveyed expressing a positive impression of the firms' local operations, the report said. That was followed by Mexico with 73 percent, Chile with 71 percent, Peru with 71 percent and Argentina with 67 percent.
The report's findings indicate Chinese companies are becoming deeply integrated in global economic development as national strength improves and the Belt and Road Initiative advances, said Du Zhanyuan, head of the China Foreign Languages Publishing Administration.
"Facing the new situation featuring continuous opening-up and a complicated and changing international situation, Chinese enterprises need to make enhanced efforts to build their overseas images," Du said on Tuesday at the Chinese Enterprises Global Image Summit 2019.
China Report Magazine, the Academy of Contemporary China and World Studies and research company Kantar China released the Chinese Enterprises Global Image Survey Report (Latin America) during the summit in Beijing.
From June to August, 2,500 online questionnaires were collected from the five countries.
The respondents' favorable perception about Chinese enterprises was higher than those from the United States (71 percent) and France (62 percent), but lower than those of Japan (84 percent) and Germany (80 percent), the report showed.
Long Guoqiang, deputy head of the Development Research Center of the State Council, said promoting global image is crucial and "companies should pay attention to aligning with the host country's development strategy and contributing to local development."
About half of respondents said Chinese companies have contributed to local economic development, and the most prominent factor is bringing in cutting-edge technologies, the report said. The findings also showed that 51 percent of participants look forward to more cooperation with Chinese companies in biotechnology, and 49 percent expect more partnerships in infrastructure.
Weng Jieming, deputy director at China's State-Owned Assets Supervision and Administration Commission, said State-owned enterprises, especially centrally administered ones, are the backbone of industry. When expanding overseas, they must first assume the responsibility of displaying the national image, he said. They need to build themselves into world-class enterprises that are globally competitive, Weng added.
China's overall image is good in the five countries, scoring 7.3 on a 10-point scale for overall image, the report said.
Respondents said they are optimistic about China's economic growth in the next decade. Up to 94 percent said the economy will continue to grow in the next 10 years. Among them, 43 percent said it will continue to expand rapidly. The survey said 32 percent said the Belt and Road Initiative has fostered deeper mutual collaboration, while 30 percent said it is conducive for two-way investment and trade.
jingshuiyu@chinadaily.com.cn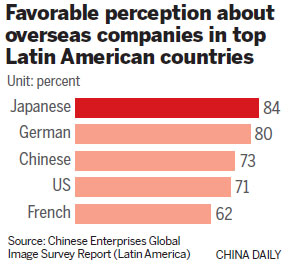 (China Daily Global 12/04/2019 page3)