Sri Lankan official: BRI brings more employment opportunities
Zhao Binyu

0 Comment(s)Print E-mail China.org.cn/Chinagate.cn , 09 02, 2019
.
Chinese investors and enterprises setting up manufacturing plants in Sri Lanka, particularly in export-oriented industries, can provide better employment opportunities for local young people, commented Malik Samarawickrama, Minister of International Trade and Development Strategies of Sri Lanka, in an exclusive interview with China.org.cn.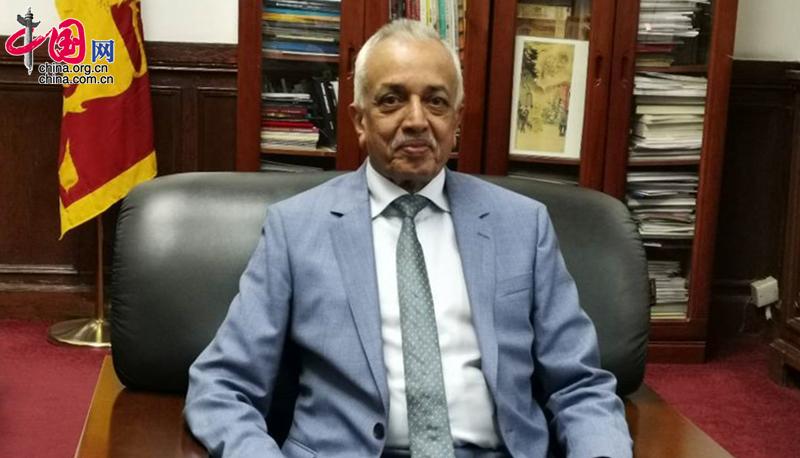 Minister of International Trade and Development Strategies of Sri Lanka Malik Samarawickrama
Sri Lanka was one of the first countries to join China's Belt and Road Initiative, which Samarawickrama described in complimentary terms.
"In the last 10 years China has assisted us in the construction of infrastructure, ports and railways, and particularly, water supply equipment that has been funded by the Chinese government and the Bank of China," said Samarawickrama. "China has helped boost our economic growth and we really appreciate that."
"Sri Lanka has moved into the range of middle income countries since last year, with more challenges ahead, and young people are looking for better jobs," he said.
"Looking forward, we hope that more freeways, expressways, and water projects will be developed,"he added. "As Sri Lanka's primary objective is to create more jobs for young people, we welcome Chinese investors and enterprises to set up manufacturing plants, develop export-oriented industries, and pass on the know-how to our people as well."
"At the same time we hope to increase exports to China and to this end more agreements will be discussed and signed under the Belt and Road Initiative to facilitate our export of products and services to China in the near future,"Samarawickrama said.