MoU on China-Ireland STI cooperation signed in Dublin
0 Comment(s)Print E-mail Xinhua, 07 17, 2019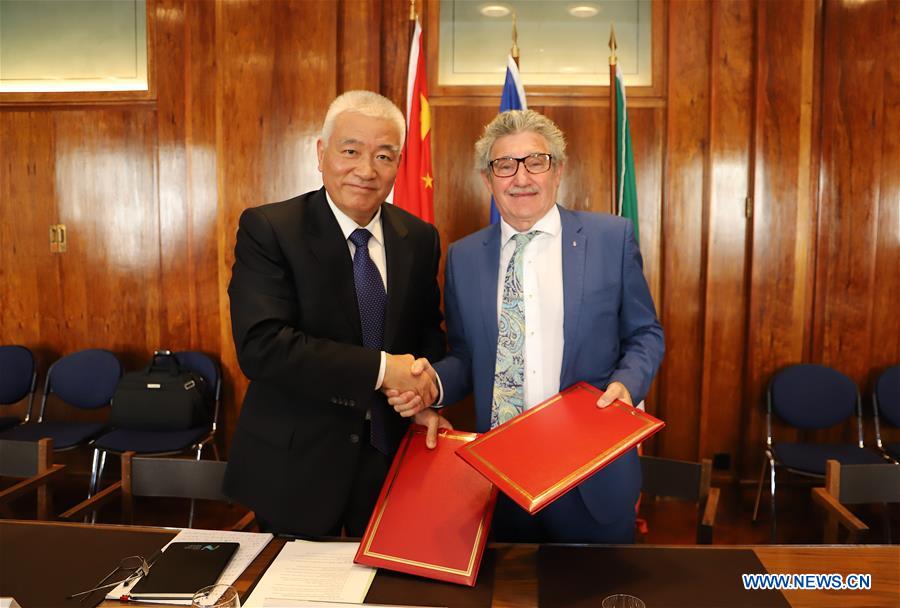 Chinese Minister of Science and Technology Wang Zhigang (L) shakes hands with John Halligan, Irish minister of state for training, skills, innovation, research and development, after signing a memorandum of understanding (MoU) in Dublin, Ireland, July 15, 2019. An MoU aiming to strengthen the science, technology and innovation (STI) cooperation between China and Ireland was signed here on Monday. Under the MoU, which is valid for five years, both sides have agreed to strengthen STI cooperation in areas including advanced materials, information and communications technology (ICT), life sciences, food and agriculture. (Xinhua)
DUBLIN, July 16 (Xinhua) -- A memorandum of understanding (MoU) aiming to strengthen the science, technology and innovation (STI) cooperation between China and Ireland was signed here on Monday.
The MoU was signed here by China's Minister of Science and Technology Wang Zhigang, and John Halligan, Irish minister of state for training, skills, innovation, research and development.
Under the MoU, which is valid for five years, both sides have agreed to strengthen STI cooperation in areas including advanced materials, information and communications technology (ICT), life sciences, food and agriculture.
To ensure the implementation of the MoU, a mechanism of Joint Committee Meetings (JCM) on STI Cooperation will be established between the ministries which will hold the JCM on a regular basis.
The first meeting of the JCM was convened following the signing of the MoU, during which representatives from both sides talked about the two countries' cooperation in science and technology.
Noting this year marks the 40th anniversary of the establishment of diplomatic ties, Wang said China and Ireland enjoy closer cooperation and have witnessed fast development in joint research and academic exchanges.
To strengthen the two countries' STI cooperation, the Chinese minister called on both sides to strengthen exchanges and share experiences at the strategic planning level, set priority areas for cooperation, and promote pragmatic cooperation through various ways.
He said China and Ireland should make better use of the China-European Union (EU) cooperation platform to promote people-to-people exchanges and research and development cooperation between scientific institutes, universities and enterprises of the two countries.
In his opening speech at the meeting, Halligan said that Ireland views China as an important STI cooperation partner and that STI cooperation is conducive to the enhancement of the scientific research level of the two countries.
Halligan said that the mechanism as well as the meeting will provide a good platform for future bilateral STI cooperation.
Ireland is willing to promote the development of Ireland-China STI cooperation under the China-EU cooperation framework, he added.