Guyana's Ambassador to China: China's development benefits the world
Zhao Binyu

0 Comment(s)Print E-mail China.org.cn/Chinagate.cn, 07 04, 2019
.
.
As a positive force in the world, China has had an impact on the global platform in a positive way, said Guyana's Ambassador to China Bayney Karran in an exclusive interview with China.org.cn.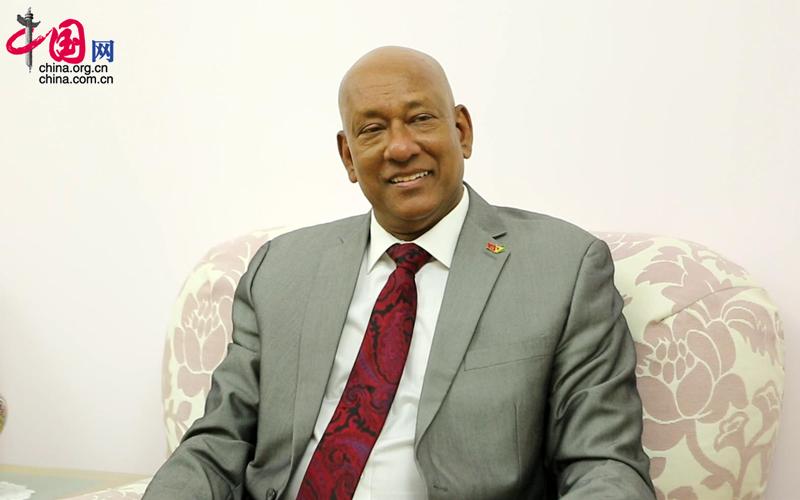 Guyana's Ambassador to China Bayney Karran
Karran said that Guyana has had very close relations with China for many years. It has learned from what China offers to the rest of the world in terms of capital, technology, infrastructural development and experience. "We have built a very good platform with China together to achieve win-win results. We are very optimistic about our relations with China and about where the relationship will go," he continued.
As to the global role China will play in the future, Karran expressed his wishes to China. "We are fully supportive of China's development and we hope China will play its rightful role in the world with countries like Guyana. We can develop together in peace and in harmony," he said.
Last August, Guyana signed a Belt and Road Agreement with China. After that,Chinese State Councilor and Foreign Minister Wang Yi paid an official visit to Guyana. In April this year, the second Belt and Road Forum for International Cooperationwas was held in Beijing.
Commenting on the Belt and Road Initiative, Karran hails its positive influence. "We are a part of the Belt and Road Initiative. We are looking to it providing a framework for developing the relationship between our two countries and seeing it as a means of furthering and strengthening bilateral cooperation."
In addition, he criticized those who criticized the Belt and Road Initiative without thorough analysis. "This massive initiative involves many countries, many trillions of dollars, and many complicated projects, so problems inevitably lie ahead."
Despite these challenges and problems, Karran expressed his confidence in the initiative. "I think that the last summit was a very good exercise in bringing the problems to the floor so that they could be addressed and tackled in a very positive way.I am sure that the government of China will be able to respond effectively to whatever problems arise along the way."