Ambassadors share their views on the initiative and the development of China-Africa cooperation
0 Comment(s)Print E-mail Beijing Review, 04 25, 2019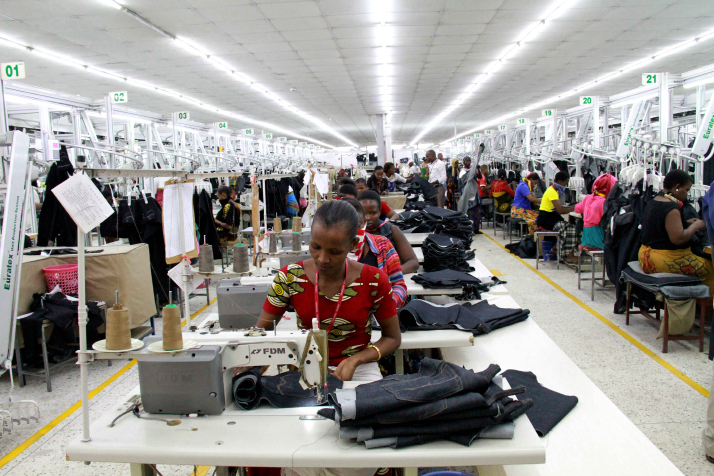 Local workers busy at the Chinese-invested Dong'ao garment factory in Dar es Salaam, Tanzania, on August 7, 2017 (XINHUA)
After the Belt and Road Initiative was put forward in 2013, a large number of projects have been completed or are under construction in African countries, especially since the First Belt and Road Forum for International Cooperation (BRF) was held in Beijing in 2017. Ambassador of Tanzania to China Mbelwa Kairuki, Ambassador of Namibia to China Elia G. Kaiyamo and Chinese Ambassador to Gabon Hu Changchun shared their views with Beijing Review on the initiative and the development of China-Africa cooperation. Edited excerpts of their views follow:
Mbelwa Kairuki
Ambassador of Tanzania to China
Tanzania has signed a memorandum of understanding (MoU) with China to support the Belt and Road Initiative and we are engaged in different infrastructure projects that feed into it. Over the last two years, we have been upgrading the Port of Dar es Salaam in former Tanzanian capital Dar es Salaam by building two new berths and modernizing seven existing ones. This project will promote trade with other countries participating in the Belt and Road Initiative and provide landlocked countries like Malawi, Zambia and Uganda access to the port for their use.
Another project is a railway that will go all the way to Rwanda and Burundi. This will also provide these two countries access to the port.
Electricity is a key component of development, so we are implementing several power projects. Our priority is a hydropower dam with an installed capacity of 2,000 MW. The Stiegler's Gorge hydropower project will harness the waters of the Rufiji River in southern Tanzania.
These projects are linked to the Belt and Road Initiative. We are also looking forward to implementing other strategic projects in the pipeline.
The Belt and Road Initiative is about connectivity with people and infrastructure. An example of this connectivity is tourism. One of our main sources of revenue is tourism and we are targeting China as a source of tourists.
Later this year, we are going to start direct flights between Tanzania and China. We hope more Chinese people will get to know about the beauty of Tanzania and visit the country using the air service. Their spending will contribute to our economy.
So, our strategy is to earn more foreign exchange through tourism and China is a source market. We are putting in place new infrastructure such as a brand new airport terminal, which will be ready in September, as well as expanding the fleet of our national airline Air Tanzania that will fly on regional and intercontinental routes, serving China and other destinations.
Elia G. Kaiyamo
Ambassador of Namibia to China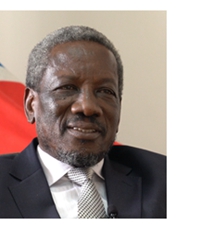 At the Beijing Summit of the Forum on China-Africa Cooperation (FOCAC) held last September, China put forward eight major initiatives to boost China-Africa cooperation and earmarked $60 billion to back the cooperation. As for Namibia, we need more cooperation in infrastructure construction.
We have learned from the philosophy of the Belt and Road Initiative that connectivity is vital for development. We can connect our people, our neighbors and other countries in the region. We are planning to build an airport with help from China. It's part of our agreement.
The Namibia-China relationship is at the stage of constructive engagement, or partnership. It brings us opportunities to further our cooperation.
Namibia-China tourism cooperation is going on well. Our students are coming to study in China. Namibia is expecting agreements with China in more cooperation fields. We are learning much from China and our relationship is growing.
The biggest Chinese investment in Africa is in Namibia: the Husab Mine in western-central Namibia. In terms of Namibia-China cooperation, we want to make sure that Namibia has a key harbor in the region, and China helped expand and upgrade the harbor in Walvis Bay, which we can now use to trade with other African countries. The harbor can also serve Angola, the Republic of the Congo, Malawi, the Democratic Republic of the Congo, Botswana and Zambia.
Hu Changchun
Chinese Ambassador to Gabon
China and Gabon signed an MoU at the FOCAC Beijing Summit last year, where Chinese President Xi Jinping suggested building an even stronger China-Africa community with a shared future and announced eight initiatives to strengthen China-Africa cooperation.
Under this framework, China and Gabon are working together to forge closer connectivity in policy, infrastructure, trade, finance and people-to-people ties.
In terms of policy, the two countries established a mechanism to implement the eight initiatives immediately after the summit. A system for internal coordination and bilateral communication has been put in place, and the first cooperation projects have been identified for implementation.
In terms of infrastructure, the Port Gentil-Omboue Highway, which is being built by Chinese enterprises, will be completed this year. Another highway for Port Gentil is being built, and some new roads, bridges, ports, and power generation and transmission projects are being discussed.
In terms of trade, Gabon participated in the First China International Import Expo (CIIE) in November 2018 and was among the African countries that rented the largest exhibition space. It is now preparing to participate in the China-Africa Economic and Trade Expo to be held in June and the Second CIIE in November.
As for financing, China's financial institutions have been providing financial support for highway and vocational education center projects implemented by Chinese enterprises. The China-Africa Development Fund has invested in timber processing projects. Recently, Gabon has proposed a number of new cooperation projects related to ports, power plants and roads.
As far as people-to-people exchanges are concerned, we must mention the Chinese medical team, which has seen 412 doctors visit Gabon on 20 missions since 1977, providing medical treatment to more than 300,000 people. In addition, a number of new cooperation projects related to healthcare, education, training, studying abroad and agriculture are to be implemented, which will help the Gabonese directly benefit from the cooperation between the two countries.
At the FOCAC Beijing Summit, President Xi said China and Africa should seize the opportunity created by the complementarity between their respective development strategies and avail the major opportunities presented by the Belt and Road Initiative. He said the initiative, the African Union Agenda 2063, the UN 2030 Agenda for Sustainable Development and the development programs of African countries can complement each other.
With these development plans, China and African countries can expand areas of cooperation, unlock new cooperation potential, consolidate traditional areas of cooperation, and foster new cooperation in the new economy.
The Belt and Road Initiative has received broad approval in Gabon. Since the signing of the MoU, a number of Belt and Road seminars have been held, which were attended by Gabon's government officials, think-tank scholars, entrepreneurs, media reporters and people from other walks of life. They joined the discussions on how to align Gabon's development strategy with the initiative.
I believe the Second BRF will expand the influence of the initiative in Africa. We are expecting accelerated China-Africa cooperation under the Belt and Road Initiative and further progress in the comprehensive cooperative partnership between the two countries.
Copyedited by Sudeshna Sarkar