"Love Knows No Border" International Charity Sale held in Beijing
0 Comment(s)Print E-mail Chinagate.cn, 10 22, 2018
The 10th "Love Knows No Borders – to Hear the Love from the World" International Charity Sale was held Sunday at the Staging Stadium of the National Stadium. The event was organized by the Ministry of Foreign Affairs of People's Republic of China and China Foundation for Poverty alleviation. Representatives of about a hundred foreign embassies, international organizations and companies were in attendance.
Chinese State Councilor and Foreign Minister Wang Yi along with his spouse Qian Wei were the chief guests. Qian Wei delivered a speech at the event. She said that the 10th anniversary of International Charity Sale was the result of collective efforts by all. Chinese government vowed to win the battle against poverty and the funds raised shall help the children and disabled in the poor regions. She also presented a certificate of appreciation to Embassy of Pakistan for its active participation in the charity.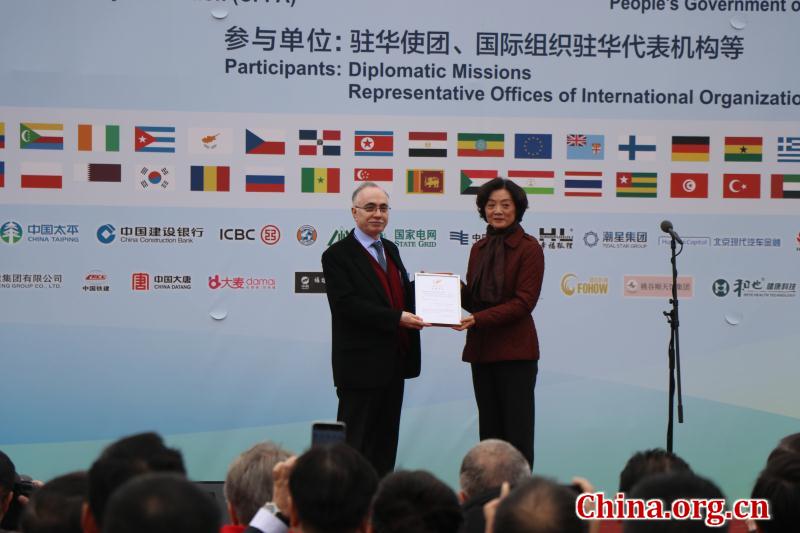 Qian Wei presents souvenir to Ambassador of Pakistan Masood Khalid [Provided by Embassy of Pakistan]
Masood Khalid, Pakistan Ambassador to China, represented the diplomatic corps at the International Charity Sale and congratulated Chinese Ministry of Foreign Affairs on the successful organization of the event. He said that Pakistan Embassy has always actively participated in such activities. He also appreciated China's Poverty alleviation effort in lifting more than 700 million people out of poverty in 40 years.
Pakistani pavilion at the event was a huge success due to display of ethnic embroidered dresses, shawls, bags, cushions, camel skin table lamps, marble artifacts, carved boxes, carpets and specially the Sialkot made footballs.
State Councilor and Foreign Minister Wang Yi and his spouse Qian Wei at the Pakistan Pavilion [Provided by Embassy of Pakistan]