Import fair to galvanize global trade
0 Comment(s)Print E-mail China Daily, 10 12, 2018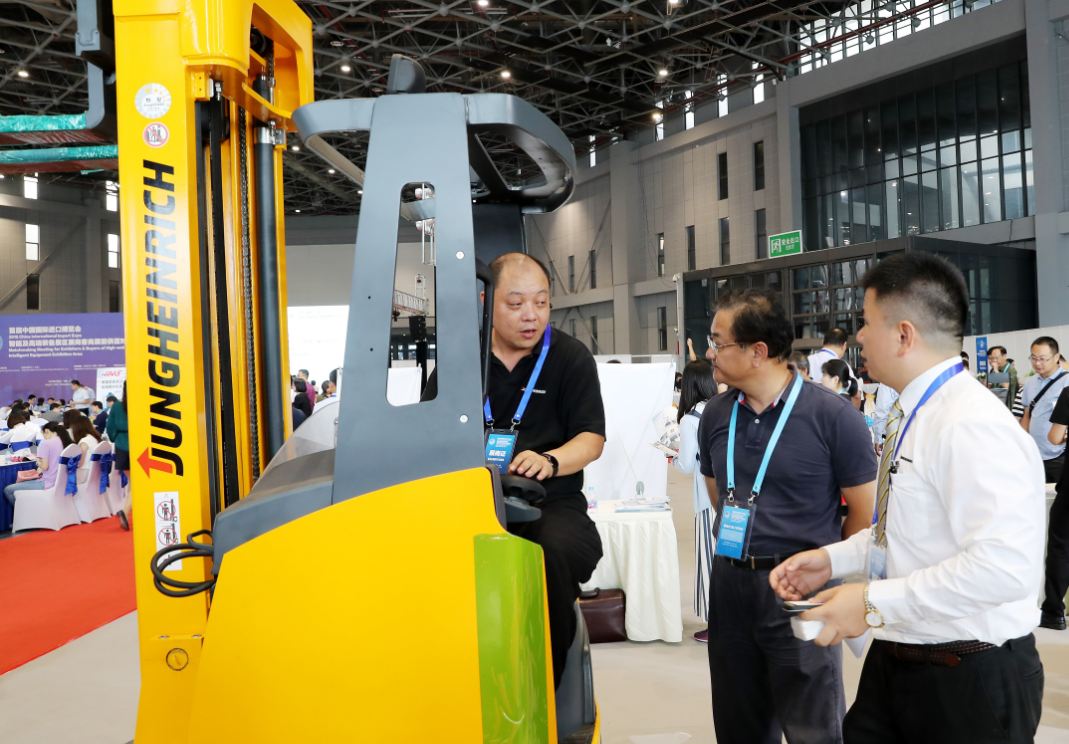 A Jungheinrich employee addresses queries from visitors at the pre-expo event of the CIIE in Shanghai. [Photo/Xinhua]
Expo to create business opportunities and promote international integration
Foreign delegations and businesses are preparing for China's inaugural import fair, which will take place in less than a month, as they seek trade and investment opportunities amid global economic uncertainty.
A total of 81 countries have confirmed their attendance at the China International Import Expo in Shanghai, including 12 countries recognized as guests of honor and more than 280 foreign officials of vice-minister level and above, the China International Import Expo Bureau said on Wednesday.
The event has also drawn the attention of 2,800 companies that plan to set up displays in the dedicated enterprise exhibition areas. They come from all G20 member states, some economies involved in the Belt and Road Initiative, and over 30 less-developed countries, according to Chen Xiao, an official with the bureau.
To deepen engagement between exhibitors and buyers, the event's host city Shanghai has scheduled 30 investment promotion activities during October and November, said Luo Zhisong, director of foreign affairs at the Shanghai Municipal Commission of Commerce.
"Covering a broad range of themes such as smart manufacturing, commerce, finance and cultural creativity, these events are partnered with 45 customized city tour routes that aim to give international merchants a deeper understand of the city and its various industrial strengths," Luo said.
The expo expects major line-ups from countries like Brazil, which is dispatching four ministers and 90 companies to the event, according to Mario Antonio de Araujo, deputy consul-general of Brazil in Shanghai.
"The Brazilian government thinks it is a very, very important event to improve the relationship among all countries in terms of trade," he said. "We are privileged" to have this "strategic relationship" with China, and want to maintain and improve it, he said, adding the event is important to achieving that aim.
Dimitri Pires Ribeiro, a trade officer at the Consulate General of Portugal in Shanghai, touted the CIIE as a winwin opportunity. His agency is organizing 12 associations in six sectors to be present at the show.
"It's a big opportunity for Chinese consumers and companies to understand what each country has to offer, possibly finding new trends, products and technologies, and applying them to the Chinese market," he said.
United States-based Mondelez International Inc, the company behind the iconic Oreo cookies, will showcase a host of chocolates, gums and other snacks during the fair. It will also partner with Chinese e-commerce giant Alibaba Group Holding Ltd through content marketing endeavors to impress Chinese customers, said Wu Gang, a company representative on government affairs in East China.
"As a global company, we are introducing delicacies produced elsewhere to China, while many Made in China items are exported overseas," he said. "Clearly we stand to benefit the most from global trade integration."