SCO should deepen economic cooperation
Zhang Yao

0 Comment(s)Print E-mail China Daily, 10 12, 2018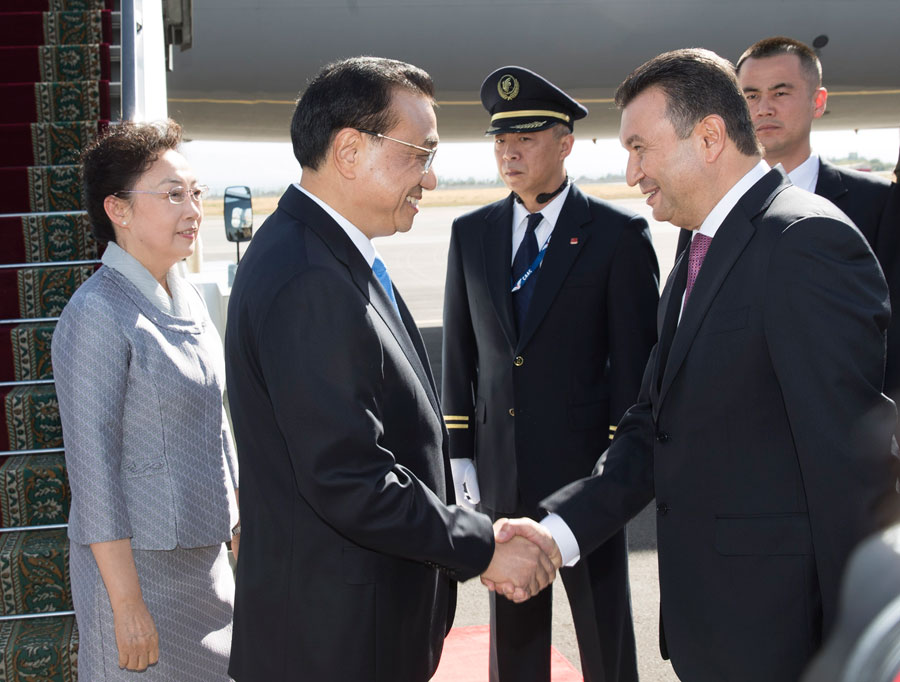 Premier Li Keqiang and wife, Cheng Hong, are greeted by Tajik Prime Minister Kokhir Rasulzoda on Thursday in Dushanbe for an official visit to Tajikistan. Li will also attend the 17th meeting of the Shanghai Cooperation Organization Heads of Government Council. [Photo/Xinhua]
Currently both global political and economic order face the most severe challenge since the end of the Cold War. How to understand the changes in international situations and reach consensus to meet the challenges is the priority of this SCO meeting. Besides, how to enhance China's cooperation with Tajikistan in various fields during Premier Li Keqiang's visit is also a major priority.
Over the past 17 years the SCO has made remarkable achievements in political and security fronts, leaving the deepening of economic cooperation, particularly the implementation of large-scale projects including the Belt and Road Initiative and the Eurasian Union and their combination with member countries' own development strategies, an increasingly urgent task.
Specifically speaking, SCO members should deepen cooperation in multiple fronts including trade, finance, and logistics while taking full advantage of each country's strengths, with the ultimate goal to build a genuine regional economic community.
In addition, the SCO should continue to shoulder responsibilities to help promote global governance. Yet due to different development stages and appeals, distinctive responsibilities and obligations and joint actions under consensus should be emphasized.
The author is the deputy director of the Institute for International Strategic Studies, Shanghai Institutes for International Studies.