Greek port success gives snapshot of BRI potential
CECILY LIU in London

0 Comment(s)Print E-mail China Daily UK , 10 09, 2018
Zhengzhou air freight route boosts trade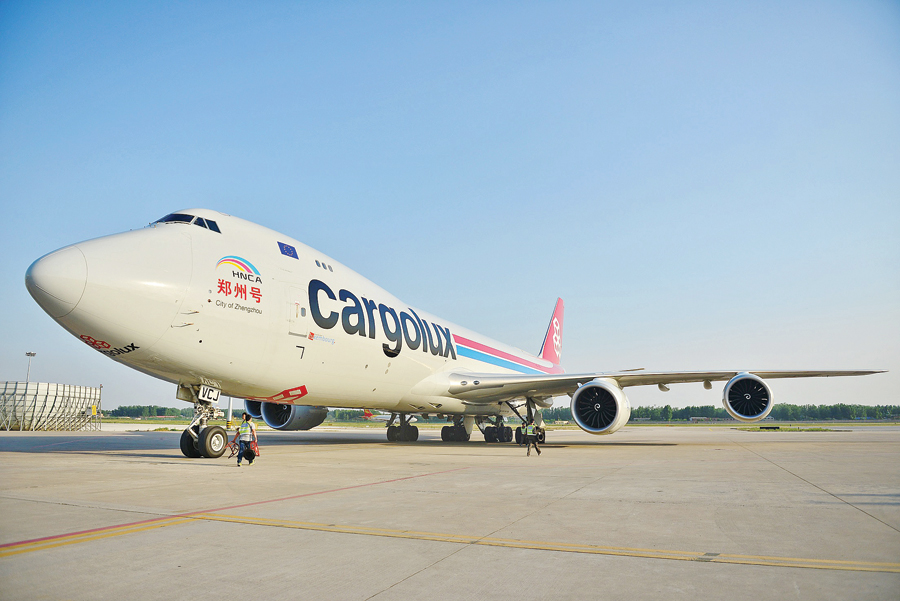 A Cargolux jet in operation on the Zhengzhou-Luxembourg route. [Photo provided to China Daily]
In 2017, Europe's largest all-cargo airline, Cargolux, launched a direct cargo flight linking the Chinese export hub of Zhengzhou in Henan province with Luxembourg.
The 8,000-kilometer route, dubbed the "Silk Road in the air", has enabled the trade of many time-sensitive products, including fresh fruit, pharmaceuticals, electronic goods, and car parts. In 2017, Cargolux carried about 150,000 metric tons of freight on the route, nearly a third of the total cargo freight that passed through Zhengzhou.
The link has boosted the economies of Luxembroug and Zhengzhou, provided a new transport option for trading companies, and given Chinese and European consumers the luxury of quickly accessing many products that were previously too far away to be enjoyed.
Ultimately, Cargolux was able to invest in the fleet because of financing from the Industrial and Commercial Bank of China.
As a Chinese bank, ICBC was already very familiar with Zhengzhou as a key transportation hub linking airways and railways with many other Chinese cities. This familiarity gave it good reason to believe that a Silk Road in the air linking Zhengzhou and Luxembourg would have increasingly growing cargo volumes into the future.
Meanwhile, ICBC's Luxembourg branch had developed trust in Cargolux as a client, after working with the company for several years on smaller projects.
"The combination of these two factors gave us the confidence to issue the loan to Cargolux, and trust that it will be repaid," said Chen Fei, general manager of ICBC's Luxembourg branch.
The project, officially launched last year during a meeting between President Xi Jinping and Luxembourg Prime Minister Xavier Bettel, has since become a commonly cited example of growing connectivity in the spirit of the Belt and Road Initiative.